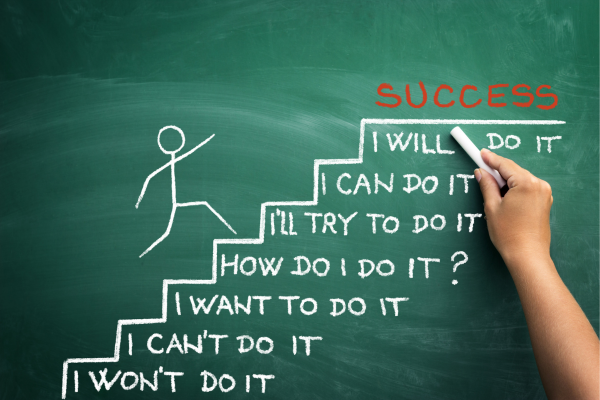 Have you ever wondered why it's so hard to reach your goals, even though you work hard and are determined to succeed? The answer may be self-sabotage. Self-sabotage is a complex phenomenon that can have detrimental effects on our lives, yet it can be difficult to recognize when it is happening. Read on to learn the self-sabotage meaning, the hidden effects of self-sabotage, and provide advice on how to recognize and stop it.
Self-Sabotage Meaning
Self-sabotage refers to any behavior or thought that is hindering or preventing us from reaching our goals and potential. It can be conscious or unconscious, and it is often the result of underlying fears, doubts, and limiting beliefs.
Examples of self-sabotaging behavior include procrastination, self-doubt, negative self-talk, substance abuse, and perfectionism. These behaviors can lead to a cycle of failure and disappointment, further reinforcing the negative beliefs that drive self-sabotage.
It's important to note that self-sabotage can affect all areas of our lives, including relationships, work, and personal development. If left unchecked, it can lead to long-term consequences, such as missed opportunities, damaged relationships, and reduced self-esteem.
Recognizing and addressing self-sabotage requires an honest assessment of our thoughts and behaviors, as well as a willingness to confront and challenge the underlying beliefs and fears that are driving them. By taking proactive steps to overcome self-sabotage, we can break free from self-imposed limitations and achieve our full potential.
Why We Self-Sabotage
Self-sabotage is a common pattern of behavior that many people engage in, often without realizing it. It's essentially self-defeating behavior that holds us back from achieving our goals and dreams. There are several reasons why people self-sabotage, and understanding them is an important step in learning how to overcome this destructive pattern. Knowing the self-sabotage meaning can help you break unhealthy habits that will help you reach your goals.
Fear of failure:
One of the main reasons why people self-sabotage is the fear of failure. When we have big goals or dreams that we want to achieve, we may feel afraid of the possibility of failing. As a result, we may unconsciously engage in behaviors that sabotage our efforts, such as procrastination or avoidance.
Lack of self-esteem:
Another reason why people self-sabotage is a lack of self-esteem. When we don't feel confident in our abilities or worthiness, we may engage in behaviors that undermine our success. This could include not speaking up for ourselves, settling for less than we deserve, or not taking risks that could lead to growth.
Unconscious beliefs:
Sometimes we self-sabotage because of unconscious beliefs that we hold about ourselves and the world. For example, we may believe that success is only for a select few, or that we're not worthy of achieving our dreams. These beliefs can be deeply ingrained and may require professional help to overcome.
Need for control:
Finally, some people self-sabotage because they have a need for control. They may be afraid of the unknown or of things not going as planned, so they engage in behaviors that keep them stuck in their comfort zone. This can prevent them from taking risks and pursuing their goals.
Overall, there are many reasons why people self-sabotage, and recognizing these patterns is the first step in overcoming them. By understanding our fears, limiting beliefs, and the ways we hold ourselves back, we can start to make positive changes in our lives and achieve the success we desire.
The Hidden Effects
Self-sabotage can have various effects on your life that may go unnoticed. Learning the self-sabotage meaning can help you identify the effects of it. Here are a few hidden effects of self-sabotage:
Stunted Growth – Self-sabotage can keep you from growing and reaching your full potential. You may keep yourself stuck in the same patterns, unable to progress and achieve your goals.
Strained Relationships – If you keep self-sabotaging, it can strain your relationships with people close to you. You may end up pushing people away, either by avoiding them or by lashing out at them.
Diminished Self-Worth – Consistently failing to meet your own expectations can lead to low self-worth. The feeling of being incapable can eventually erode your self-confidence and self-esteem.
Negative Thoughts – Self-sabotage can fuel negative self-talk. You may become your worst critic, doubting yourself and your abilities, leading to more self-sabotage.
Missed Opportunities – Self-sabotage can cause you to miss out on great opportunities, whether that's professionally or personally.
It's important to recognize these hidden effects of self-sabotage to understand the impact it has on your life. By acknowledging these effects, you can start working towards overcoming self-sabotage.
In the next section, we'll talk about how to recognize self-sabotage in your life.
How to Recognize Self-Sabotage
Self-sabotage is not always obvious. In fact, it can often sneak up on us and we don't even realize we're doing it. However, if we pay attention to certain patterns of behavior and emotions, we can begin to recognize when we're engaging in self-sabotage. Here are some ways to recognize self-sabotage:
Procrastination: If you find yourself putting off tasks or avoiding certain responsibilities, you may be self-sabotaging. Procrastination is often a way of avoiding potential failure or discomfort.
Negative self-talk: If you frequently put yourself down or have negative thoughts about yourself, you may be engaging in self-sabotage. Negative self-talk can lower self-esteem and make it harder to reach our goals.
Self-medicating: Using substances such as alcohol or drugs to cope with negative emotions is a common form of self-sabotage. This behavior can lead to addiction and other harmful consequences.
Perfectionism: Striving for perfection is not always a bad thing, but when it becomes obsessive, it can lead to self-sabotage. Perfectionists may avoid taking risks or trying new things because of fear of failure.
Sabotaging relationships: If you find yourself pushing people away or sabotaging your relationships, it could be a sign of self-sabotage. This behavior can be a result of low self-esteem or fear of intimacy.
Recognizing these patterns of behavior can be the first step in stopping self-sabotage. By becoming aware of our actions and emotions, we can take steps to overcome self-sabotaging behavior and reach our goals.
Steps to Take to Stop Self-Sabotaging
Identify your triggers: The first step to stopping self-sabotaging is identifying the triggers that lead you to engage in such behavior. This may involve examining past experiences, reflecting on current habits, and understanding what factors are causing you to feel overwhelmed, anxious, or insecure.
Develop healthy coping mechanisms: Once you've identified your triggers, you can begin developing healthy coping mechanisms that help you manage those feelings of anxiety or insecurity without engaging in self-sabotaging behavior. This might involve practicing mindfulness techniques, seeking support from friends or family members, or taking steps to improve your mental health.
Practice self-compassion: One of the key elements of overcoming self-sabotage is learning to practice self-compassion. This means recognizing that you're human and that you're allowed to make mistakes. By being kind to yourself, you'll be more likely to forgive yourself for missteps and avoid repeating negative patterns.
Set achievable goals: Another important step in stopping self-sabotage is setting achievable goals for yourself. Rather than setting unrealistic expectations, focus on setting goals that you know you can reach. This will help build your confidence and reduce the likelihood of engaging in self-sabotaging behavior.
Celebrate your successes: Finally, it's important to celebrate your successes as you work towards overcoming self-sabotage. Each time you make progress towards your goals, take the time to acknowledge and celebrate that progress. This will help reinforce positive behavior and encourage you to continue moving forward.