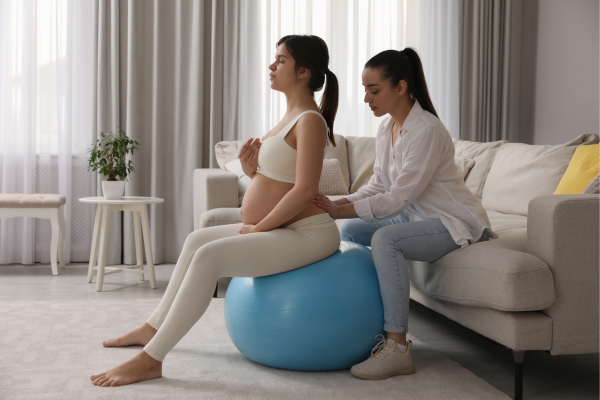 If you're currently pregnant and looking into different birthing options, you may have heard the term "doula" thrown around. But what is a doula? Essentially, a doula is a trained professional who provides emotional and physical support to a mother during pregnancy, birth, and the postpartum period. Their goal is to ensure that you have the most positive and empowering birth experience possible. In this beginner's guide, we'll dive into what a doula does, the benefits of having one, and how to choose the right one for you.
What is a Doula?
A doula is a trained professional who provides emotional and physical support to expecting mothers throughout pregnancy, birth, and postpartum. Unlike medical professionals such as midwives or OB/GYNs, doulas do not provide medical care or advice. Instead, they offer continuous, one-on-one support to help women feel empowered, informed, and prepared for childbirth.
The word "doula" comes from ancient Greek and means "a woman who serves." Today, doulas serve as advocates for pregnant women, helping them navigate the often-complicated world of healthcare and childbirth. They work closely with expectant mothers to create a birth plan that aligns with their values and goals, and they provide guidance and support during labor and delivery to help women cope with pain and stress.
Doulas also play an important role in the postpartum period, providing emotional and practical support as new mothers adjust to life with a newborn. They may offer breastfeeding advice, help with household chores, or simply provide a listening ear.
While doula care has been shown to improve maternal and infant health outcomes, it is important to note that doulas are not a substitute for medical care. Rather, they work alongside healthcare providers to ensure that mothers and their babies receive the best possible care and support.
What are the benefits of having a doula during pregnancy and birth?
A doula is a trained professional who provides emotional and physical support to expectant mothers during pregnancy, labor, and postpartum. There are numerous benefits of having a doula during pregnancy and birth, which can enhance your overall birthing experience.
Reduced Labor Duration and Fewer Interventions:
Studies have shown that having a doula present during labor can significantly reduce the duration of labor and the likelihood of medical interventions. A doula can provide physical support, such as massage and counter-pressure, which can help you cope with pain and reduce the need for medication or epidural anesthesia.
Increased Satisfaction and Confidence:
A doula can provide emotional support during labor, helping you feel more confident and empowered during the birthing process. They can help you advocate for yourself and communicate your birthing preferences to healthcare providers.
Better Birth Outcomes for Mother and Baby:
Research suggests that having a doula present during birth can result in better birth outcomes for both the mother and the baby. These benefits may include lower rates of Cesarean section, reduced risk of preterm labor, and improved breastfeeding success.
Postpartum Support:
Doulas also offer support during the postpartum period, helping new mothers adjust to their new role and providing support with breastfeeding, newborn care, and recovery from childbirth.
Overall, having a doula present during pregnancy and birth can greatly enhance your birthing experience and improve your overall outcomes. If you're considering hiring a doula, make sure to do your research and find a reputable provider in your area.
How do I find a reputable doula?
One of the best ways to find a reputable doula is by asking for recommendations from your friends, family members, or healthcare providers. They may have worked with a doula in the past and can recommend one who they believe would be a good fit for you. You can also search for doulas online and read reviews and testimonials from their previous clients.
Another way to find a reputable doula is by attending childbirth education classes or prenatal yoga classes in your community. These classes often have a network of doulas who they recommend to their students.
When looking for a doula, it's important to schedule a consultation with them to ensure they are a good match for you. During this consultation, you can ask about their experience, training, and certifications.
You can also ask about their approach to childbirth and how they work with their clients. It's important to find a doula who shares your values and can provide you with the support you need during this special time.
Finally, you can also contact your local doula organization, such as DONA International or the International Association of Professional Birth Photographers, to find a list of certified doulas in your area. These organizations ensure that their members have completed rigorous training and adhere to strict standards of practice.
How much does it cost to hire a doula?
The cost of hiring a doula can vary depending on location, experience, and the services they offer. In general, you can expect to pay between $500 and $2,500 for a doula's services. However, some doulas may offer a sliding scale fee based on income or provide services at a reduced rate for certain circumstances.
It's important to remember that while the cost may seem steep, the value a doula can bring to your pregnancy and birth experience is priceless. In addition, some insurance companies may cover the cost of a doula, so it's worth checking with your provider.
When deciding on a doula, make sure to discuss their fees upfront and ask for a breakdown of what their services entail. This will help you determine if their services are worth the investment for your specific needs and budget.
Lastly, if the cost of a doula is out of reach, consider looking into volunteer doula programs or asking if the doula you are interested in has a payment plan option. Don't let finances be the sole reason you miss out on the support and care a doula can provide during one of the most important times in your life.
Is there anything else I need to know about working with a doula?
Yes, there are a few things to keep in mind when considering hiring a doula. First, it's important to communicate your expectations and needs clearly with your doula. Make sure you're on the same page when it comes to what type of support you want during labor and delivery.
It's also important to keep in mind that while doulas can provide emotional and physical support during birth, they are not medical professionals. They cannot make medical decisions or provide medical care. Make sure you have a healthcare provider you trust to manage any medical issues that may arise.
Another consideration is that doulas have different levels of experience and training. Some may specialize in certain types of birth or have particular philosophies around childbirth. It's important to find a doula whose approach aligns with your own beliefs and values.
Lastly, it's worth mentioning that hiring a doula can be a financial investment. While some doulas offer sliding scale fees or payment plans, it's important to budget accordingly. Consider whether the benefits of having a doula outweigh the costs for you and your family.
Working with a doula can be a wonderful way to receive additional support during pregnancy and childbirth. Just make sure you do your research, communicate clearly, and find the right fit for your needs and values.