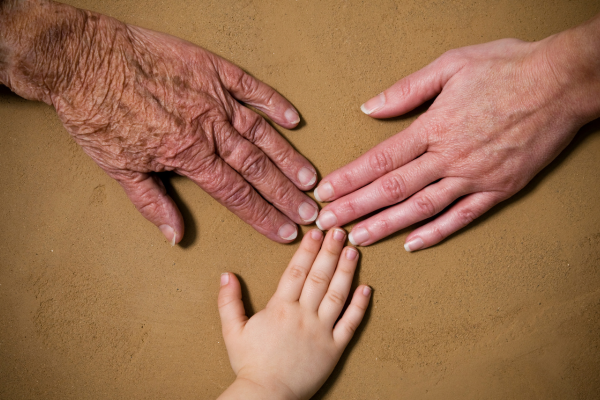 Breaking the Cycle of Generational Trauma
Generational trauma is a form of intergenerational trauma that has been passed down from one generation to the next. It can manifest in various forms, such as physical, mental, and emotional ailments, and is often the result of generational oppression, violence, and abuse. In this blog post, we will explore ways to break the cycle of generational trauma and how to start the healing process for yourself and your family.
Acknowledge the Traumas of Your Ancestors
Generational trauma is an issue that is often swept under the rug and not talked about. It is a legacy of pain, suffering, and struggle that has been passed down through the generations, resulting in a collective experience of suffering. In order to heal ourselves and break the cycle of trauma, it is important to first acknowledge the traumas of our ancestors.
Acknowledging the traumas of our ancestors can be a difficult and emotional process. However, it is an essential step towards healing and understanding our own trauma. Start by doing some research on your family history. Talk to relatives and ask questions about what happened in their past. Be open and listen with an open heart and mind.
It is also important to recognize the impact of historic traumas such as colonialism, slavery, racism, and oppression. Learning about the traumas that were experienced by your ancestors and by other people who were affected by similar circumstances can help you to understand how these events have shaped our current reality.
By acknowledging the traumas of our ancestors, we can start to understand how they have impacted our lives today. This can give us insight into how to best work through our own traumas and create lasting change. Acknowledging the traumas of our ancestors is an important part of the healing process.
Educate Yourself About Intergenerational Trauma
Intergenerational trauma is the trauma that is passed down from generation to generation. It can be caused by a variety of events, such as war, poverty, discrimination, and even natural disasters. This trauma is not only passed down through genetics but also through socialization, as it has been passed down for generations by way of language, attitudes, and behaviors.
It is important to educate yourself about intergenerational trauma so you can better understand how it affects those around you. The first step in understanding this type of trauma is to recognize that it exists and understand the various factors that contribute to its existence.
Researching the history of the region or culture where your family originated can be a great place to start. Doing this can help you gain insight into why certain family members may have developed certain coping mechanisms or unhealthy behaviors in response to their environment.
When educating yourself on intergenerational trauma, it is also important to consider how our society today contributes to the continuation of this cycle. For example, societal inequalities such as racism and sexism are examples of systemic forms of oppression that are passed down through generations.
By recognizing these issues and understanding how they shape our culture, we can begin to take steps toward breaking this cycle of trauma.
Finally, it is important to remember that intergenerational trauma does not have to be a life sentence for those who suffer from it. With education and understanding, we can work together to create a better future for ourselves and our children.
Understanding intergenerational trauma can help us create more supportive systems and communities that will ultimately lead to healthier generations in the future.
Work Through Your Own Traumas
It is important to recognize that our traumas are deeply intertwined with the traumas of our ancestors. It is not possible to heal generational trauma without also taking the time to work through our own traumas. We must be willing to look deep within ourselves and recognize our own wounds.
We can start this work by engaging in self-care activities that provide us with emotional support, comfort, and understanding. Take time to meditate, journal, talk with a therapist or trusted friend, or practice yoga or other mindfulness practices. These activities can help us to process our emotions, gain insight into our experiences, and uncover the roots of our trauma.
It is also important to remember that healing from trauma takes time. Give yourself permission to take it slow and respect your own pace. Reach out for support when needed, and try to build a network of friends, family, and professionals who can provide understanding and compassion throughout the process.
Finally, be mindful of what triggers you, and create an environment where you feel safe and supported. This means avoiding places or people who might evoke feelings of fear or hurt, and learning healthy coping skills so that you can recognize and manage your emotional responses to trauma.
By taking the time to work through your own traumas, you can begin to heal the generational trauma in your family line. This process may be difficult, but it is possible with time, patience, and understanding.
Heal Your Relationship With Your Family
The first step in healing generational trauma is to acknowledge the hurt your ancestors experienced and then work on healing your own relationship with your family. Many of us are fortunate to still have family members around, but even if you don't, there are still ways to heal from your family's past trauma. Here are some tips to help you start healing:
Accept and embrace your family's past. No one can change the past, but we can learn from it and use it as a way to create a better future. Acknowledging and understanding your family's history will help you find peace and compassion for both yourself and those who came before you.
Let go of judgment and blame. It can be tempting to judge our ancestors or assign blame for the hardships they endured, but this won't help us move forward. Instead, practice forgiveness and compassion, and focus on rebuilding and strengthening your relationships with your family.
Practice self-care. Taking care of yourself and nurturing yourself is essential when healing generational trauma. Make time for activities that bring you joy, cultivate relationships that support you, and allow yourself to feel your emotions without judgment.
Connect with your family. Reaching out to your family members is a powerful way to strengthen bonds and heal trauma. If possible, spend time with them face-to-face or simply reach out to them via phone or email. This will show them that you care about them and will help you understand each other better.
Seek professional help. Working through generational trauma can be a difficult process, so it's important to seek out professional help if needed. Talking to a therapist or joining a support group can help provide guidance and resources to help you work through any unresolved issues.
By taking these steps to heal your relationship with your family, you can begin the process of breaking the cycle of generational trauma and creating a healthier future for yourself and your family.
Support Others in Healing Their Generational Trauma
The best way to help others heal from generational trauma is to understand and be patient with the healing process. It can take time for individuals to learn how to break the cycle of trauma and pass on healthier patterns to future generations. Here are a few ways you can offer support:
Listen: The most important thing you can do is listen to the individual's story without judgment. Allow them to talk about their experiences without trying to solve their problems or giving advice. This can help create an environment of safety and understanding.
Educate: Helping someone who is dealing with generational trauma understand how it affects them can be beneficial. There are many resources available that discuss this topic in detail, such as books, podcasts, and websites.
Be Patient: Remember that it takes time to process and heal from traumatic events. Offer your support in whatever way you can, such as providing emotional validation or a listening ear.
Encourage Self-Care: Self-care is a vital part of the healing process. Encourage the individual to take care of themselves by doing things they enjoy, taking breaks, and spending time with supportive people.
Connect with Others: Connecting with others who have experienced similar traumas can be incredibly helpful. Support groups and online communities can provide a safe space for the individual to talk about their experiences.
By offering support and understanding, you can help someone who is dealing with generational trauma begin the healing process. Healing can be a long journey, but with patience and compassion, it is possible to break the cycle of trauma and pass on healthier patterns to future generations.