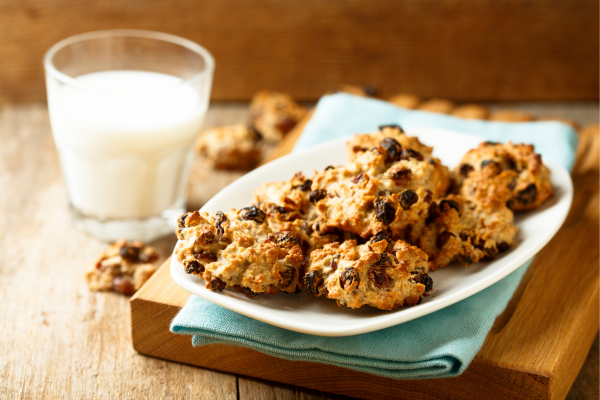 The Best Lactation Cookies Recipe for Beginners
If you're a new mom looking for an easy lactation cookies recipe to help increase your breast milk production, then you've come to the right place! This blog post will show you the best lactation cookie recipe for beginners that is simple to make and delicious to eat. Not only will it help you with your breastfeeding needs, but it will also satisfy your sweet tooth.
What are Lactation Cookies?
Lactation cookies, also known as nursing cookies or lactation support cookies, are baked goods specially formulated to help promote milk supply in breastfeeding mothers. They typically include ingredients such as brewer's yeast, flaxseed, and oats that are known to contain substances that support healthy lactation.
In addition to helping to increase milk production, some of these ingredients may also offer additional health benefits such as improved digestion, increased energy levels, and increased calcium intake. While the research on the effectiveness of these ingredients is still inconclusive, many nursing mothers have reported feeling an increase in their milk supply after regularly consuming lactation cookies.
Why Eat Lactation Cookies?
Lactation cookies, or cookies made specifically for breastfeeding mothers, are a great snack option for nursing moms. Not only do they provide nutrition and energy, but they can also help increase breastmilk production. Lactation cookies are typically made with key ingredients such as oats, brewer's yeast, flaxseed, and other natural ingredients.
These ingredients help boost milk production by increasing prolactin levels, the hormone responsible for milk production. Eating these cookies can also provide added benefits such as helping to reduce stress and fatigue, promoting overall health, and aiding in digestion. They're a convenient and tasty way to get essential nutrients while breastfeeding.
The Benefits of Key Ingredients
Lactation cookies are a special type of cookie that are made with ingredients specifically chosen to help support breast milk production. The key ingredients in lactation cookies can vary, but some of the most commonly used ingredients are oats, brewer's yeast, flaxseed meal, and brewer's yeast.
Oats are a good source of fiber and contain some essential minerals, such as iron and magnesium. Fiber helps to keep you feeling full for longer, so eating oats can help reduce cravings and overeating. The minerals in oats also help with digestion and can help keep blood sugar levels stable.
Brewer's yeast is an excellent source of B vitamins. B vitamins play an important role in helping your body produce milk, as well as promoting healthy hair, skin, and nails. Brewer's yeast is also high in chromium which helps to regulate your appetite and metabolism.
Flaxseed meal is a rich source of omega-3 fatty acids and fiber. Omega-3 fatty acids are important for the development of a baby's brain and have been found to increase milk production in some mothers. Additionally, the high fiber content helps keep you fuller for longer.
Lastly, brewers yeast is also known to be high in proteins, minerals, and vitamins. These proteins, minerals, and vitamins are essential for the production of milk and for overall health.
By incorporating these key ingredients into your lactation cookies, you can ensure that you're getting all the essential nutrients to support milk production while still enjoying a delicious treat.
The Best Lactation Cookie Recipe for Beginners
Lactation cookies are an excellent snack for new moms and nursing mothers who are looking to increase their milk supply. These cookies are packed with key ingredients like oats, brewer's yeast, flaxseed meal, and other superfoods that have been proven to help boost a mother's milk supply. Plus, they're delicious! This simple recipe only takes about 15 minutes of prep time and an hour of baking time. It makes around 20 to 24 cookies, so it's great if you need to share the love with a few friends or family members.
2 cups all-purpose flour
1 teaspoon baking powder
1⁄2 teaspoon baking soda
1⁄2 teaspoon salt
1⁄2 cup butter, softened
1 cup white sugar
2 eggs
1 teaspoon vanilla extract
2 cups rolled oats
2 tablespoons brewer's yeast
2 tablespoons ground flaxseed meal
1 cup dried cranberries or raisins (optional)
Preheat oven to 375°F (190°C). Line two baking sheets with parchment paper.
In a medium bowl, mix together flour, baking powder, baking soda, and salt. Set aside.
In a large bowl, cream together butter and sugar until light and fluffy. Beat in eggs one at a time, then stir in the vanilla.
Gradually stir in the dry ingredients, followed by the oats, brewers yeast, and flaxseed meal until well blended. Stir in dried cranberries or raisins if desired.
Drop cookie dough by heaping tablespoonfuls onto prepared baking sheets. Flatten slightly with the back of the spoon or fork.
Bake for 8 to 10 minutes in preheated oven until golden brown. Allow cookies to cool on a baking sheet for 5 minutes before transferring them to a wire rack to cool completely.
How to Store Your Lactation Cookies
Storing your lactation cookies correctly is essential for preserving their freshness and taste. If you plan to eat them immediately, it's best to keep them in an airtight container at room temperature. If you want to store them for a longer period of time, you can place them in an airtight container in the refrigerator.
For longer-term storage, freeze your lactation cookies by placing them in an airtight freezer bag or container. To prevent the cookies from sticking together, try to spread them out as much as possible before freezing. Make sure to consume the frozen cookies within three months for maximum freshness.
When it comes time to enjoy your delicious lactation cookies, simply take out however many you need, thaw them at room temperature or pop them in the microwave for a few seconds.
This lactation cookies recipe can help you boost your breast milk supply and are also healthy for an everyday snack.