10 Practical on How to Become a Minimalist
Are you looking for ways to embrace a minimalist lifestyle? If so, you're in the right place. In this blog post, we will discuss 10 practical tips on how to become a minimalist. A minimalist lifestyle can help to reduce stress, declutter your life, and give you more space to focus on what is most important. Sometimes when you start this journey of minimalism, you get to the point where you may feel like a new home or space is what you need. Some people start decluttering because they want to downsize, and others may feel like they want a different approach to life. If you are looking to move then you may want to enlist the help of moving companies that can help. But right now it might be time to focus on decluttering and minimalism. With these 10 tips, you'll be well on your way to simplifying your life and embracing a minimalist lifestyle.
1. Get Rid of Anything You Haven't Used in the Past Year
The first step to becoming a minimalist is to clear out any items you have not used in the past year. This includes clothes, furniture, appliances, kitchen gadgets, and anything else that has been collecting dust in your home.
Start by making three piles: keep, donate/sell, and trash. For each item, ask yourself if it brings you joy or if it is something you can do without. If the answer is no, it's time to part with it. When considering items for the donate/sell pile, remember that someone else might find joy in the things you no longer need.
If you are still attached to some items but know you won't use them, consider selling or donating them to someone who will make good use of them. Alternatively, if it's something like an old piece of furniture or appliance that has sentimental value but you don't want to keep it in your home, find a way to store it safely in a friend or family member's house.
Once you have finished going through your things, start organizing and decluttering the items you are keeping. This will help make your living space much more enjoyable and give you more room to appreciate the things that bring you joy!
2. Donate or Sell Anything You Don't Need
If you're serious about becoming a minimalist, it's important to get rid of anything that you don't need. Donating or selling items that you no longer use can help you reduce clutter and simplify your life.
There are many ways to donate or sell items that you no longer need or want. You could donate to a local charity or thrift store, or you could have a yard sale or sell items online.
When donating, make sure to check with the charity or thrift store to ensure that they accept the items that you wish to donate. When selling items, make sure that you are realistic about the price and condition of the items.
By donating or selling items that you don't need, you can start to eliminate unnecessary clutter from your life and begin to embrace a minimalist lifestyle.
3. Stop Buying Things You Don't Need
Minimalism is all about living with less. This means saying "no" to buying items you don't actually need. To become a minimalist, it is important to resist the urge to buy things on impulse or out of convenience.
Start by making a list of the items you need and use on a regular basis. Prioritize items that are necessary and eliminate those that are non-essential. By focusing on essential items only, you can save money and free up more space in your home.
Make an effort to shop around before purchasing items so you can get the best deals and find items of higher quality. You may also want to consider purchasing used items instead of new ones as this can help you save even more money.
Be aware of all the marketing messages you come across. They may be designed to make you think that you need something when you actually don't. Don't fall for them.
Finally, take some time to reflect and ask yourself whether or not the item is something you actually need. If it's not, then don't buy it. Making these simple adjustments will help you become a minimalist and give you more control over your finances.
4. Stop Impulse Buying
When it comes to becoming a minimalist, one of the most important things you can do is stop impulse buying. Impulse buying can be difficult to control, but it can have a significant impact on your budget and your commitment to minimalism.
To help you stay on track, here are a few tips to help you resist the urge to buy something you don't need:
1. Make a list of items that you need before going shopping and stick to it.
2. Research potential purchases thoroughly before you buy them. Check for better deals online or ask yourself if you really need the item.
3. When you're out shopping, remind yourself that you don't need most of the items you see. This will help you stay focused on what's important.
4. Try waiting 24 hours before making a purchase. This will help give you time to think it through and decide if it's a good idea or not.
5. Don't shop when you're feeling emotional. Impulse buying often happens when we're feeling down or bored. Find something else to do instead.
By following these tips, you can successfully resist the urge to buy something you don't need and make more mindful decisions about your spending. With practice, impulse buying will become easier to control and you'll be well on your way to embracing minimalism.
5. Unsubscribe From Promotional Emails
One of the key aspects of living a minimalist lifestyle is cutting down on the amount of 'noise' in our lives. And one of the best ways to do this is to unsubscribe from all those promotional emails that clutter up your inbox.
It can be easy to get sucked into all the deals, sales, and discounts, but these promotional emails can be an unnecessary distraction that takes away from more important things.
So take some time to go through your emails and hit the unsubscribe button for anything that is no longer relevant or interesting to you. Once you've done this, it will be much easier to focus on what matters most and prioritize your time accordingly.
Another benefit of unsubscribing from promotional emails is that it reduces the amount of spam you receive. This means less clutter in your inbox and fewer emails competing for your attention.
To make sure you never miss out on any important deals or promotions, sign up for notifications directly from retailers you like or follow them on social media. That way, you can choose which promotions you want to hear about instead of having them arrive unsolicited in your inbox.
By taking the time to unsubscribe from promotional emails, you'll free up more time and energy for the things that really matter in life.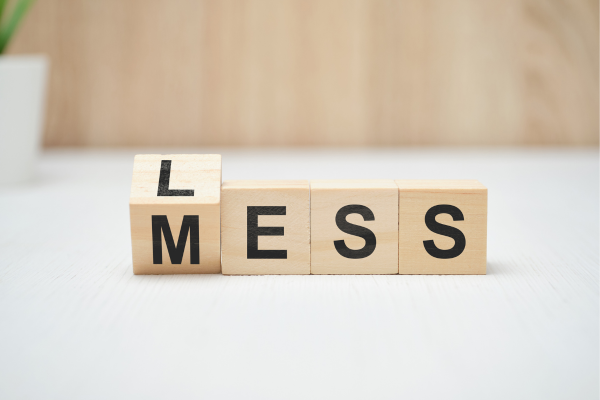 6. Clean Out Your Closet
One of the first steps to becoming a minimalist is to declutter your wardrobe. This means getting rid of any items you don't use or that no longer fit, regardless of how much you paid for them. Clothes that are too big, too small, faded, or stained should all go into the donation or selling pile.
When going through your closet, it can be tempting to hang onto items with sentimental value. Consider taking a photo of those items so you can still enjoy them without having to store them in your closet.
Organize what's left in your closet by organizing by type (jeans, dresses, shirts, etc.), then by color. This will make it easier to find what you need when getting dressed. It will also help create a sense of order and calmness in your closet.
When shopping for new clothes, remember the mantra: buy less, choose well. Quality over quantity should be your priority, and always be sure to check for durability before purchasing. This will help ensure that the items you buy will last for years to come.
In the end, it's important to remember that having a minimal closet doesn't mean having anything in it – it just means having fewer items that you truly love and use. By cleaning out your closet, you can make space for more meaningful items while simplifying your life.
7. Get Rid of Clutter
Clutter is one of the biggest challenges to living a minimalist lifestyle. It can be overwhelming to look around and see all the stuff you've accumulated over the years. The best way to start clearing away clutter is to tackle one room at a time. Start by taking everything out of the room and putting it in boxes or bins. Sort through each box, discarding anything you no longer use or need.
Then, take the items you want to keep and find a place for them in the room. Finally, organize the space so that it is neat and tidy. This will help you create an environment that is more conducive to living a minimalistic lifestyle.
8. Stop Hoarding
Hoarding can be a major obstacle when it comes to leading a minimalist lifestyle. Hoarding is the act of acquiring and holding onto things that you don't need or use, usually in large quantities. To prevent hoarding, it's important to be conscious of your purchases and regularly declutter your space.
Start by assessing your possessions and ask yourself why you are keeping them. If they are no longer needed or used, it's best to get rid of them. Declutter your home by going through all the items that you no longer need and donate or recycle them.
Additionally, set limits on how much you can buy and establish a strict shopping policy for yourself. This will help keep you from bringing in more items than necessary.
You should also be mindful of your emotions when it comes to getting rid of items. If you have trouble throwing something away, try and find an alternative solution such as donating or gifting it to someone else who may need or appreciate it.
Finally, don't forget that minimalism is about quality over quantity. You don't have to get rid of everything; instead, focus on only keeping items that have value and importance to you. Minimalism isn't about deprivation; it's about letting go of the excess and living more simply.
9. Live Simply
Living simply means focusing on the basics and letting go of all the excess. This can involve cutting back on spending, decluttering your living space, or focusing on activities that bring you joy. Simplifying your lifestyle allows you to enjoy life more and stress less.
Here are some ways to start living a simpler life:
Prioritize Your Time – Spend your time doing things that bring you joy and add value to your life. Let go of activities that are no longer serving you.
Declutter Your Home – Start clearing out any unnecessary items from your home. Get rid of anything you haven't used in the past year, donate or sell anything you don't need, and clean out your closet.
Create a Budget – Create a budget and track your spending. Cut back on any unnecessary expenses and limit impulse buying.
Enjoy Nature – Take some time to get outside and enjoy nature. Go for a walk, hike, or swim. Spend time outdoors and enjoy the beauty of nature.
Practice Mindfulness – Practice mindfulness by taking the time to be present in the moment. Be mindful of your thoughts, feelings, and environment.
Living simply is about simplifying your life and enjoying the journey along the way. You don't have to be perfect or have it all figured out. Focus on what is important to you and enjoy the process of becoming a minimalist
10. Enjoy Your Life
Living a minimalist lifestyle isn't just about getting rid of things, it's also about enjoying life to the fullest. When you're surrounded by fewer possessions and clutter, you have more time and energy to focus on what truly matters: your relationships, your passions, and your goals.
When you're living a minimalist lifestyle, it's important to focus on the good and take time to appreciate life's simple pleasures. Make sure to set aside some time for yourself each day to do something that brings you joy – it could be going for a walk in nature, reading a book, or even taking a nap! Doing so will help remind you why living minimally can be so rewarding.
It's also important to recognize that living minimally doesn't mean depriving yourself or depriving yourself of experiences. There's nothing wrong with occasionally indulging in a luxurious experience or buying something special – as long as it fits within your budget and it doesn't become an obsession.
Remember: living a minimalist lifestyle isn't about depriving yourself, it's about freeing yourself from excess stuff and clutter so that you can make the most of your life.
How to Become a Minimalist