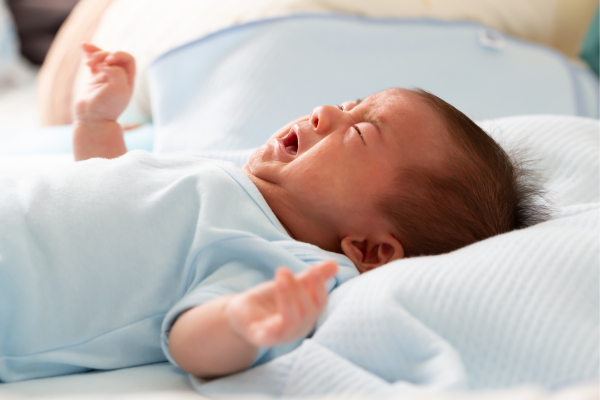 How to Make Colic Baby Sleep
One of the biggest challenges of parenting a newborn is getting them to sleep. This task becomes even more challenging when your baby is colicky. A colicky baby can be inconsolable, leading to sleepless nights for both the baby and the parents. But fear not, as some effective techniques can help soothe a colicky baby and help them drift off to sleep. In this blog post, we'll share seven tips for how to make a colic baby sleep, so you can finally catch a break and get some rest too.
What is Colic, and Why Does it Affect Sleep?
Colic is a common condition in babies that can be defined as excessive crying and fussiness, usually lasting for at least three hours a day, three days a week, for three weeks or more. It can occur in babies as young as two weeks old and usually peaks at six weeks before gradually subsiding by the time the baby is three to four months old.
The exact cause of colic is unknown, but some factors that may contribute to it include digestive issues, overstimulation, and infant temperament. The symptoms of colic often make it difficult for babies to sleep, leading to sleep deprivation for both babies and parents.
As a parent, it can be distressing to watch your baby cry and fuss without knowing what is causing their discomfort. Understanding what colic is and how it affects sleep is the first step to finding solutions that can soothe your little one and help them get the rest they need.
7 Tips on How to Make Colic Baby Sleep
1. Experiment with Feeding and Burping Techniques
One of the most common causes of colic is digestive discomfort. As a result, experimenting with different feeding and burping techniques can make a huge difference in calming your baby and helping them get to sleep.
First, consider the frequency and duration of your baby's feeds. Feeding your baby smaller, more frequent meals can help to prevent them from becoming overly hungry or full, which can exacerbate colic symptoms. You may also find that changing the type of formula you are using, or trying a different feeding position, can help.
Burping your baby frequently during and after feeds can also help to reduce the likelihood of colic. Some parents find that burping their baby midway through a feed can help prevent air from building up in their little one's tummy. Experimenting with different burping techniques can also help – try gently patting your baby's back, rubbing their tummy, or holding them upright for a few minutes after feeding.
It's worth noting that breastfeeding babies may experience less colic overall. Breast milk is easier to digest than formula and contains all the nutrients that your baby needs to thrive. However, this isn't always an option for every family, so don't feel like you're doing anything wrong if you're formula-feeding your baby.
Remember that it may take a bit of trial and error to find the feeding and burping techniques that work best for your baby. Be patient, and don't be afraid to try something new if what you're doing isn't working. Over time, you'll figure out what works best for your little one.
2. Establish a Consistent Bedtime Routine
One of the most effective on how to make colic baby sleep is to establish a consistent bedtime routine. This can help your baby anticipate bedtime and signal to their body that it's time to relax and wind down.
Your bedtime routine can include a warm bath, gentle massage, reading a book, or singing a lullaby. Make sure to keep the routine consistent every night, so your baby learns to associate these activities with sleep.
It's also important to establish a consistent bedtime. Most babies need around 14 to 16 hours of sleep per day, including naps. A regular sleep schedule can help regulate your baby's sleep cycle, which can help ease colic symptoms.
Be patient with your baby as they adjust to the new routine. It may take a few days or even weeks for them to get used to the new schedule. But with consistency and patience, your baby will learn to fall asleep more easily and stay asleep longer.
3. Use White Noise
Another tip on how to make colic baby sleep is to use white noise. This type of sound can help calm your baby's fussiness and create a peaceful environment that promotes sleep. There are many types of white noise you can use, including the sound of a fan, raindrops, or even a white noise machine.
The consistent sound of white noise can also drown out other noises that might disrupt your baby's sleep. It can also help your baby establish a sleep association, where they learn to associate the sound of white noise with falling asleep.
To use white noise, you can invest in a white noise machine or download a white noise app on your phone. Some baby monitors also have white noise features that you can use. Make sure to keep the white noise at a safe volume and place the device at a safe distance from your baby's ears.
Remember, every baby is unique, and what works for one may not work for another. So, if white noise does not seem to be soothing your colicky baby to sleep, try one of the other tips in this post until you find what works best for you and your baby.
4. Experiment with Different Sleeping Positions
Sometimes, changing your baby's sleeping position can help soothe their colic and improve their sleep. Every baby is unique and what works for one may not work for another, so don't be afraid to experiment with different positions.
One popular position is to hold your baby in an upright position, with their head on your shoulder. This can help relieve gas and make them feel more comfortable. Another position is to lay your baby on their side or stomach with a rolled-up towel supporting their belly. This can help relieve pressure on their tummy and alleviate colic symptoms.
Some babies may prefer to sleep in a more elevated position. You can achieve this by using an elevated mattress compared to a traditional one. This can also help reduce acid reflux symptoms and improve sleep.
Just be sure to always follow safe sleep practices and consult with your pediatrician before trying any new sleeping positions. With a little bit of experimentation, you may find a sleeping position that helps soothe your colicky baby to sleep.
5. Try Swaddling or Using a Sleep Sack
Swaddling your baby is an effective way to calm them down and help them sleep. Swaddling involves wrapping your baby snugly in a blanket, mimicking the feeling of being in the womb. This technique can make your baby feel more secure and calm, which can help soothe their colicky symptoms.
It's essential to use a safe swaddling technique and avoid covering your baby's head or face. You can also use a sleep sack, which is a wearable blanket that allows your baby to move their arms and legs freely. A sleep sack is a great alternative to traditional swaddling if your baby doesn't like to be restrained.
When swaddling or using a sleep sack, it's important to make sure your baby isn't overheating. You can check your baby's temperature by feeling their chest or back, and avoid using too many blankets or layers. It's best to dress your baby in light clothing and use a thin blanket or sleep sack to avoid overheating.
Remember that every baby is different, and what works for one may not work for another. Be patient and experiment with different sleeping techniques to find what works best for your colicky baby.
6. Consider Infant Massage or Chiropractic Care
Another way to help your colicky baby sleep is by considering infant massage or chiropractic care. Both of these techniques can help to alleviate tension and discomfort in your baby's body, making it easier for them to relax and fall asleep.
Infant massage involves gently massaging your baby's muscles and soft tissues, using slow and rhythmic strokes. This can help to release tension, reduce stress, and promote relaxation, making it a great way to calm a colicky baby. There are many instructional videos and books available that can help you learn how to safely and effectively massage your baby.
Chiropractic care, on the other hand, involves adjusting the spine and joints to improve alignment and reduce tension. While it may seem unusual to take a newborn to a chiropractor, many parents have reported significant improvements in their baby's sleep and overall comfort after just a few visits. It's important to choose a chiropractor who is experienced in working with infants and has a gentle touch.
Before trying infant massage or chiropractic care, it's important to talk to your pediatrician and make sure that it's safe and appropriate for your baby. However, for many families, these techniques can be effective tools for soothing a colicky baby and promoting better sleep.
7. Seeking Help and Support on How to Make Colic Baby sleep
Having a colicky baby can be a challenging experience for any parent. It is important to know that you don't have to go through it alone. Seeking support and help can make a world of difference for both you and your baby.
One way to seek support is by joining a support group for parents of colicky babies. Talking to other parents who have gone through or are currently going through the same thing can help you feel less alone and provide valuable advice and coping strategies.
Another option is to reach out to a healthcare professional, such as a pediatrician or lactation consultant. They can offer guidance on different soothing techniques or suggest medical interventions, such as switching to a specialized formula, if necessary.
It is also important to prioritize self-care and ask for help when you need it. Don't hesitate to ask a family member or friend to come over and give you a break so you can rest or take care of other responsibilities.
Remember, caring for a colicky baby can be overwhelming, but seeking support and help can make it easier to manage. Don't be afraid to reach out for assistance.