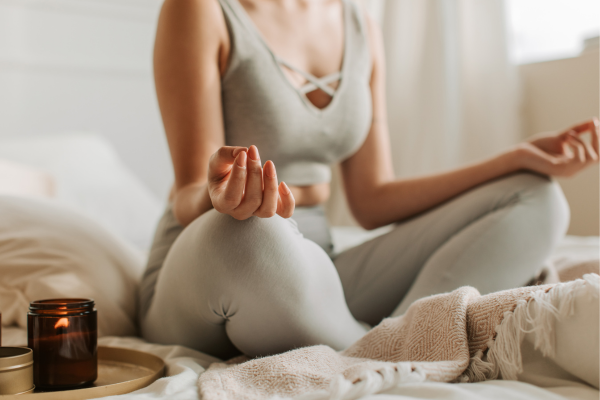 Everyone experiences stress from time to time. Luckily, there are simple strategies you can use to manage it. One of the most effective methods is meditation. Meditating is a great way to relieve stress and bring calmness and balance into your life. In this quick guide, we'll provide you with the basics of how to meditate properly so you can start reducing stress.
Understanding Stress and Its Effects on Your Body
Stress is a common experience that can have a negative impact on your mental and physical health.
Whether you're dealing with work pressure, family issues, or financial problems, stress can take a toll on your body over time.
The effects of stress can vary from person to person, but it can lead to physical symptoms such as headaches, muscle tension, and fatigue.
Chronic stress can also weaken your immune system, making you more vulnerable to illnesses and diseases.
Furthermore, stress can cause mental health problems such as anxiety and depression.
It can affect your sleep, making it difficult for you to get enough rest and feel refreshed the next day.
That's why it's important to recognize when you're experiencing stress and take steps to manage it.
Meditation is a powerful tool that can help you reduce stress and improve your overall well-being. Let's take a closer look at how meditation can benefit you.
The Benefits of Meditation in Reducing Stress
If you're feeling overwhelmed by the stressors in your life, incorporating meditation into your daily routine can make a significant impact on your mental and physical health.
Studies have shown that regular meditation can reduce cortisol levels, the hormone responsible for stress, anxiety, and depression.
Meditation helps to promote a relaxation response in your body, which decreases heart rate and blood pressure.
Additionally, meditation helps to increase serotonin levels, a hormone responsible for promoting feelings of happiness and well-being.
By focusing on the present moment, meditation helps to shift your attention away from your worries and anxieties.
Incorporating meditation into your daily routine can help you to feel more centered, focused, and grounded. It can help you to gain a better understanding of your thoughts and emotions, making it easier to manage your stressors and triggers.
Regular meditation practice can also improve your overall mood, increase your energy levels, and enhance your ability to concentrate.
It can also lead to improved sleep quality, which is essential for stress management.
Getting Started With Meditation: Finding a Quiet and Comfortable Space
Meditation can be practiced anywhere, but it's essential to find a quiet and comfortable space to meditate, especially when you're a beginner. The environment you meditate in can make a significant difference in how you feel during and after meditation. Here are some tips on finding a peaceful place to meditate:
Pick a Quiet Space: The first step in finding a quiet and comfortable space is to choose a location that is free from noise and distractions. It could be your bedroom, a corner in your living room, or a nearby park.
Reduce Distractions: Once you have selected the location, make sure that it is free from any distractions that might interrupt your meditation. Turn off your phone and any other electronic devices that could cause interruptions.
Set the Mood: Creating the right ambiance for meditation can enhance your experience and make it more relaxing. Light some candles or incense, play soft music, or use a guided meditation app to create a peaceful atmosphere.
Find a Comfortable Position: You can sit on a cushion or a chair, or even lie down on a mat or a bed. Find a comfortable position that helps you relax and reduces tension in your body.
Adjust the Lighting: Adjusting the lighting to suit your mood can make your meditation experience more relaxing and comfortable. Use dim lighting or natural light, and avoid harsh or bright lights that might cause eye strain.
Practice Daily: It's essential to make meditation a daily habit, and consistency is key. Even if you have only a few minutes to spare, find time to meditate every day.
Simple Breathing Techniques to Calm Your Mind and Body
Breathing is an essential part of meditation, and it's also one of the easiest ways to reduce stress and calm your mind and body. Here are some simple breathing techniques you can try during your meditation practice or anytime you need to relieve stress.
1. Diaphragmatic Breathing: Also known as belly breathing, this technique involves breathing deeply and fully into your diaphragm, the muscle located below your lungs. As you inhale, let your belly expand and rise, and as you exhale, let your belly deflate and fall. Repeat for several cycles until you feel calm and relaxed.
2. Box Breathing: This technique involves inhaling for a count of four, holding your breath for a count of four, exhaling for a count of four, and holding your breath again for a count of four. Repeat this pattern for several rounds until you feel more centered and focused.
3. Alternate Nostril Breathing: This technique involves closing one nostril with your thumb and inhaling deeply through the other nostril, then closing the other nostril with your finger and exhaling through the first nostril. Repeat this cycle several times, switching nostrils after each exhale.
4. Counting Breaths: This technique involves counting your breaths as you inhale and exhale, up to a certain number (such as 10 or 20), then starting over. This helps to focus your mind and calm your thoughts.
Breathing techniques can be practiced anytime, anywhere, and for any duration. Incorporating these simple techniques into your daily routine can help you manage stress and promote overall well-being.
Guided Meditations to Reduce Stress and Anxiety
Meditation can be an incredibly powerful tool for reducing stress and anxiety, but sometimes it can be hard to know where to start. That's where guided meditations come in – these are meditations that are led by someone else, whether it's a live teacher or a pre-recorded audio or video.
Guided meditations can be particularly helpful if you're new to meditation because they can help you stay focused and give you something to concentrate on.
Here are some tips for finding and using guided meditations to help you manage your stress and anxiety:
1. Look for Guided Meditations Online: There are countless resources online where you can find guided meditations. YouTube is a great place to start, as there are many channels that offer free guided meditations on a variety of topics, from anxiety and stress relief to sleep and relaxation.
2. Find a Meditation App: There are also many apps available that offer guided meditations, such as Headspace, Calm, and Insight Timer. These apps often have a range of meditations available, so you can choose the one that's right for you.
3. Try Different Types of Meditations: There are many different types of guided meditations available, from body scans to visualizations to mantra-based meditations. Experiment with different types to see which ones work best for you.
4. Make it a Daily Practice: Just like any other form of meditation, guided meditations work best when you make them a consistent part of your routine. Try to set aside some time each day to listen to a guided meditation, even if it's just for a few minutes.
Guided meditations are just one tool in your stress-relief toolkit. If you find that they're not working for you, try exploring other techniques, such as yoga or mindfulness practices.
The most important thing is to find what works for you and make it a regular part of your self-care routine.
Tips to Maintain Consistency in Your Meditation Practice
Starting a meditation practice can be easy, but sticking with it can be a challenge. Here are some tips to help you maintain consistency in your meditation practice:
1. Set a Schedule: Make it a part of your routine by scheduling a time to meditate each day. Stick to this schedule as much as possible.
2. Start Small: If you're new to meditation, start with just a few minutes a day. Gradually increase your meditation time as you become more comfortable with the practice.
3. Be Patient: Meditation is not a quick fix for stress. It takes time to see the benefits, so be patient with yourself.
4. Don't Give Up: There will be days when you don't feel like meditating, but it's important to keep going. Don't let a few missed sessions turn into a habit of not meditating at all.
5. Use Guided Meditations: If you find it difficult to meditate on your own, try using guided meditations. There are many apps and online resources that offer guided meditations for free.
6. Find an Accountability Partner: Find a friend or family member who also meditates and make a commitment to check in with each other on your progress.
7. Remember Why You Started: Keep in mind the reasons why you started meditating in the first place. Focus on the benefits and how it makes you feel.
By following these tips, you can maintain a consistent meditation practice and reap the benefits of reduced stress and increased relaxation.
Other Techniques to Manage Stress: Yoga, Mindfulness, and Gratitude
While meditation is a great tool to help manage stress, there are other techniques you can also incorporate into your daily routine to help reduce feelings of overwhelm and anxiety. Here are some additional practices that you may find helpful:
1. Yoga: Yoga is a physical practice that involves different poses and breathing exercises to promote relaxation, balance, and strength. Studies show that practicing yoga can help decrease cortisol (stress hormone) levels in the body, making it an effective stress management tool.
2. Mindfulness: Mindfulness is a mental state of awareness and acceptance of the present moment without judgment. It involves paying attention to your thoughts, emotions, and surroundings. Practicing mindfulness has been shown to reduce stress, anxiety, and depression.
3. Gratitude: Focusing on gratitude involves cultivating a positive mindset by appreciating the good things in your life. Research shows that practicing gratitude can lead to greater feelings of happiness, less stress, and improved overall well-being.
Incorporating these practices into your daily routine, along with regular meditation, can provide powerful tools for managing stress.
Experiment with different techniques to see which ones work best for you and your lifestyle. Remember that consistency is key in achieving long-term stress management.