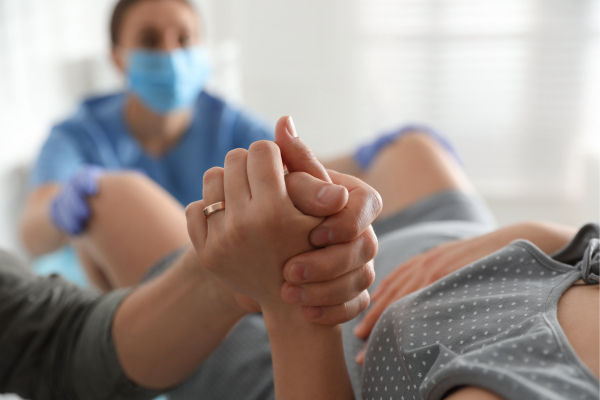 How to Prevent Tearing During Birth
As an expectant mother, the thought of tearing during childbirth can be terrifying. However, with proper preparation and the implementation of certain techniques, you can greatly reduce the likelihood of tearing. In this post, we'll discuss 7 strategies for how to prevent tearing during birth. From perineal massage to different pushing positions, you'll learn everything you need to know to have a smoother, less painful labor and delivery.
7 How to Prevent Tearing During Birth
1. Understanding Tearing During Birth
Tearing during birth is a common concern for many pregnant women, but it's important to understand that it's a natural part of the birthing process. When the baby's head passes through the vaginal opening, it can cause the skin and tissues to stretch, resulting in small tears or lacerations.
While some degree of tearing is expected in most vaginal births, there are steps you can take to reduce the risk and severity of tearing.
It's important to note that tears are classified based on their severity. First-degree tears are small lacerations that only affect the skin.
Second-degree tears affect both the skin and muscles around the vaginal opening, while third and fourth-degree tears involve the muscles and tissues that support the rectum.
While tears may sound scary, it's important to remember that they are usually minor and will heal on their own.
However, severe tears may require medical intervention and can lead to long-term complications, such as urinary and fecal incontinence.
2. Choosing the Right Care Provider
When it comes to childbirth, your care provider plays a significant role in your experience. It's important to choose a provider who is supportive of your birth goals and practices evidence-based medicine.
Midwives and OB/GYNs are both qualified to provide care during pregnancy and childbirth. However, midwives may have a more hands-off approach to birth, while OB/GYNs are more likely to intervene in the birth process.
This is not to say that one is better than the other, but rather it's important to choose a provider who aligns with your birth philosophy.
In addition to finding a provider who shares your values, it's also important to choose someone who has experience in preventing tearing during birth.
Ask potential providers about their experience with tear prevention techniques and their approach to episiotomies.
Don't be afraid to shop around and interview multiple care providers until you find someone who feels like the right fit for you and your birth plan.
Remember, this is your birth experience, and you have the right to choose a care provider who supports your wishes and priorities.
3. Prenatal Exercises and Perineal Massage to Prevent Vaginal Tearing
One way to reduce tearing during birth is to start preparing the perineal area ahead of time through prenatal exercises and perineal massage. This will help increase the flexibility of the tissues in the area, making them more supple and resilient.
Here are some exercises and massage techniques that can be done during pregnancy to help reduce the likelihood of tearing:
Kegels – Kegel exercises can help strengthen the muscles in the pelvic floor and improve circulation in the perineal area. They can also improve bladder control, which can be helpful during and after birth.
Squats – Squats are a great exercise for preparing the pelvic floor for birth. They help to open up the pelvis and increase blood flow to the area.
Butterfly Pose – Butterfly pose is a gentle stretch that can help prepare the perineal area for birth. To do this exercise, sit on the floor with the soles of your feet touching, and gently push your knees down towards the ground.
Perineal Massage – Perineal massage involves gently stretching and massaging the tissues in the perineal area to help increase their elasticity and reduce the risk of tearing. Starting around 34 weeks of pregnancy, this can be done using either your fingers or a specially designed perineal massage tool.
When performing perineal massage, be sure to use plenty of lubrication and go slowly and gently to avoid causing any discomfort. Over time, you may notice that the tissues in the area become more flexible and easier to work with.
By incorporating these exercises and massage techniques into your prenatal routine, you can help reduce your risk of tearing during birth and improve your overall comfort during the process.
4. Using Positions that Help Reduce Tearing
During labor, the positions you choose can greatly impact the likelihood of tearing. Some positions put more pressure on the perineum, increasing the chances of tearing. However, certain positions can help reduce tearing and make it easier for the baby to pass through the birth canal. Here are some positions to consider:
Squatting: This position can open up the pelvic outlet, allowing more space for the baby to pass through. Squatting also helps shorten the birth canal, which can reduce the amount of pressure on the perineum.
Hands and knees: This position can also help reduce the amount of pressure on the perineum. It can also help to rotate the baby's position, which can make it easier for them to pass through the birth canal.
Side-lying: This position can help slow the birth process and reduce the pressure on the perineum. It's also a great position for resting during labor.
Leaning forward: This position can help open up the pelvic outlet and reduce the pressure on the perineum. It can also make it easier to breathe during contractions.
When choosing a position, listening to your body and going with what feels comfortable is important. Don't be afraid to try different positions and make adjustments as needed. Remember, the goal is to reduce the chances of tearing and make the birth process as smooth as possible.
5. Breathing and Pushing Techniques
When it comes to giving birth, it's important to know that pushing is only one aspect of the process. The way you breathe and push can greatly impact the risk of tearing during delivery. Here are some techniques to try:
Listen to Your Body: The urge to push during labor is a natural reflex that can't be stopped. However, listening to your body and pushing when you feel ready is important. Pushing too early or too late can increase the risk of tearing.
Slow and Steady Wins the Race: Many women feel the urge to push as hard and as fast as possible, but this can cause unnecessary stress on your perineum. Instead, focus on slow and steady pushing during each contraction.
Push with Your Breath: Rather than holding your breath while pushing, focus on exhaling with each push. This can help your body to naturally open up and release tension.
Try Different Positions: The traditional "on your back" position can put added pressure on your perineum, making tearing more likely. Try squatting, standing, or using a birthing ball to help reduce this pressure.
Take Breaks: It's important to take breaks between contractions and pushing to allow your body to rest. This can help to reduce the risk of fatigue and tearing.
Remember, every woman's birth experience is unique and what works for one may not work for another. It's important to work with your care provider to find the techniques that are right for you and your baby. By using breathing and pushing techniques that are comfortable and effective for you, you can help to reduce your risk of tearing during birth.
6. Opting for an Episiotomy
In some cases, your care provider may recommend an episiotomy to prevent excessive tearing during birth. An episiotomy is a surgical cut made to the perineum to widen the vaginal opening.
While an episiotomy may sound like a quick fix to prevent tearing, it's important to note that it is not always necessary and can come with its own set of risks and complications.
Research has shown that routine episiotomies do not necessarily prevent severe tears and may actually cause more harm than good.
That being said, there are situations where an episiotomy may be necessary, such as if the baby's head is too large to pass through the vaginal opening without causing significant tearing or if the baby is in distress and needs to be delivered quickly.
If your care provider does recommend an episiotomy, make sure to ask questions and fully understand why it is being recommended.
It's also important to ensure that the procedure is done with care and precision to minimize the risk of complications such as excessive bleeding, infection, and pain during sex.
Ultimately, the decision to opt for an episiotomy should be made on a case-by-case basis, weighing the potential risks and benefits. Remember to always advocate for yourself and communicate your preferences with your care provider to ensure a safe and positive birth experience.
7. Caring for the Perineum After Birth
After birth, it's important to take good care of your perineum to aid in its healing process and prevent complications. Here are some tips to help you care for your perineum after birth:
Ice packs: Using ice packs can help reduce swelling and discomfort in the perineal area. Wrap ice in a towel and apply it to the area for 20-30 minutes at a time.
Sitz baths: Sitz baths involve sitting in a shallow tub of warm water that covers the hips and buttocks. This can also help reduce swelling and provide relief from discomfort.
Use witch hazel: Witch hazel is a natural astringent that can help reduce inflammation and soothe the perineal area. Soak a cotton pad with witch hazel and gently apply it to the area.
Kegel exercises: Kegel exercises can help improve the strength of the pelvic floor muscles, which can aid in perineal healing. Start with a few reps a day and gradually increase the amount over time.
Stay clean: Keeping the perineal area clean and dry is important to prevent infection. Use warm water and a mild soap to gently cleanse the area after using the bathroom.
Wear comfortable clothing: Avoid wearing tight or restrictive clothing that can irritate the perineal area. Loose-fitting clothing, such as a flowing dress or a maxi skirt, can provide relief.
Rest: Giving your body time to heal is important after birth. Try to rest as much as possible and avoid any strenuous activity that can strain the perineal area.
By implementing these tips, you can help care for your perineum after birth and reduce the risk of complications. Remember to speak with your healthcare provider if you experience any excessive pain or discomfort in the area.