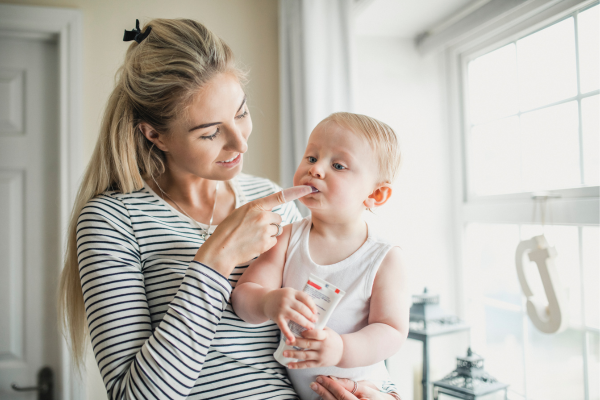 Are you wondering how to soothe your teething baby? It can be difficult to watch them in pain and not know how to help. Fortunately, there are many tried-and-true remedies that can help make the process easier. In this blog post, we'll discuss 11 proven remedies for soothing your teething baby. From natural remedies to over-the-counter options, you'll be sure to find something that can provide relief for your little one.
1. Amber Teething Necklace
One of the natural remedies that have become increasingly popular among parents to soothe their teething baby is the amber teething necklace. Amber is believed to have therapeutic properties that can reduce inflammation and pain in the gums and promote relaxation.
The idea is that when the baby wears the necklace, their body heat triggers the release of succinic acid from the amber, which then gets absorbed through the skin and into the bloodstream. Succinic acid is a natural analgesic and anti-inflammatory agent that can help relieve teething symptoms.
To use an amber teething necklace, you should first ensure that it is made of genuine Baltic amber, which is the most effective type. The necklace should be worn by the baby under adult supervision, never left on while sleeping or when unattended, and should be removed when bathing or swimming.
While some parents swear by the effectiveness of amber teething necklaces, there is no scientific evidence to back up their claims. However, as long as you follow the safety guidelines, using an amber teething necklace may provide some relief to your baby during the teething phase.
2. Cold Cloth
A simple and effective way to soothe a teething baby is to use a cold cloth. This is a great option for parents who prefer not to use medication or teething gels. Simply soak a clean washcloth in cold water and wring out the excess. Then, fold the cloth and place it in the refrigerator for about 30 minutes. Once the cloth is cold, give it to your baby to chew on or gently rub on their gums. The cool temperature can help numb the pain and reduce swelling. Plus, the texture of the cloth can provide some relief by applying gentle pressure to your baby's gums. Just make sure to supervise your baby while they are using the cloth to avoid any choking hazards.
3. Cold Spoon or Ice Pop
One simple and effective remedy for teething pain is to offer your baby a cold spoon or ice pop to chew on. The coolness of the object will help numb the area and reduce inflammation.
To use this remedy, simply freeze a spoon or an ice pop (made of pureed fruit or breast milk/formula) and offer it to your baby to chew on. Be sure to supervise your baby closely during this activity, and discard the spoon or ice pop after it has melted or your baby has finished with it.
You can also try rubbing the cold spoon gently over your baby's gums for added relief. However, be careful not to use anything too cold or frozen as it can cause harm to your baby's delicate gums.
Note: If your baby is younger than 6 months old, it is not recommended to offer them an ice pop or anything else to chew on due to the risk of choking. Consult with your pediatrician for appropriate teething remedies for younger babies.
4. Distraction
Distraction is another great way to soothe your teething baby. Often times, teething pain can make babies feel anxious and irritable, so finding ways to distract them can help to alleviate their discomfort.
There are many ways to distract a teething baby. You can play games with them, read them a book, or take them for a walk. Some parents find that giving their baby a new toy to play with can be a great distraction, while others prefer to engage their baby in some interactive playtime.
Whatever method you choose, make sure to give your baby plenty of attention and affection. Your baby will feel much better if they know they have your undivided attention and care.
Remember, the goal of distraction is not to completely take away your baby's discomfort, but rather to help them cope with it in a more positive and relaxed manner. So be patient, be loving, and keep trying different distraction methods until you find what works best for your baby.
5. Homeopathic Teething Tablets
If you're hesitant to give your teething baby over-the-counter medications, homeopathic teething tablets can be a great alternative. These tablets typically contain natural ingredients like chamomile and arnica that can help to soothe sore gums.
However, it's important to note that the safety and effectiveness of homeopathic remedies can vary. Some studies have even found that some homeopathic products contain potentially harmful ingredients. Therefore, it's essential to research the brand and ingredients before giving your baby homeopathic teething tablets.
Additionally, always follow the recommended dosage instructions and consult with your pediatrician before giving your baby any new medication or remedy, including homeopathic teething tablets. While many parents have reported success with this method, it's always best to err on the side of caution when it comes to your baby's health.
6. Pain Reliever
While many parents prefer to go the natural route for soothing their teething baby, sometimes pain relievers may be necessary for their comfort. If your baby is experiencing significant pain, consult with their pediatrician to discuss the safest and most appropriate pain relief options for them.
Commonly recommended over-the-counter options include infant ibuprofen or acetaminophen, which can help reduce pain and inflammation. It's important to carefully follow dosing instructions and speak with your pediatrician beforehand.
Another option is using teething gels or creams that contain a small amount of topical anesthetic to numb the area temporarily. However, make sure to use a product that is specifically designed for infants and avoid any that contain benzocaine, which can be harmful to babies.
As always, it's important to monitor your baby closely when using any type of pain relief medication and to only use as directed by a healthcare professional. Additionally, make sure to properly store any medications out of reach from curious little hands.
7. Pressure
Another effective way to soothe your teething baby is by applying gentle pressure to the gums. This can help relieve some of the discomfort they are experiencing. You can try using a clean finger to gently massage their gums or use a teething toy designed to apply pressure.
One popular option is a teething ring that can be chilled in the refrigerator. The coolness will not only soothe sore gums but the pressure can provide some relief as well. You can also try giving your baby a clean, damp washcloth to chew on or a silicone teething necklace to provide gentle pressure on their gums.
Just be sure to choose teething toys that are specifically designed for this purpose and avoid any items that may break or become a choking hazard. Additionally, make sure to clean these toys regularly to avoid any bacteria buildup.
Applying gentle pressure to the gums can be a helpful remedy for soothing your teething baby. It may take some trial and error to find the best method that works for your little one, but it can provide some relief during a tough time.
8. Orajel
Orajel is a topical pain reliever that can help soothe a teething baby's discomfort. It contains a numbing agent that helps to alleviate pain and inflammation in the gums. However, it's important to note that Orajel should not be used too often as it can cause numbness in the throat and tongue.
When using Orajel, be sure to follow the instructions on the packaging carefully and only use a small amount at a time. Applying too much can result in unwanted side effects. Also, keep in mind that Orajel is not a cure for teething, but rather a temporary relief for your baby's discomfort.
If your baby is consistently experiencing discomfort while teething, it's important to speak with their pediatrician. They may suggest alternative remedies or provide a different pain reliever that is safe for infants. Remember, every baby is different and what works for one may not work for another. Patience and persistence are key when it comes to finding the best way to soothe your teething baby.
9. Soft Diet
During the teething process, it can be painful for babies to chew and swallow solid foods. It is important to introduce a soft diet to provide relief to your little one. Here are some soft foods you can offer to your teething baby:
Applesauce: Applesauce is a great source of nutrition and easy to eat for babies. Make sure to choose unsweetened applesauce and avoid any chunks that might irritate your baby's gums.
Mashed Bananas: Mashed bananas are another excellent option for teething babies. Bananas are a good source of vitamins and minerals and are easy for babies to swallow.
Cooked Sweet Potato: Sweet potatoes are packed with essential nutrients and have a soft, creamy texture. They are perfect for babies who are teething and unable to chew on harder foods.
Yogurt: Yogurt is a great source of protein, calcium, and vitamins. It also has a smooth, creamy texture that makes it easy for babies to swallow.
Cooked Oatmeal: Oatmeal is an excellent source of fiber and essential nutrients. Cooked oatmeal has a smooth, creamy texture that is perfect for babies who are teething.
Remember, always consult with your pediatrician before introducing any new food to your baby. Soft foods can provide comfort and nutrition during the teething process.
10. Water
Another simple way to soothe a teething baby is to offer them water. Hydration is essential for babies, and drinking water can help keep them calm and distracted from their teething pain. Offer your baby small sips of water throughout the day, especially after feedings or during particularly fussy moments.
You can also try freezing some water in a silicone teething toy or feeder and let your baby gnaw on it for added relief. However, be careful not to offer too much water, as babies under six months of age should only have a limited amount. Always consult with your pediatrician before introducing water into your baby's diet.
11. Extra Craddling
Sometimes all your baby needs is a little extra love and attention. Craddling your little one, holding them close, and giving them lots of cuddles can provide immense comfort during the teething process.
Make sure to create a calm and soothing environment for your baby. Dim the lights, play soft music, and speak in a gentle voice. This will help your baby feel relaxed and comforted, and reduce any stress or anxiety they may be experiencing due to the discomfort of teething.
In addition to craddling, you can also try using a baby carrier or sling to keep your baby close to you throughout the day. This way, you can provide comfort and support while also being able to go about your daily activities.
Remember, teething is a natural process that all babies go through, and it can be challenging for both you and your little one. However, with the right techniques and remedies, you can help soothe your baby and provide the comfort they need during this time. So don't be afraid to try different methods and see what works best for your baby!