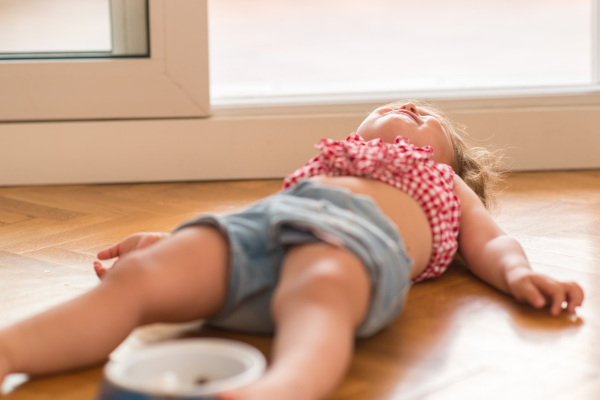 How to Teach a Toddler to Self Soothe
Are you struggling to teach a toddler to self soothe? It can be a difficult and challenging task for any parent, but it's important to help your toddler develop healthy coping skills. Fortunately, there are several effective methods you can use to help your toddler learn how to self soothe. In this blog post, we'll discuss 5 of these methods so that you can teach a toddler to self soothe successfully.
Understanding the Importance of Self-Soothing in Toddlers
As parents, we want nothing but the best for our children, including a good night's sleep.
But as much as we try to keep them calm and comfortable, there will come a time when toddlers will need to learn to self-soothe.
This means being able to calm themselves down when they wake up in the middle of the night or feel anxious or upset.
Self-soothing is a crucial skill that toddlers need to develop to achieve a healthy sleep pattern and overall emotional regulation.
When toddlers are able to soothe themselves, they become more independent and resilient, and their self-esteem and confidence grow.
Self-soothing also teaches toddlers how to cope with stress and difficult emotions, which they will encounter throughout their lives.
By allowing them to experience a certain level of discomfort or distress and then learning how to deal with it, we are helping them develop important life skills.
As parents, our job is to guide our toddlers towards learning how to self-soothe in a way that is gentle, supportive, and effective.
Let's explore some signs that your toddler may need to learn to self-soothe and five effective methods to teach them how.
Signs that Your Toddler Needs to Learn to Self-Soothe
As parents, we want to be there for our children whenever they need us. However, it's also important for our little ones to learn how to self-soothe. Self-soothing is the ability to regulate one's own emotions and calm oneself down when upset. For toddlers, learning to self-soothe can lead to better sleep habits, increased independence, and improved emotional regulation. But how do you know if your toddler needs to learn to self-soothe? Here are some signs to look out for:
Difficulty Falling Asleep: If your toddler has trouble falling asleep or frequently wakes up throughout the night, it may be a sign that they are having trouble self-soothing.
High Emotional Reactivity: If your child gets easily upset and has trouble calming down, it may be a sign that they need to learn self-soothing techniques.
Separation Anxiety: If your child has a difficult time separating from you, it may be because they don't have the ability to soothe themselves in your absence.
Needing Constant Attention: If your child is always seeking your attention and seems unable to entertain themselves, it may be a sign that they haven't learned how to self-soothe.
If you notice any of these signs in your toddler, it may be time to start teaching them self-soothing techniques.
Not only will it benefit their emotional well-being, but it can also lead to better sleep habits for the whole family.
5 Effective Methods for Teaching Toddlers to Self Soothe
Encouraging Independent Play
Independent play can help your toddler learn how to manage their emotions and entertain themselves. Encourage your toddler to play independently by setting up a safe and inviting play area with age-appropriate toys and activities. Initially, you may need to provide some guidance or supervision, but gradually step back and let your toddler explore and discover on their own.
Comfort Objects
Comfort objects like a special blanket or stuffed animal can provide comfort and security to your toddler. Encourage your toddler to pick a special item that they can take with them to bed or during stressful situations.
Positive Reinforcement
Positive reinforcement can help motivate your toddler to learn and develop new skills. When your toddler uses their self-soothing techniques, be sure to praise them and give them positive feedback. This will help reinforce the behavior and encourage your toddler to continue to use their self-soothing techniques. It will be especially important if you're home educating them with helpful resources like ABCmouse, or applying age-appropriate discipline to help them learn where social boundaries might reside.
Calming Activities
Calming activities such as reading a story or singing a lullaby can help your toddler relax and wind down before bedtime. Establish a calming bedtime routine that incorporates these types of activities, and make sure to follow it consistently.
Relaxation Techniques
Relaxation techniques such as deep breathing or visualization can help your toddler calm down and regulate their emotions.
Practice these techniques with your toddler during calm moments, so they become familiar and comfortable with them. These techniques can be particularly helpful during times of stress or anxiety.
Establishing a Consistent Bedtime Routine
A consistent bedtime routine is essential when it comes to teaching your toddler to self soothe. Children thrive on routine, and establishing a predictable pattern can help them feel secure and safe, which will aid in the development of good sleep habits. Here are some tips to help you establish a consistent bedtime routine for your toddler:
Start Early: Start implementing a consistent bedtime routine as soon as possible. Consistency is key, and it is much easier to establish good sleep habits in a young child than to try and change them in an older child.
Stick to a Schedule: Set a consistent bedtime for your child and stick to it as much as possible. This will help your child's body get used to a regular sleep cycle and make it easier for them to fall asleep and stay asleep.
Establish a Bedtime Routine: Develop a soothing bedtime routine that includes a warm bath, story time, cuddling, and soft music or white noise. Avoid stimulating activities such as watching TV or playing video games, as these can make it harder for your child to settle down.
Be Patient: It can take time for your child to adjust to a new bedtime routine. Be patient and consistent, and over time, your child will learn to associate these activities with bedtime and be able to self soothe more easily.
Stick to It: Once you establish a consistent bedtime routine, stick to it as much as possible. This will help your child's body get used to the routine and make it easier for them to fall asleep and stay asleep.
Creating a Soothing Sleep Environment
As adults, we know the importance of creating a comfortable and relaxing sleep environment to help us sleep better. Toddlers are no different, and providing them with a soothing sleep environment can be crucial to their ability to self-soothe.
Here are some tips for creating a soothing sleep environment for your toddler:
Dim the Lights: Lower the lights in your toddler's room in the evenings to help create a calming atmosphere. Use a soft night light or dimmer switch to keep the room dimly lit throughout the night.
Comfortable Bedding: Choose bedding that is comfortable and cozy. Avoid scratchy or uncomfortable materials. A soft, cuddly blanket or stuffed animal can also help your toddler feel more secure.
White Noise: White noise machines or apps can create a calming background sound that can help your toddler sleep more soundly. Experiment with different sounds, like ocean waves or rain, to find the most soothing option.
Aromatherapy: Certain scents, like lavender, are known for their calming properties. Consider using a diffuser or spray to add a relaxing scent to your toddler's sleep environment.
Temperature Control: Make sure your toddler's room is at a comfortable temperature for sleeping. Keep the room cool but not cold, and dress your toddler in appropriate pajamas for the season.
By creating a soothing sleep environment for your toddler, you are giving them the tools they need to self-soothe and fall asleep more easily.
Be consistent with these sleep environment strategies to help establish a bedtime routine and create a peaceful space for your little one to rest.