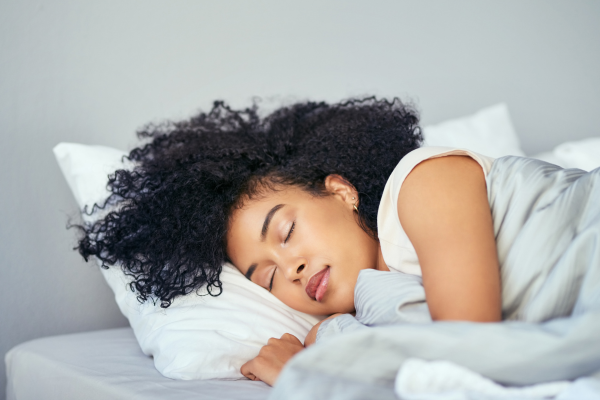 The Importance of Sleep
Good quality sleep is one of the most important aspects of health and wellbeing. Research has demonstrated the importance of sleep for physical and mental health, as well as cognitive performance. Unfortunately, many of us don't get enough sleep, and it can be difficult to prioritize sleep over other tasks in our daily lives. But what if we could make sleep a priority, and truly discover the vitality of a good night's sleep? In this blog post, we will explore the importance of sleep for overall health and discuss how to make sleep a priority.
Why Sleep Matters
We've all heard the phrase, "You snooze, you lose," but when it comes to sleep, it's actually quite the opposite. In fact, getting enough sleep is one of the most important things you can do for your overall health. Putting the importance of sleep first can help boost your health and your mood.
Sleep is the time when your body and brain repair, restore, and re-energize, making it essential for everything from mental clarity to physical well-being.
Research shows that most adults need around 7-8 hours of sleep each night to function at their best. While we may be tempted to cut corners and get by on less, skimping on sleep can have serious consequences.
Not only can it impact our daily lives, but it can also increase our risk of chronic health conditions such as diabetes, obesity, and heart disease.
Why exactly is sleep so important? The short answer is that it affects just about every aspect of our physical and mental health.
It's a crucial time for our bodies to repair and restore, from healing our muscles and tissues to synthesizing hormones and boosting our immune systems.
For our brains, sleep is essential for memory consolidation, cognitive processing, and emotional regulation. It's the time when our brains process and store information from the day before, and without it, we can struggle to concentrate, make decisions, and regulate our moods.
In short, sleep isn't just a luxury – it's a necessity for our overall health and well-being. So if you've been putting off that extra hour of shut-eye, now's the time to start prioritizing your sleep.
The Benefits of a Good Night's Sleep
When it comes to health and wellbeing, the importance of sleep is absolutely crucial. Here are just a few of the many benefits you'll experience when you prioritize a good night's rest:
1. Increased Energy and Focus: Adequate sleep helps to recharge your body and brain, allowing you to be more alert and focused throughout the day.
2. Better Mood: When you're well-rested, you're more likely to feel happier and less irritable. This can help improve your relationships and make your daily life more enjoyable.
3. Improved Physical Health: Sleep is essential for physical healing and recovery, and can help reduce your risk of developing conditions like heart disease, obesity, and diabetes.
4. Stronger Immune System: Sleep plays a critical role in immune function, helping your body fight off illnesses and infections.
5. Enhanced Cognitive Function: During sleep, your brain processes and consolidates memories, which can help improve your overall cognitive function and problem-solving abilities.
Lower Stress Levels: Lack of sleep can increase stress hormones in the body while getting enough rest can help regulate them and reduce overall stress levels.
The benefits of a good night's sleep cannot be overstated. So if you want to feel your best and live a healthy happy life, make sure to prioritize getting enough rest every night.
The Consequences of Sleep Deprivation
Have you ever pulled an all-nighter to meet a deadline or stayed up late binge-watching your favorite show?
We've all been there, but did you know that depriving yourself of sleep has negative consequences on your health?
Firstly, sleep deprivation affects cognitive function. Your brain needs rest to process information and consolidate memories.
Lack of sleep can impair attention, concentration, and decision-making abilities. This can have detrimental effects on your performance at work, school, or in daily life.
Secondly, sleep deprivation affects your mood. Sleep and mood are closely linked.
People who don't get enough sleep are more prone to depression, anxiety, irritability, and stress. Chronic sleep deprivation can exacerbate mental health issues and lead to mood disorders.
Thirdly, sleep deprivation affects physical health. When you sleep, your body goes through a restoration process.
It repairs tissues, strengthens the immune system, and regulates hormones.
Sleep deprivation disrupts these processes and can lead to various health problems such as obesity, diabetes, cardiovascular diseases, and a weakened immune system.
Finally, sleep deprivation affects your safety. Being sleep-deprived affects your ability to react and make split-second decisions.
This increases the risk of accidents while driving, operating machinery, or performing other activities that require focus and alertness.
Common Sleep Disorders and How to Treat Them
In addition to prioritizing the quantity and quality of sleep you get each night, it's also important to be aware of common sleep disorders that can disrupt your rest and overall health. Here are a few examples and some treatment options:
1. Insomnia: Difficulty falling asleep, staying asleep, or both is the hallmark of insomnia. This can be caused by stress, anxiety, depression, certain medications, or a disruption in your circadian rhythm. Cognitive behavioral therapy (CBT) is often effective in addressing the underlying thoughts and behaviors that contribute to insomnia. In some cases, medication may be prescribed to aid sleep, but this should be a last resort due to the potential for dependence and other side effects.
2. Sleep Apnea: This disorder involves the repeated interruption of breathing during sleep, which can lead to daytime fatigue, irritability, and other health problems. Depending on the severity of your sleep apnea, your doctor may recommend a continuous positive airway pressure (CPAP) machine, an oral appliance to reposition the jaw, or surgery.
3. Restless Leg Syndrome: This condition is characterized by an irresistible urge to move your legs, particularly when you're trying to fall asleep. It can be accompanied by uncomfortable sensations like itching, burning, or tingling in the legs. Treatment options may include iron supplements, muscle relaxants, or dopamine agonists.
4. Narcolepsy: This rare disorder involves sudden, uncontrollable episodes of falling asleep during the day. Other symptoms may include sleep paralysis, vivid hallucinations, and fragmented nighttime sleep. Medications like stimulants, antidepressants, and sodium oxybate can help manage the symptoms of narcolepsy.
If you suspect that you have a sleep disorder, it's important to talk to your doctor. They can help determine the cause and recommend appropriate treatment options. Don't suffer in silence – prioritizing your sleep is a crucial component of overall health and well-being.
Tips for Improving Your Sleep Hygiene
Good sleep hygiene habits can help improve the quality and quantity of your sleep. Here are some tips to get started:
1. Establish a Regular Sleep Schedule: Try to go to bed and wake up at the same time every day, even on weekends. This helps regulate your body's internal clock and promotes better sleep.
2. Create a Relaxing Bedtime Routine: Develop a pre-sleep routine that helps you unwind and prepare for sleep. This could include taking a warm bath, reading a book, or practicing relaxation techniques like meditation.
3. Create a Sleep-Conducive Environment: Your bedroom should be cool, dark, and quiet. Make sure your mattress and pillows are comfortable and supportive.
4. Limit Exposure to Electronic Devices: The blue light emitted by electronic devices can disrupt your sleep-wake cycle. Avoid using screens at least 30 minutes before bed, and consider using blue-light-blocking glasses or a screen filter.
5. Avoid Stimulants Before Bedtime: Caffeine, nicotine, and alcohol can all interfere with your sleep. Avoid consuming them before bedtime, and limit your intake throughout the day.
6. Get Regular Exercise: Physical activity can help promote better sleep, but try to avoid vigorous exercise close to bedtime.
7. Manage Stress: Stress and anxiety can interfere with your ability to fall asleep and stay asleep. Find healthy ways to manage stress, such as exercise, meditation, or therapy.
By incorporating these habits into your daily routine, you can improve your sleep hygiene and reap the benefits of a good night's sleep.
Putting the importance of sleep first is essential for overall health and well-being. Getting a good night's rest will help you feel rejuvenated during the day.