Baby Registry 101: A Comprehensive Overview for First-Time Parents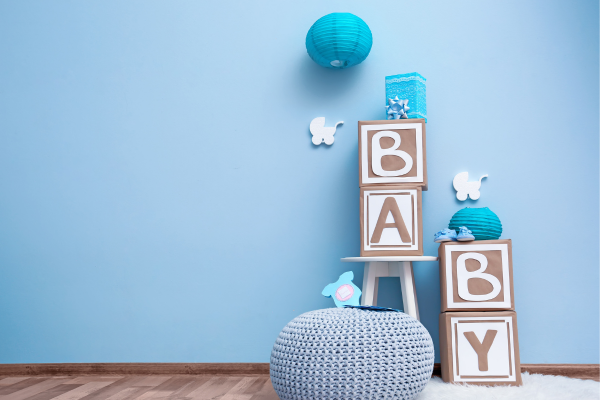 What is a Baby Registry
Are you a first-time parent wondering what is a baby registry? Having a baby is an exciting time in a parent's life but can also be daunting. The idea of a baby registry can be overwhelming and confusing, so getting all the information you need to make the best decision for your family is important. In this blog post, we will provide an in-depth overview of baby registries and what to consider when creating your own. We will cover topics such as why you need one, what should be included, and how to maximize your registry benefits. By the end of this post, you will have a comprehensive understanding of baby registries and be better prepared to create your own.
Decide What Type of Registry to Create
One of the first things you'll need to decide is what type of registry you want to create. As a first-time parent, creating a baby registry can feel overwhelming. There are a few different options to choose from, including a store-specific registry, a universal registry, or a cash fund registry.
A store-specific registry is exactly what it sounds like – a registry that is tied to a specific store or website. This can be helpful if you have a particular store in mind that you want to shop at for your baby's needs. These types of registries often come with perks like discounts and freebies for the parents-to-be.
A universal registry allows you to add items from any store to your list, which can be helpful if you want to shop around for the best prices or if you have specific items that you want to add from multiple stores.
A cash fund registry is a relatively new option allowing friends and family to contribute money towards specific items or experiences you have added to your registry. This can be a good choice if you already have many essentials and are looking for help with bigger ticket items like a stroller or a crib.
No matter which type of registry you choose, make sure to consider the needs of your baby and your family when creating your list. It's also a good idea to talk to other parents and do some research to understand what items are must-haves and which ones you can skip.
Research Which Stores Offer the Best Registries
Creating a baby registry is one of the most exciting parts of pregnancy. It is a chance to prepare for your new arrival and means that family and friends can spoil you and your little one with gifts. But where should you create your baby registry?
Countless stores offer baby registries, both online and in-store. The key is to find the one that best fits your needs and preferences. Some popular stores offering baby registries include Amazon, Target, Buy Buy Baby, and Walmart. These stores have a wide variety of baby products to choose from and easy-to-use registry platforms that allow you to add, edit, and manage your registry easily.
Another important factor to consider when choosing a store for your registry is the perks and rewards they offer. For example, Amazon offers a 15% completion discount on items that were not purchased from your registry, while Target offers a welcome kit full of baby products and coupons.
Ultimately, the best registry is one that meets your specific needs and preferences. If you're looking for high-end baby products, consider registering at a specialty store like Pottery Barn Kids or Crate & Kids. Or, if you prefer to shop at a particular store for your everyday needs, you might choose to create your registry there to simplify your shopping.
Whatever store you choose, it's important to research to find the one that offers the best registry for your needs. Take the time to explore your options and read reviews from other parents to ensure you're making the best choice for you and your baby.
Choose the Right Time to Create a Baby Registry
When it comes to creating a baby registry, timing is everything. You don't want to start too early and risk having items become unavailable, but you also don't want to wait until the last minute and risk missing out on important items. So when is the right time to register?
Ideally, you should start your registry around the 12-20 week mark of your pregnancy. This will give you enough time to research and make informed decisions about the items you want on your list. Plus, it gives your friends and family ample time to shop for your baby shower or arrival.
Remember that some items may have a longer lead time or may be out of stock due to high demand, so it's best to start early to avoid any disappointment.
If you're having a baby shower, it's also important to register at least four to six weeks before the event. This will give your guests ample time to purchase items from your list and ensure you have everything you need before the baby arrives.
In general, it's best to create a baby registry sooner rather than later. Don't worry about having everything perfect from the get-go – you can always make adjustments and additions as you go along. And remember, it's never too late to start a registry, even if you've already had your baby. So, go ahead and start creating your list today!
Don't Forget the Essentials
When creating a baby registry, it can be tempting to go for all the cute and trendy items, but it's important to remember the essentials that your baby will need. These include:
Diapers and Wipes: You'll go through many diapers and wipes in the first few months, so make sure to add them to your registry. Consider different brands and sizes to see what works best for your baby.
Baby Clothes: Your baby will need various clothing, including onesies, sleepers, and outfits for going out. Be sure to add different sizes as babies grow quickly.
Feeding Supplies: Whether you plan to breastfeed or use formula, you'll need bottles, nipples, a breast pump, and other supplies. Don't forget burp cloths and bibs too.
Baby Gear: Depending on your lifestyle and needs, you may want to add items such as a stroller, car seat, and baby carrier to your registry.
Nursery Items: Your baby will need a safe and comfortable place to sleep, so consider adding a crib, mattress, and bedding to your registry. You may also want to add a baby monitor and a rocking chair for late-night feedings.
Remember that while it's important to have all the essentials, it's okay to add some fun and luxurious items too. Just make sure you have the necessities covered first.
Add a Few Luxury Items to Your Baby Registry
While it's important to prioritize practical and essential items when creating your baby registry, it's also nice to add in a few luxury items that you wouldn't necessarily buy for yourself. These can be items that you've had your eye on or that have been recommended by friends and family members who are parents themselves.
One luxury item to consider adding to your registry is a high-end stroller or car seat. While these may be more expensive than their budget-friendly counterparts, they often come with added features like easy maneuverability, all-terrain capabilities, and superior safety ratings.
Another option is to add in a few items that are designed specifically for your baby's comfort and entertainment. A high-quality baby swing, for example, can soothe your little one while giving you a much-needed break. And a state-of-the-art baby monitor with video capabilities can help ease your anxiety when you're away from your baby.
If you're looking for luxury items that are a bit more practical, consider investing in a baby carrier or wrap that's comfortable and stylish. These can be a lifesaver when you're out and about with your little one, allowing you to keep your hands free while keeping your baby close and snug.
When adding luxury items to your registry, it's important to be mindful of your budget and prioritize the essentials first. But don't be afraid to add a few special items that will make your parenting journey just a little bit easier and more enjoyable.
Be Prepared for Returns
No matter how carefully you choose the items for your baby registry, there may still be some things that don't quite work out. Maybe the size isn't quite right, or the color isn't what you were expecting. That's why it's important to be prepared for returns.
When you create your baby registry, make sure you check the return policy for each store you've registered with. Some stores may only offer store credit instead of cash refunds, and some may have a limited window for returns. It's a good idea to keep track of these policies so you don't miss out on returning an item if necessary.
If you do need to make a return, make sure you have all the necessary paperwork and packaging. Some stores may require a receipt or a specific form to be filled out. Keep the packaging and any tags or labels intact, as some stores may not accept returns if the packaging has been damaged.
It's also important to remember that some items may be final sale and not eligible for return. This is often the case for items like breast pumps or baby monitors that have been opened and used.
If you do receive a gift that you want to return but don't have the receipt, consider reaching out to the person who gifted it to you. They may be able to provide proof of purchase or assist with the return process.
While it may seem like a hassle, being prepared for returns is an important part of creating a baby registry. It allows you to make sure you have the items you really need and want without getting stuck with things that don't quite work out.