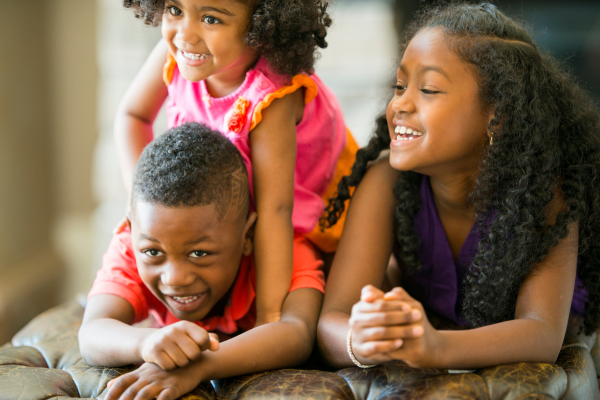 Have you ever heard of "Youngest Child Syndrome"? It is a term used to describe the unique characteristics of younger siblings in a family. It's also known as "baby of the family syndrome" and involves a number of traits that are generally attributed to this particular birth order. In this blog post, we'll explore what youngest child syndrome is, its fascinating characteristics, and how it can affect family dynamics.
The Birth Order Theory
The birth order theory suggests that the order in which siblings are born can have a significant impact on their personality, behavior, and even their success in life. While this theory has been debated over the years, many people still believe that birth order plays a crucial role in shaping a person's development.
According to this theory, firstborns tend to be responsible, perfectionists, and achievement-oriented. They are often seen as leaders and are used to being in charge. Middle children, on the other hand, tend to be peacemakers, social butterflies, and adaptable.
They often feel overlooked and may try to find ways to stand out. And then there are the youngest children, who are thought to be free-spirited, charming, and outgoing. They may enjoy being the center of attention and have a more relaxed attitude towards life.
It's important to note that birth order is not the only factor that shapes a person's personality. Genetics, upbringing, and life experiences all play a role. However, the birth order theory can provide insight into why siblings may have different personalities and outlooks on life.
So, how much does birth order really matter? The answer may depend on the family and the individual. Some people may find that their birth order aligns with the typical characteristics associated with that position, while others may not see a correlation. Regardless, understanding the birth order theory can be useful in understanding ourselves and those around us.
How Much Does Birth Order Matter?
While birth order can certainly influence certain personality traits and behaviors, it's important to note that it's just one of many factors that contribute to who we are as individuals. Research has shown that genetics, upbringing, and environment also play a significant role in shaping our personalities.
That being said, birth order can still have a noticeable impact on how we see ourselves and how we interact with others. First-born children, for example, are often seen as natural leaders and tend to be more responsible and achievement-oriented. Middle children, on the other hand, tend to be peacemakers and have a strong desire for fairness and equality.
As for the youngest child, they are often more carefree and playful than their older siblings. They may feel like they have to compete for attention, which can lead them to become more outgoing and social in order to stand out.
Ultimately, while birth order is not the only factor that determines our personalities, it's still worth considering when looking at how our family dynamics have shaped who we are today.
Common Characteristics of the Youngest Child
Attention-seeking: The youngest child often feels the need to compete with their older siblings for attention, resulting in attention-seeking behavior.
Risk-taker: Younger siblings often take more risks, which can be attributed to their parents' more relaxed approach towards them.
Manipulative: Since they are the baby of the family, they have learned to manipulate their way into getting what they want from their parents and siblings.
Creative: Youngest children often develop a sense of creativity to stand out from their older siblings.
Outgoing: Being surrounded by siblings can make the youngest child more outgoing and sociable.
Sensitive: Youngest children may also be more sensitive due to their position in the family and may take criticism more personally.
It is important to note that not all youngest children display these characteristics, as each child is unique. However, these traits have been commonly observed among the youngest siblings. Understanding these characteristics can help parents and siblings better relate and communicate with the youngest child in the family.
Pros and Cons of Being the Baby of the Family
Being the youngest child in a family has its own set of advantages and disadvantages. Let's take a look at some of the pros and cons of being the baby of the family.
Attention: Youngest children often receive a lot of attention from their parents and siblings. They are the babies of the family and are usually treated with more care and love.
Perks: As the youngest child, you might get away with certain things that your older siblings weren't allowed to do. You may also receive more gifts and privileges as the youngest.
Independent: The youngest child is usually more independent and confident as they are not as sheltered as their older siblings.
Overprotected: The youngest child may sometimes feel overprotected and suffocated by the constant attention they receive from their parents and siblings.
Responsibility: The youngest child often has fewer responsibilities compared to their older siblings, which can hinder their personal growth and development.
Comparison: The youngest child may often be compared to their older siblings, which can make them feel like they are not living up to expectations.
It's important to note that the pros and cons of being the baby of the family can vary greatly from family to family. It's also important to understand that being the youngest child doesn't define a person's character or abilities.
Overall, while there may be both positives and negatives to being the youngest child in a family, it's important to focus on personal growth and development rather than birth order. Each person has unique strengths and weaknesses, and it's important to nurture and develop these individual qualities to achieve personal success.
How to Deal With Youngest Child Syndrome
Youngest child syndrome is a real phenomenon, but it's not all negative. In fact, there are many ways to embrace and work with these unique characteristics to help the youngest child in your family thrive.
Here are some tips on how to deal with youngest child syndrome:
Give them a voice: It's easy for the youngest child to feel overlooked or dismissed in family conversations. Encourage them to speak up and make sure their opinions are heard and respected.
Set boundaries: The youngest child may be used to getting their way or being doted on by older siblings or parents. It's important to establish boundaries and teach them the value of compromise and consideration for others.
Encourage independence: Youngest children can benefit from having a sense of autonomy and responsibility. Give them age-appropriate tasks and responsibilities and let them make their own decisions.
Celebrate their accomplishments: The youngest child may feel overshadowed by older siblings or feel like they're always playing catch-up. Celebrate their individual achievements and strengths to boost their self-confidence.
Avoid comparisons: It's natural to compare siblings, but it can be damaging for the youngest child's self-esteem. Encourage them to embrace their unique qualities and talents.
In conclusion, youngest child syndrome is a real thing, but it doesn't have to be a negative one. By understanding and embracing the characteristics of the youngest child, you can help them thrive and reach their full potential.