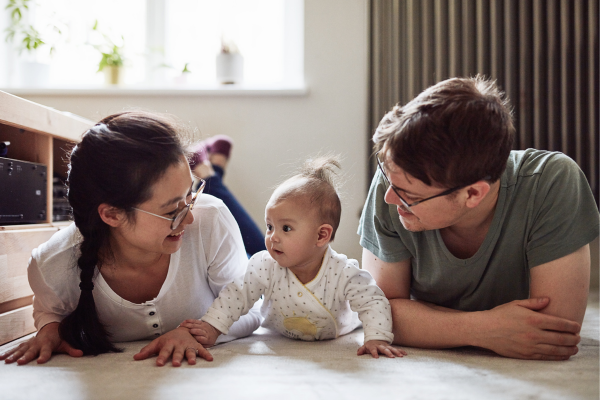 When to start tummy time is an important question for many new parents. Starting your baby on tummy time early can help them develop in many ways, so it's important to understand the importance of tummy time and when to start. In this blog post, we'll discuss the importance of tummy time and the best time to begin tummy time with your baby.
What is Tummy Time?
Tummy Time refers to the practice of placing your baby on their stomach to play and explore the world around them. During Tummy Time, your baby develops their neck, back, and shoulder muscles, as well as their gross motor skills. It also helps prevent flat spots on the back of their head.
This exercise is a critical component of your baby's physical development and has many benefits for their overall growth and well-being. The earlier you start Tummy Time, the more beneficial it will be for your baby's development. However, many parents are unsure about when to begin this essential exercise.
Why is Tummy Time Important?
Tummy time is crucial for your baby's growth and development. It strengthens the muscles in the neck, shoulders, and arms, preparing them for the next stages of development, such as rolling over, crawling, and sitting up.
Additionally, it can help prevent flat spots on your baby's head, also known as positional plagiocephaly. Tummy time also provides sensory input, which is crucial for your baby's cognitive and motor development.
By lifting their head and looking around, your baby is using their eyes to coordinate with their movements, which helps them develop their visual tracking and spatial awareness skills. Overall, tummy time is an essential component of your baby's development and should be a regular part of their routine from an early age.
When Should Tummy Time Start?
Tummy time should start as early as possible after birth. In fact, some doctors recommend starting tummy time as soon as you bring your newborn home from the hospital. While your baby may be sleepy and not particularly interested in engaging with the world around them in the first few weeks, tummy time can help your baby develop the necessary muscles to crawl, sit, and eventually walk.
Experts suggest that you can begin with a few short periods of tummy time each day and gradually increase the duration and frequency as your baby becomes more comfortable with the position. However, if your baby is premature or has medical conditions that require special attention, speak with your pediatrician to determine the appropriate time to start tummy time.
Remember that each baby is unique and may take some time to adjust to the new position. If your baby gets fussy or cries during tummy time, take a break and try again later. Over time, your baby will develop the strength and coordination needed to stay on their tummy for longer periods and enjoy exploring the world from a new perspective.
How Long Should Tummy Time Last?
As with many aspects of caring for a baby, the answer to how long tummy time should last can vary depending on your baby's age and developmental stage.
Newborns may only tolerate a few minutes of tummy time at a time, while older babies can usually handle longer sessions. As a general rule, aim for around 20-30 minutes of tummy time per day, spread out in short intervals throughout the day.
As your baby gets older and stronger, you can gradually increase the length of tummy time sessions. By around three to four months of age, your baby may be able to tolerate 45-60 minutes of tummy time per day, broken up into shorter intervals.
Remember to always follow your baby's cues and not force them to stay on their tummy if they're upset or uncomfortable. Gradual and consistent practice is key to helping your baby build strength and coordination, but it's important to prioritize their comfort and safety throughout the process.
Tips for Making Tummy Time Successful
Start slow: If your baby is not used to spending time on their tummy, start with just a few minutes at a time and gradually increase the duration.
Make it fun: Place toys or mirrors in front of your baby to encourage them to lift their head and engage with their surroundings. You can also get down on their level and make faces or talk to them to keep them entertained.
Choose the right surface: Tummy time can be done on a soft blanket, playmat, or even your chest. Avoid hard surfaces like hardwood floors.
Try different positions: Tummy time can be done on your baby's stomach, but also on their side or even on an exercise ball. Mix it up to keep them engaged and interested.
Use support: If your baby is struggling to lift their head, try placing a rolled-up towel or small pillow under their chest to give them a little extra support.
Be patient: Some babies may not love tummy time at first, but with consistency and encouragement, they will gradually become more comfortable and confident in this position.
Remember, tummy time is an important part of your baby's development, so make sure to incorporate it into their daily routine. With a little creativity and patience, you can make tummy time a fun and enjoyable experience for your little one.