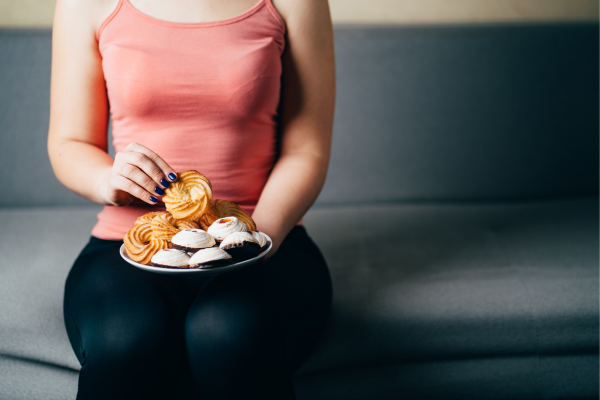 Am I Addicted to Food?
Do you find yourself constantly craving food, even when you're not actually hungry? If so, you may be wondering, "Am I addicted to food?" Food addiction is a real issue that affects many people, and it can have serious consequences. In this blog post, we'll discuss what food addiction is, how to tell if you're struggling with it, and what steps you can take to regain control over your cravings.
Overeating
Overeating refers to consuming more food than your body needs to function optimally. Everyone overeats from time to time, whether it's during a celebration, social gathering, or when we're just feeling bored or stressed. However, when overeating becomes a frequent habit, it can lead to addiction.
There are several reasons why people overeat, including boredom, stress, lack of self-control, or simply enjoying the taste of food. Overeating can also be caused by physical factors, such as hormonal imbalances or a sluggish metabolism.
Overeating can have serious health consequences, such as obesity, high blood pressure, and heart disease. Additionally, it can negatively impact your mental health by lowering self-esteem, leading to depression, and affecting your overall quality of life.
If you find yourself frequently overeating, it's important to seek help. Talk to your doctor, a therapist, or a nutritionist who can provide guidance and support. In some cases, you may need to undergo cognitive-behavioral therapy or join a support group to address your addiction to food.
Remember, addiction to food is a serious problem, but it can be overcome with the right support and tools. Start by recognizing the signs of overeating, and don't be afraid to ask for help. By taking small steps every day, you can achieve a healthy and balanced relationship with food.
Am I addicted to Food? Unhealthy Eating Habits
We've all been guilty of indulging in unhealthy foods every once in a while. However, if you find yourself constantly consuming unhealthy foods and neglecting your body's nutritional needs, you may have developed an addiction to food.
Unhealthy eating habits can manifest in many different ways. It can involve skipping meals and then binge-eating, eating too quickly without properly savoring or chewing food, and relying on high-fat, high-sugar foods as a means of comfort.
This can cause numerous negative effects on your physical and mental health. Some common consequences of unhealthy eating habits include weight gain, high blood pressure, heart disease, diabetes, and a decreased sense of self-esteem.
Additionally, when you rely on unhealthy foods to cope with negative emotions, you may experience feelings of guilt or shame after consuming large quantities of food, leading to a cycle of negative emotions and even further binge eating.
To break free from unhealthy eating habits and combat addiction to food, it's important to address the root causes of the issue. It can involve seeking therapy or counseling, practicing mindfulness, and creating a structured meal plan with the help of a registered dietician.
By adopting healthy eating habits and breaking free from addiction to food, you can improve both your physical and mental health, and enjoy food without feeling guilty or ashamed.
Emotional Eating
Do you find yourself turning to food for comfort during times of stress, sadness, or boredom? Emotional eating is a common habit that many people develop in order to cope with their emotions. Unfortunately, this type of eating can lead to a harmful cycle of overeating and feelings of guilt and shame.
When we experience strong emotions, our bodies may crave certain foods, especially those that are high in sugar, fat, or salt. These foods can provide a temporary feeling of pleasure or relief, but they often leave us feeling worse in the long run. Not only can emotional eating lead to weight gain and other health issues, but it can also worsen our emotional state by perpetuating negative feelings and thoughts.
To overcome emotional eating, it's important to learn healthy ways of coping with emotions. This might involve practicing mindfulness techniques such as meditation or deep breathing, seeking support from friends or a therapist, or engaging in activities that bring joy or relaxation, such as exercise or creative hobbies.
When it comes to food, try to choose healthy, whole foods that nourish your body and provide long-lasting energy. Instead of reaching for junk food when you're feeling stressed or anxious, try snacking on fruits, vegetables, nuts, or other healthy options. With time and practice, you can break the cycle of emotional eating and develop healthier habits that support your physical and emotional well-being.
Binge Eating
Binge eating is a serious disorder where individuals consume large amounts of food in a short period of time. Unlike occasional overeating, binge eating episodes occur regularly, often with feelings of guilt and shame afterward. Those who experience binge eating may also feel a loss of control over their eating habits, leading to consuming food even when they're not hungry.
Binge eating is often associated with emotional eating, where individuals use food to cope with difficult emotions or situations. It's not uncommon for binge eaters to feel a sense of relief while consuming food, only to be replaced with negative emotions such as guilt and shame. Additionally, some people may also use binge eating as a way to deal with stress, anxiety, and depression.
The physical and emotional toll of binge eating can be severe, including weight gain, decreased self-esteem, and even health problems such as heart disease and type 2 diabetes. It's crucial for individuals struggling with binge eating to seek help and support from a healthcare professional or therapist. With the right guidance, it's possible to manage the disorder and develop healthy eating habits.
Am I Addicted to Food? Night Eating Syndrome
Night-eating syndrome (NES) is a condition where an individual eats a significant amount of their daily calories after dinner or in the middle of the night. This can include waking up multiple times to eat or consuming large amounts of food in the evening. Individuals with NES may not feel hungry in the morning and tend to skip breakfast, which can disrupt their metabolism.
NES can have several underlying causes, including stress, depression, or other psychological factors. Some studies have shown that individuals with NES may have lower levels of the hormone melatonin, which regulates sleep and appetite.
If you find yourself waking up in the middle of the night to eat, or eating a large amount of food in the evening, it is essential to speak with your healthcare provider. They can help diagnose NES and recommend appropriate treatment, such as therapy, medication, or lifestyle changes.
It is essential to recognize the signs of NES and seek treatment to prevent potential health complications such as obesity, type 2 diabetes, and sleep disorders. With the right care, individuals with NES can overcome their addiction to food and establish healthier eating habits.
Am I Addicted to Food?