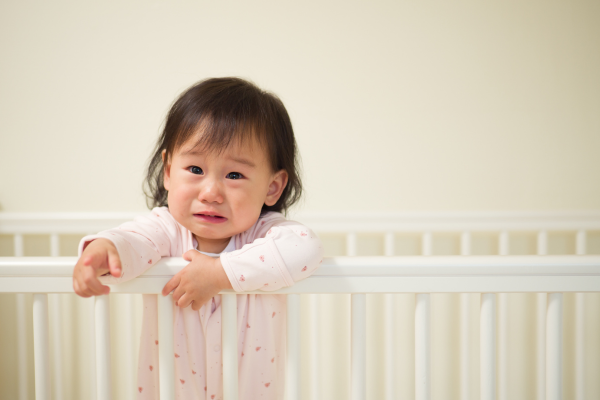 18 Month Old Crying Uncontrollably at Night
The 18-month sleep dilemma is one that many parents of young children have faced. Every parent wants their child to get the sleep they need, but it can be difficult when an 18 month old is crying uncontrollably at night. It can be heartbreaking and even downright frustrating to deal with. This blog post will explore ways to comfort a toddler in this situation and provide strategies for helping them get the rest they need.
Understanding the Causes of Nighttime Crying in Toddlers
As parents, it can be incredibly difficult to see our 18-month-old children crying uncontrollably at night.
It tugs at our heartstrings and can leave us feeling frustrated and helpless. Understanding the causes behind this nighttime crying can help us better comfort our little ones and find ways to help them get the rest they need.
One common cause of nighttime crying in toddlers is separation anxiety. At this age, toddlers are becoming more aware of their surroundings and may experience anxiety when separated from their caregivers.
This anxiety can be particularly intense at bedtime, leading to tears and distress.
Another possible cause of nighttime crying is teething. Around 18 months, toddlers are still getting their baby teeth, and the discomfort and pain can disrupt their sleep.
If you notice that your toddler's crying is accompanied by excessive drooling or chewing on objects, teething may be to blame.
Nightmares and night terrors are also potential causes of nighttime crying. While nightmares can occur at any age, they can be particularly frightening for young children who may struggle to understand what they are experiencing.
Night terrors, on the other hand, are sudden episodes of intense fear or terror that occur during sleep. They can leave your child feeling upset and confused.
Finally, discomfort or illness can also lead to nighttime crying. If your toddler is experiencing any physical discomfort, such as an upset stomach or an earache, it can make it difficult for them to settle down and sleep peacefully.
By understanding the potential causes of nighttime crying in toddlers, we can approach the situation with empathy and compassion.
Creating a Calm and Soothing Environment in the Bedroom
Creating a calm and soothing environment in the bedroom is crucial for helping your 18-month-old toddler get the rest they need.
When a child feels safe and comfortable in their sleep space, it can significantly reduce nighttime crying and promote better sleep overall.
First, consider the lighting in the room. Soft, dim lighting can help create a peaceful ambiance that signals to your toddler's brain that it's time to relax and wind down.
Avoid bright, harsh lights that can be stimulating and disrupt their sleep. Next, think about the temperature in the room. Keeping it cool and comfortable can promote better sleep.
Make sure your child is dressed appropriately for the temperature and consider using a fan or air conditioner if necessary.
Creating a cozy sleep environment is also important. Use soft, breathable bedding and consider using a comforting blanket or stuffed animal for your child to snuggle with.
Some toddlers may also benefit from having a white noise machine or a calming music playlist playing softly in the background.
Lastly, try to minimize distractions in the bedroom. Keep toys, electronics, and other stimulating objects out of reach during bedtime.
The bedroom should be a dedicated space for sleep and relaxation, free from distractions that can keep your toddler awake.
By creating a calm and soothing environment in the bedroom, you can help your 18-month-old toddler feel safe and secure, reducing nighttime crying and promoting better sleep for the whole family.
Developing Consistent Bedtime Routines and Rituals
Consistency is key when it comes to helping your 18-month-old toddler establish healthy sleep habits.
Developing consistent bedtime routines and rituals can provide a sense of structure and predictability, making it easier for your little one to transition from playtime to sleep time.
Start by establishing a regular bedtime. Choose a time that allows for enough hours of sleep for your toddler's age, typically around 11-14 hours total.
Consistency with the bedtime hour helps regulate your child's internal clock and signals to their body that it's time to wind down.
Next, create a calming routine leading up to bedtime. This routine can include activities such as bath time, brushing teeth, reading a story, or singing a lullaby.
Choose activities that help your toddler relax and associate with sleep. Keeping the routine consistent night after night will signal to your child's brain that it's time to prepare for sleep.
Make sure the routine is manageable and age-appropriate. As your toddler grows, they may have preferences for certain activities. Listen to their cues and adapt the routine to meet their needs.
It's important to be present and engaged during the bedtime routine. Use this time to bond with your child, providing reassurance and comfort.
Offer soothing words, gentle touch, and plenty of love. Avoid screens and other stimulating activities that can interfere with the wind-down process.
Consistency is key with bedtime routines. Even on nights when you're busy or away from home, try to maintain the core elements of the routine as much as possible.
This will help your child feel secure and comfortable, making bedtime transitions smoother.
Developing consistent bedtime routines and rituals can significantly reduce nighttime crying and promote better sleep for your 18-month-old toddler.
Stick with the routine, provide love and comfort, and watch as your little one settles into peaceful nights of rest.
Responding to Your Toddler's Cries with Empathy and Compassion
It can be heartbreaking to hear your 18-month-old toddler crying uncontrollably at night. As a parent, your instinct is to rush in and try to make it stop.
But it's important to remember that your child is crying for a reason, and they need your understanding and support.
When responding to your toddler's cries, it's crucial to approach the situation with empathy and compassion. Try to understand their needs and validate their emotions.
Let them know that you are there for them and that you will do your best to help them feel better.
Start by comforting your toddler with a gentle touch and soothing words. Reassure them that they are safe and loved.
Offer a warm hug or a soft pat on the back to provide a sense of security.
By being physically present and offering comfort, you can help calm your toddler and create a safe space for them to express their emotions.
Listen to your child's cries and try to identify any underlying needs. Are they hungry, thirsty, or in need of a diaper change?
By addressing their basic needs first, you can help alleviate any physical discomfort that may be contributing to their crying.
Sometimes, your child may simply need your presence and attention. Sit beside them and provide a calming presence.
Sing a lullaby, read a bedtime story, or softly talk to them to help them relax and feel soothed. Your voice can be incredibly comforting to a distressed toddler.
It's important to remain patient and understanding during this process. Responding to your toddler's cries with empathy and compassion can go a long way in helping them feel secure and comforted.
Remember, it's normal for toddlers to have emotional moments, and it's your job as their parent to be there for them during these times of need.
Addressing Underlying Health Issues that Could be Contributing to Sleep Disturbances
If your 18-month-old toddler is experiencing frequent nighttime crying, it's important to consider the possibility of underlying health issues that could be contributing to their sleep disturbances.
While some nighttime crying can be attributed to common causes such as separation anxiety or teething, it's crucial to rule out any physical discomfort or illness that may be impacting your child's sleep.
One common health issue that can disrupt sleep is an ear infection. Ear infections are common in young children and can cause pain and discomfort, making it difficult for them to settle down and sleep peacefully.
If you suspect that your toddler may have an ear infection, it's important to consult their pediatrician for proper diagnosis and treatment.
Another health issue to consider is allergies or respiratory conditions. If your toddler is experiencing nasal congestion, coughing, or wheezing, it may be due to allergies or a respiratory condition such as asthma.
These conditions can interfere with sleep and cause nighttime crying. Consult with your child's pediatrician to discuss possible allergy testing or asthma management strategies.
Digestive issues can also contribute to sleep disturbances. If your toddler is experiencing frequent stomachaches, acid reflux, or other digestive problems, it can make it difficult for them to settle down and sleep comfortably.
Consider discussing these symptoms with your pediatrician to explore potential dietary changes or treatments that may help alleviate their discomfort.
It's important to be vigilant and address any underlying health issues that may be impacting your toddler's sleep.
By working with their pediatrician and seeking appropriate treatment, you can help your child find relief and establish better sleep patterns.
Implementing Gentle Sleep Training Methods to Encourage Independent Sleeping Habits
As your 18-month-old toddler grows, it's important to start implementing gentle sleep training methods to encourage independent sleeping habits.
While it can be challenging to break the cycle of nighttime crying, with patience and consistency, you can help your little one learn how to settle themselves to sleep.
One effective method is the gradual approach. This involves slowly reducing your involvement in your toddler's bedtime routine.
For example, you can start by gradually moving away from rocking them to sleep and instead patting their back or holding their hand.
Over time, you can further decrease physical contact until your child learns to fall asleep on their own.
Another helpful technique is the fading method.
With this approach, you gradually decrease the amount of time you spend comforting your child each night.
For instance, you can start by sitting beside their bed and offering soothing words, then gradually move towards sitting by the door and eventually leaving the room altogether.
This method helps your child develop self-soothing skills and learn to fall asleep independently.
Consistency is key when implementing these gentle sleep training methods.
Stick to the routine and be patient with the process. It may take time for your toddler to adjust, but with your loving support and guidance, they will learn to sleep peacefully through the night.
Every child is different, and what works for one may not work for another. Be open to adapting these methods to suit your child's unique needs. Always prioritize their comfort and well-being throughout the process.

Finding Support and Seeking Professional Help if Needed
When it comes to the 18-month sleep dilemma, sometimes you may need some extra support or professional guidance.
Parenting can be tough, and it's okay to ask for help. Finding support from friends, family, or other parents who have been through similar experiences can make a big difference in your journey.
Start by reaching out to your loved ones. Talk to friends or family members who have young children or who have gone through the 18-month sleep dilemma themselves.
They can provide understanding, advice, and reassurance that you're not alone. Sometimes just venting your frustrations or sharing your experiences can provide much-needed comfort.
Online parenting communities can also be a great source of support. Join parenting forums, Facebook groups, or online communities where you can connect with other parents who are facing similar challenges.
You'll find a wealth of knowledge, empathy, and support from these communities.
If you feel like you've tried everything and your toddler's sleep issues persist, it may be time to seek professional help.
Consult your child's pediatrician, who can assess their overall health and development.
They may be able to provide guidance, recommend sleep specialists, or suggest alternative approaches that could be beneficial for your child.
There is no shame in seeking professional help. Sleep is important for both your child's well-being and your own.
With the right support, guidance, and a little bit of patience, you and your toddler can navigate the 18-month sleep dilemma and find the restful nights you both deserve.