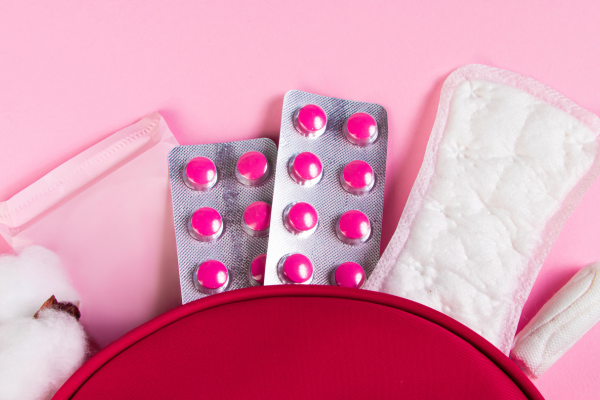 Good feminine hygiene is essential for every woman's overall health and well-being. Taking good care of your intimate area is not only important to maintain proper hygiene, but it can also help to prevent uncomfortable symptoms and infections. In this blog post, we'll be discussing 10 essential tips for maintaining feminine hygiene that every woman should know. These tips will help you to maintain a healthy intimate area and keep your body clean and healthy.
Understanding Feminine Hygiene
Feminine hygiene refers to the practices and habits that women should adopt to maintain cleanliness and prevent infections in their intimate areas.
It involves taking care of the external and internal genital areas, as well as the surrounding skin. Understanding feminine hygiene is crucial for every woman as it helps maintain overall health and well-being.
One of the primary aspects of feminine hygiene is keeping the genital area clean. This involves regularly washing with warm water and a gentle, fragrance-free soap.
It is important to remember to wipe from front to back to avoid spreading bacteria from the anus to the vagina.
Additionally, understanding feminine hygiene also means being aware of the normal discharge and odor patterns of your body.
Any changes in these patterns, such as an increase in discharge or a foul odor, may indicate an infection and should be promptly addressed by a healthcare professional.
Understanding feminine hygiene also means being knowledgeable about proper menstrual care.
Changing sanitary pads or tampons regularly, usually every four to six hours, is essential to prevent bacterial growth and infections.
It is also important to dispose of used menstrual products properly, as improper disposal can lead to unpleasant odors and environmental pollution.
1. Importance of Feminine Hygiene
Feminine hygiene plays a crucial role in a woman's overall health and well-being.
Taking care of our intimate areas should never be taken lightly as it helps prevent infections, unpleasant odors, and discomfort.
Proper feminine hygiene practices promote cleanliness and maintain the delicate balance of the vaginal ecosystem.
The vagina has a self-cleaning mechanism that produces discharge to flush out bacteria and dead cells. However, this doesn't mean that we should neglect our hygiene routine.
Neglecting feminine hygiene can disrupt the pH balance of the vagina, leading to infections like bacterial vaginosis and yeast infections.
Maintaining good feminine hygiene is also essential during menstruation.
Changing sanitary pads or tampons frequently prevents the build-up of bacteria and reduces the risk of toxic shock syndrome.
Additionally, using unscented, gentle, and breathable menstrual products is recommended to minimize skin irritation and allergic reactions.
2. Proper Menstrual Care
Proper menstrual care is essential for maintaining good feminine hygiene and overall health. Here are a few tips to help you navigate through your menstrual cycle:
Change Your Menstrual Products Regularly: Whether you prefer tampons, pads, or menstrual cups, it's important to change them frequently. This will help prevent odors and bacterial growth.
Use Mild, Fragrance-Free Products: Opt for unscented tampons, pads, and panty liners to avoid any potential irritations or allergies. Fragrances can disrupt the natural pH balance of your vagina and cause discomfort.
Wash Your Hands Before and After Changing Products: Keeping your hands clean will help prevent any bacterial infections. Use mild soap and warm water to wash your hands thoroughly.
Practice Good Disposal Habits: Wrap used tampons and pads properly before disposing of them in a waste bin. If you're using a menstrual cup, empty and rinse it in the toilet or sink, and sanitize it before reinserting.
Avoid Douching: Douching can disrupt the natural balance of bacteria in your vagina, leading to infections and irritation. Your vagina is self-cleaning, so simply washing the external area with warm water is sufficient.

Remember, every woman's menstrual cycle is unique. It's important to listen to your body and take note of any changes or irregularities.
If you experience severe pain, heavy bleeding, or any unusual symptoms, it's recommended to consult with a healthcare professional for further guidance and support.
Taking care of your menstrual health is a crucial part of maintaining feminine hygiene.
3. Choosing the Right Feminine Products
When it comes to feminine hygiene, choosing the right products is crucial for maintaining optimal health and comfort. With a wide array of options available on the market, it can be overwhelming to determine which products are best suited for your needs. Here are some tips to help you choose the right feminine products:
Understand Your Needs: Consider your menstrual flow, sensitivity, and lifestyle when selecting products. If you have a heavy flow, opt for products with higher absorbency levels.
Read Product Labels: Look for products made from natural and breathable materials to reduce the risk of irritation and infection. Avoid products containing harmful chemicals or fragrances.
Consider your Comfort: Choose products that provide maximum comfort. Look for features such as flexible wings, soft materials, and a proper fit to ensure comfort throughout the day.
Experiment with Different Brands: Every person is unique, and what works for one person may not work for another. Don't be afraid to try different brands and types of products to find the ones that suit you best.
Consider Reusable Options: For those looking to reduce their environmental footprint, consider reusable options like menstrual cups or cloth pads. These options are not only eco-friendly but also cost-effective in the long run.
Proper hygiene includes changing your feminine products regularly. Never exceed the recommended duration for product use, as this can increase the risk of bacterial growth and infection.
By selecting the right feminine products, you can ensure that your hygiene needs are met while promoting overall well-being and comfort.
4. Showering and Bathing Tips
Keeping a clean and healthy vagina is crucial for overall feminine hygiene. Showering or bathing regularly is one of the most effective ways to maintain cleanliness in this area. Here are some important tips to keep in mind:
Use a Gentle, pH-balanced Cleanser: Avoid harsh soaps or scented products that can disrupt the natural pH balance of your vagina. Opt for mild, unscented cleansers specifically formulated for the intimate area.
Clean From Front to Back: When washing your genital area, always remember to clean from front to back. This helps prevent bacteria from the anus from entering the vagina and causing infections.
Avoid Douching: Douching is not recommended as it can disrupt the natural balance of bacteria in the vagina. It can lead to infections and irritation.
Use Lukewarm Water: Avoid using hot water as it can be drying and irritating to the sensitive skin in the vaginal area. Opt for lukewarm water instead.
Pat Dry: After bathing or showering, make sure to pat your vaginal area dry with a clean towel. Moisture can lead to the growth of bacteria or yeast infections.
5. Maintaining Clean Underwear
One important aspect of feminine hygiene that is often overlooked is maintaining clean underwear. Clean underwear is essential for keeping the genital area clean and preventing any potential infections or discomfort. Here are some tips on how to keep your underwear clean and hygienic:
Change Your Underwear Daily: It is important to change your underwear daily to prevent the build-up of bacteria and sweat. Wearing the same underwear for an extended period can lead to unpleasant odors and increased chances of infection.
Use Mild, Fragrance-Free Detergent: When washing your underwear, opt for a mild detergent that is free of harsh chemicals and fragrances. These can irritate the sensitive skin in the genital area.
Wash in Warm Water: To effectively remove any bacteria or stains, wash your underwear in warm water. Hot water can damage the fabric, while cold water may not be sufficient for removing germs.
Avoid using Fabric Softeners: Fabric softeners may make your underwear feel softer, but they can also leave behind a residue that can irritate the skin and disrupt the pH balance of the genital area.
Dry Your Underwear Properly: After washing, ensure that your underwear is completely dry before wearing it. Damp underwear provides a moist environment that promotes the growth of bacteria and yeast.
6. Wiping Techniques
Proper wiping techniques are crucial for maintaining good feminine hygiene. The way you wipe after using the restroom can significantly impact your overall cleanliness and help prevent infections. Here are some important tips on how to effectively and safely wipe:
Front to Back: Always remember to wipe from the front to the back after using the toilet. This prevents bacteria from the anal region from coming into contact with the urethra or vagina, reducing the risk of urinary tract infections.
Use Gentle Motions: Avoid aggressive wiping, as it can cause irritation and microtears in the delicate skin around the vaginal area. Instead, use gentle, patting or dabbing motions to clean yourself.
Use Unscented, Soft Toilet Paper: Opt for unscented, soft toilet paper to avoid potential irritants or allergens. Rough or scented toilet paper can cause discomfort and irritation, especially for those with sensitive skin.
Consider Using Wipes: If you feel the need for additional cleanliness, consider using unscented and alcohol-free wipes specifically designed for the vaginal area. These can help provide a fresh and clean feeling.
Always Wipe Until Clean: Make sure to continue wiping until you feel completely clean. Leaving any residue behind can lead to discomfort and potential infections.
7. Avoiding Irritants and Allergens
When it comes to maintaining good feminine hygiene, it is crucial to be mindful of the products and substances that come into contact with your intimate area.
Avoiding irritants and allergens is an important aspect of keeping your intimate area healthy and preventing any discomfort or infections.
One of the key irritants to avoid is scented products, including scented soaps, body washes, and perfumes. These can disrupt the natural pH balance of your vagina and lead to irritation or infection.
Instead, opt for fragrance-free or mild, gentle cleansers specifically formulated for the intimate area.
It is also important to avoid using douches or other harsh cleansers internally.
Your vagina is a self-cleaning organ and does not require any additional cleaning agents. Using such products can disrupt the natural balance of bacteria in the vagina and increase the risk of infections.
When it comes to laundry, it is recommended to wash your underwear with mild, unscented detergents.
Harsh detergents or fabric softeners can leave residue on your underwear, which can cause irritation.
Additionally, it is advisable to avoid wearing tight-fitting or synthetic underwear for long periods, as these can trap moisture and increase the risk of irritation or infections.
Another common irritant is the use of feminine hygiene sprays or powders. These products are unnecessary and can cause irritation or allergic reactions.
Instead, keep your intimate area clean by washing with water and mild cleansers.
By being mindful of the products and substances you use on and around your intimate area, you can help maintain a healthy and comfortable environment.
8. Practicing Safe Sex
When it comes to feminine hygiene, practicing safe sex is crucial for maintaining not only your reproductive health but also overall well-being.
Engaging in unprotected sexual activities can put you at risk of various sexually transmitted infections (STIs), including chlamydia, gonorrhea, and HPV.
To ensure your safety, always use barrier methods such as condoms or dental dams to reduce the risk of transmitting or contracting STIs.
Additionally, it is essential to communicate openly and honestly with your partner about sexual health and previous sexual encounters.
Getting tested regularly for STIs is also important, as some infections may not present immediate symptoms.
Regular testing allows for early detection and treatment, minimizing potential complications.
Remember, safe sex goes beyond the physical aspect.
Emotional and psychological safety should also be considered.
Consenting to sexual activities and maintaining open communication with your partner are key factors in creating a safe and enjoyable sexual experience.
Practicing safe sex not only protects your physical health but also promotes healthy relationships and emotional well-being.
By taking responsibility for your sexual health, you are empowering yourself and taking proactive steps toward maintaining excellent overall hygiene and well-being.
9. Eat a Balance Diet
Eating a balanced and nutritious diet is crucial for overall health, including feminine hygiene.
Consuming a variety of fruits, vegetables, whole grains, and lean proteins can positively impact the health of the reproductive system.
Firstly, foods rich in vitamins and minerals can help boost the immune system, which is vital for preventing infections.
Vitamin C, found in citrus fruits and bell peppers, can strengthen the immune system and fight off bacteria and viruses.
Additionally, incorporating probiotics, like yogurt and kefir, into your diet can promote a healthy vaginal flora and prevent the overgrowth of harmful bacteria.
Furthermore, maintaining a healthy weight through proper nutrition can reduce the risk of certain gynecological issues, such as polycystic ovary syndrome (PCOS) and endometriosis.
Consuming foods high in fiber, such as whole grains, fruits, and vegetables, can help regulate hormonal levels and promote regular menstrual cycles.
Lastly, staying hydrated is essential for feminine hygiene. Drinking plenty of water flushes out toxins from the body and keeps the reproductive system functioning optimally.
Avoiding excessive consumption of sugary drinks and alcohol is also recommended, as they can disrupt the pH balance in the vagina.
10. Visiting a Gynecologist Regularly
One of the most crucial tips for maintaining proper feminine hygiene is visiting a gynecologist regularly. Regular check-ups with a gynecologist are essential for every woman, regardless of her age or sexual activity.
Gynecologists specialize in the health and well-being of the female reproductive system, and they can provide invaluable guidance and care.
Regular visits to a gynecologist help ensure early detection and prevention of potential health issues.
Gynecologists can perform routine screenings, such as pap smears and breast exams, which can detect abnormalities and help prevent cervical cancer and other serious conditions.
They can also provide guidance on birth control methods, sexually transmitted infections (STIs), and general reproductive health.
Aside from the medical benefits, visiting a gynecologist regularly can also provide peace of mind and reassurance.
Women can discuss any concerns or questions they may have in a safe and non-judgmental environment.
Gynecologists can provide personalized advice and address specific issues related to feminine hygiene and overall well-being.
It is recommended that women start visiting a gynecologist in their late teens or early twenties, or sooner if they are sexually active.
After the initial visit, regular check-ups should be scheduled annually or as recommended by the healthcare provider.