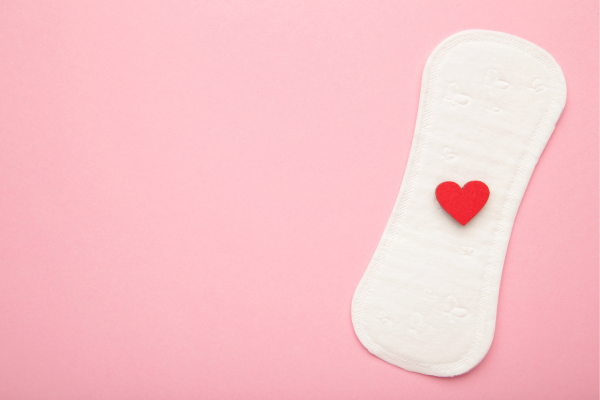 How to Stop Postpartum Bleeding Faster
If you're a new mother, you may be wondering how to stop postpartum bleeding faster. While postpartum bleeding is a normal part of the recovery process after giving birth, it can be uncomfortable and inconvenient. Fortunately, there are several tips and tricks you can use to help reduce and manage postpartum bleeding. In this blog post, we'll provide some tips and tricks to help you stop postpartum bleeding faster.
Understanding Postpartum Bleeding & How to Stop it Faster
Postpartum bleeding is a common experience for new mothers, also known as lochia.
This bleeding can last for a few days up to a few weeks after childbirth and is a natural process that helps the body recover from childbirth.
During pregnancy, the uterus grows and thickens to accommodate the growing fetus. After giving birth, the uterus sheds this lining, which leads to postpartum bleeding.
Understanding this process and taking care of your body can help reduce the discomfort associated with postpartum bleeding.
It is important to note that the amount and duration of postpartum bleeding varies from woman to woman.
However, it is generally heavier in the first few days following delivery and gradually becomes lighter in the following weeks.
Some women may experience heavier bleeding or prolonged bleeding due to underlying medical conditions, such as clotting disorders or infection.
If you experience abnormal bleeding or other concerning symptoms, seek medical assistance promptly.
Importance of Rest and Hydration
After childbirth, it is crucial for new moms to prioritize rest and hydration to aid in the recovery process and stop postpartum bleeding faster.
Your body has just undergone a significant change, and it needs time to recuperate. Taking it easy during this period is crucial for healing and reducing stress.
Rest helps to decrease bleeding, decrease pain, and restore your energy levels.
Therefore, make sure you're getting as much sleep as possible, especially in the first few weeks after delivery.
If you're struggling to get restful sleep, try taking naps during the day or sleeping when the baby is sleeping.
Hydration is also vital during postpartum recovery.
Drinking plenty of water is key to flushing out toxins from your body and improving blood flow to aid healing. Furthermore, dehydration can lead to constipation, which can aggravate postpartum bleeding.
Therefore, it is advisable to keep a bottle of water close by and drink fluids regularly.
As a new mom, it's easy to forget to rest and hydrate while focusing on taking care of the baby.
However, it's crucial to take care of yourself during this period. Adequate rest and hydration will speed up your recovery and help you get back to your pre-pregnancy state much faster.
Managing Pain and Discomfort During Postpartum Bleeding
Postpartum bleeding can be accompanied by pain and discomfort, which can make the recovery period challenging.
However, there are various strategies that you can implement to help manage the pain and discomfort.
One of the most effective methods is to use over-the-counter pain relief medication, such as acetaminophen or ibuprofen.
These medications can help to reduce the inflammation and ease the discomfort. However, it is essential to consult your healthcare provider before taking any medication.
Another technique to alleviate pain is to use a warm compress or take a warm bath. The heat can help to relax your muscles and reduce cramping and pain.
Similarly, placing an ice pack on your perineal area can help to alleviate pain and swelling.
Breastfeeding can also help to manage postpartum pain and discomfort.
The hormones produced during breastfeeding can help to contract the uterus, which can reduce bleeding and discomfort.
If you experience severe pain or discomfort that does not improve with these techniques, it is essential to contact your healthcare provider immediately.
They can recommend other treatment options, such as prescription pain medication or other interventions to alleviate your symptoms.
Taking Proper Medication for Pain During Postpartum Bleeding
Another important step in stopping postpartum bleeding is taking proper medication.
Your healthcare provider may recommend medications to help manage pain, reduce inflammation, and prevent infection.
Over-the-counter pain relievers such as acetaminophen and ibuprofen can be taken as directed to help relieve pain and reduce inflammation.
Additionally, your doctor may prescribe medications to help stop bleeding or prevent infection, such as antibiotics.
It's important to follow your doctor's instructions and take medication as prescribed.
Never take more than the recommended dosage, and always check with your healthcare provider before taking any new medications.
In some cases, your doctor may also recommend hormonal birth control to help regulate your menstrual cycle and prevent future postpartum bleeding.
Be sure to discuss all options with your doctor to determine the best course of action for your individual needs.
Taking proper medication is just one part of managing postpartum bleeding. Be sure to implement all necessary measures to ensure a speedy and safe recovery.
Implementing Good Hygiene Practices
One of the best ways to stop postpartum bleeding faster is by implementing good hygiene practices. The last thing you want is to risk developing an infection or slowing down the healing process due to poor hygiene. Here are some tips to help you maintain good hygiene:
Use Sanitary Pads Instead of Tampons: During postpartum, your body is healing and delicate, and tampons can cause additional discomfort and increase the risk of infection. Stick to sanitary pads until your doctor clears you to use tampons.
Change Your Pads Frequently: Change your sanitary pad every two to three hours to keep your genital area clean and dry.
Clean Your Genital Area Regularly: Clean your genital area with warm water and soap after every pad change. Avoid using perfumed products that can irritate your skin.
Don't Use Douches or Scented Products: Douching and using scented products can increase your risk of infection. Stick to mild soap and water to clean your genital area.
Pat, Don't Rub: After cleaning, pat your genital area dry instead of rubbing it, as this can cause further irritation.
Wash Your Hands Regularly: Make sure to wash your hands before and after changing your pads to avoid introducing germs to your genital area.
By following these good hygiene practices, you can help reduce your risk of developing an infection and speed up the healing process. If you notice any unusual discharge or smell, consult your doctor immediately as these may be signs of an infection.
Use of Compression Garments
After giving birth, you may experience significant swelling in your lower body due to increased blood flow.
Compression garments, such as postpartum belly wraps, can help alleviate this swelling and also promote faster healing of the uterus.
They can also provide much-needed support for your abdominal muscles as they work to return to their pre-pregnancy state.
When choosing a compression garment, it is important to ensure that it is of the right size and provides the appropriate level of compression.
You can consult your healthcare provider or a specialist in postpartum garments for guidance in choosing the right product for your needs.
When wearing compression garments, it is essential to follow the manufacturer's instructions and wear them consistently as directed.
Most postpartum belly wraps are recommended to be worn for several hours a day for several weeks post-birth.
While compression garments can be beneficial, they should not be used as a substitute for other postpartum recovery strategies, such as rest, hydration, proper medication, and healthy eating.
Rather, they should be used as a complementary tool in conjunction with other postpartum recovery strategies to achieve the best possible outcome.
Incorporating Healthy Foods in Your Diet
Eating a well-balanced diet can help you heal faster and reduce the risk of complications after childbirth. Nutritious foods can provide the essential vitamins, minerals, and nutrients needed to repair and regenerate tissue, maintain healthy blood flow, and boost your immune system. Here are some healthy foods to include in your postpartum diet:
Iron Rich foods: Iron is essential for producing hemoglobin, which helps transport oxygen in your blood. Eating iron-rich foods such as spinach, red meat, beans, lentils, and fortified cereals can help prevent anemia and reduce postpartum bleeding.
Protein Rich Foods: Protein is crucial for tissue repair and growth and maintaining healthy muscle function. Include lean meats, poultry, fish, eggs, tofu, and legumes in your diet to promote healing and reduce inflammation.
Vitamin C Rich Foods: Vitamin C is an antioxidant that helps boost the immune system and promotes healing. Citrus fruits, strawberries, kiwi, tomatoes, peppers, and broccoli are good sources of vitamin C.
Fiber Rich Foods: Constipation is a common postpartum issue, and eating fiber-rich foods such as fruits, vegetables, whole grains, and nuts can help regulate bowel movements and prevent discomfort.
Healthy Fats: Healthy fats such as omega-3 fatty acids found in salmon, tuna, and nuts can help reduce inflammation and support brain function. Other healthy fats include avocado, olive oil, and coconut oil.
In addition to incorporating these foods into your diet, make sure to drink plenty of water and avoid sugary and processed foods. Eating a healthy diet can also help you maintain a healthy weight and improve your energy levels, which are important for taking care of your newborn.
Avoiding Strenuous Activities
During the postpartum period, your body needs time to heal and recover from the intense physical experience of childbirth.
Therefore, it's important to avoid strenuous activities such as lifting heavy objects, intense exercise, and household chores that require a lot of bending and lifting.
While it's tempting to get back to your regular routine, pushing your body too soon can lead to increased bleeding and slow down your healing process.
Instead, try to delegate tasks to your partner, family members, or friends and prioritize rest and relaxation.
Additionally, try to avoid activities that require long periods of sitting or standing, as this can put pressure on your pelvic area and worsen postpartum bleeding.
Instead, opt for short walks and light stretching exercises to improve circulation and promote healing.
Seeking Medical Assistance When Necessary
If you're experiencing heavy or prolonged bleeding after childbirth, or if you're unsure about the severity of your postpartum bleeding, it's essential to seek medical assistance immediately.
In some cases, postpartum bleeding can indicate an underlying health problem, such as a retained placenta or an infection.
It's crucial to get a proper diagnosis and treatment plan as soon as possible to avoid any potential complications.
Don't be afraid to speak with your healthcare provider if you have any concerns about your postpartum bleeding.
They are there to help you and support you through this challenging time.
If you notice symptoms such as fever, severe abdominal pain, or an increase in bleeding, you should seek medical assistance right away.
Your body has gone through a significant amount of stress and strain during pregnancy and childbirth, and it's normal to need some extra care and attention during the postpartum period.
By taking the right steps, such as staying hydrated, getting plenty of rest, and seeking medical attention when needed, you can speed up the healing process and reduce your postpartum bleeding time.
Don't be afraid to ask for help, and be kind to yourself during this recovery period.