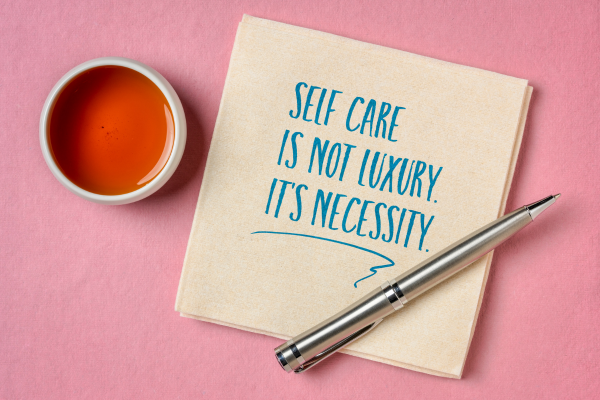 Good self care practices are essential to maintaining a healthy and balanced lifestyle. Taking time for yourself and engaging in activities that bring you joy can help you stay focused and energized. There are many components of self care, and it is important to find what works best for you. In this blog post, we will be exploring five essential components of your self care routine to help you stay healthy and balanced.
Defining Self- Care
Self-care is the practice of intentionally taking care of oneself to promote physical, emotional, mental, spiritual, and financial health.
It involves making choices that contribute to one's overall well-being and balance in life.
The concept of self care has become increasingly important in today's fast-paced world, where individuals are constantly under pressure to achieve success, meet deadlines, and keep up with the demands of everyday life.
However, taking the time to care for oneself is not a selfish act, but rather a necessary one that can lead to increased productivity, happiness, and improved relationships.
Knowing the essential components of self-care can help you create a balanced and fulfilling life.
1. Physical Self-Care
Physical self-care is all about taking care of your body and making sure you're physically healthy. It includes things like exercise, proper nutrition, and getting enough sleep.
By taking care of your physical health, you can improve your overall well-being and reduce the risk of health problems in the future.
Some tips for physical self care include:
Exercise Regularly – Exercise can help improve your physical health and release endorphins, which can improve your mood.
Eat a Balanced Diet – Eating a diet that's rich in fruits, vegetables, lean proteins, and healthy fats can help give your body the nutrients it needs.
Get Enough Sleep – Sleep is crucial for your physical health, as it allows your body to repair and recover.
Drink Plenty of Water – Staying hydrated can help keep your body functioning properly.
Take Breaks – If you're sitting at a desk all day, make sure to take regular breaks to stretch and move around.
By incorporating these physical self-care practices into your routine, you can improve your overall health and well-being. Self-care is all about taking care of yourself, so don't be afraid to prioritize your physical health.
2. Emotional Self-Care
Emotional self-care is the practice of taking care of your emotional well-being. It's important to acknowledge and manage your feelings, both positive and negative, to live a balanced and fulfilling life.
Here are some essential ways to take care of your emotional self:
Practice Self-compassion: Be kind to yourself, just as you would be kind to a friend. Treat yourself with respect and kindness, and remember that nobody is perfect.
Build Healthy Relationships: Surround yourself with people who uplift and support you. Make time for loved ones, and seek out positive social connections.
Find Healthy Ways to Express Yourself: Emotions can be difficult to manage, but finding healthy ways to express yourself can help. Consider journaling, talking with a therapist, or participating in creative activities like art or music.
Prioritize Relaxation: Engage in activities that help you unwind and relax, like reading, taking a warm bath, or meditating. Remember that rest is essential to your overall well-being.
Develop Healthy Coping Components of Self-Care Mechanisms: When faced with challenges, it's important to have healthy coping mechanisms to help you manage your emotions. Some healthy coping mechanisms include deep breathing, exercise, and positive self-talk.
By incorporating these emotional self-care practices into your daily routine, you'll be better equipped to handle life's challenges and find greater joy and fulfillment in your daily life.
3. Mental Self-Care
When we talk about self-care, we often think of things that are external or physical in nature.
But just as important as taking care of your body and environment, is taking care of your mind. Your mental health and well-being play a vital role in your overall self-care routine.
Mental self-care is all about prioritizing your psychological health, including your thoughts, emotions, and overall mental state.
It's about taking steps to protect and nurture your mind so that you can live a more balanced and fulfilling life.
Here are some key components of mental self-care that you can incorporate into your daily routine:
Set Boundaries: It's important to recognize your limitations and be honest about what you can and cannot handle. Learning to say "no" to certain obligations or activities can help you avoid burnout and maintain a healthy work-life balance.
Practice Mindfulness: Taking time to be present in the moment and observe your thoughts and feelings can help reduce stress and improve your mental clarity. Mindfulness practices can include meditation, deep breathing exercises, or simply taking a few minutes to sit quietly and reflect.
Get Enough Sleep: Sleep is essential for your mental and physical health. Aim to get at least 7-8 hours of quality sleep each night to feel well-rested and rejuvenated.
Engage in Hobbies: Hobbies and creative outlets are a great way to stimulate your mind and reduce stress. Whether it's painting, gardening, or playing an instrument, find activities that you enjoy and make time for them regularly.
Seek Professional Help: If you're struggling with your mental health, it's important to seek professional help. Therapy, counseling, and medication can all be effective tools for managing mental health conditions and improving your overall well-being.
Mental self-care looks different for everyone, so don't be afraid to experiment with different strategies until you find what works best for you. By prioritizing your mental health, you can create a more balanced and fulfilling life.
4. Spiritual Self-Care
n addition to taking care of our physical, emotional, and mental well-being, it is important to also consider our spiritual health as a crucial component of self care.
Spiritual self care is all about nourishing our inner selves, and finding a sense of purpose and connection with something greater than ourselves.
Some examples of activities that fall under spiritual self care include meditation, prayer, practicing gratitude, connecting with nature, engaging in meaningful conversations with loved ones, and pursuing activities that bring us joy and a sense of purpose.
One of the key benefits of spiritual self care is the ability to cultivate a sense of inner peace and clarity, which can be incredibly beneficial for reducing stress and anxiety in our everyday lives.
By connecting with our spiritual selves, we are able to tap into a deeper level of awareness and perspective that allows us to navigate life's challenges with more grace and ease.
It's important to note that spiritual self-care is a deeply personal practice, and what works for one person may not necessarily work for another.
The key is to experiment with different activities and find what resonates with you on a deeper level.
In summary, including spiritual self-care in our daily routines is a crucial component of overall well-being.
By taking the time to nourish our spiritual selves, we can cultivate a greater sense of inner peace, clarity, and purpose, which can have a positive impact on every aspect of our lives.
5. Financial Self Care
Money may not buy happiness, but it does make life easier and less stressful. That's why it's important to include financial self-care in your routine. Here are some tips to help you take care of your finances:
Budgeting: This is the foundation of any good financial self-care routine. Create a realistic budget that allows you to meet your basic needs while also saving for the future. Consider using a budgeting app or spreadsheet to help you stay on track.
Saving: Building an emergency fund and saving for big goals like a down payment on a house or retirement is crucial for long-term financial stability. Make saving a priority by setting up automatic transfers from your checking to your savings account.
Investing: If you're able to, consider investing some of your money in stocks, bonds, or mutual funds. Investing can help you grow your wealth and reach your financial goals faster.
Reducing Debt: High-interest debt, such as credit card debt, can weigh you down and make it difficult to achieve financial stability. Focus on paying down your debt, starting with the debt with the highest interest rate first.
Being Mindful of Spending: Mindful spending means being intentional about where your money goes. Avoid impulsive purchases and instead, consider your values and priorities when making financial decisions.
Remember, financial self-care isn't just about having more money, it's about using your resources in a way that supports your overall well-being. By incorporating financial self-care into your routine, you'll not only feel more in control of your finances but also more confident and less stressed.