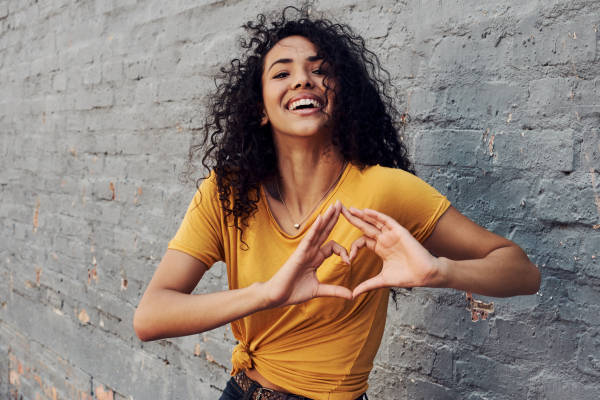 We all want to become our best selves, but sometimes we need a little reminder. Self-love affirmations are a powerful tool to help you recognize and cultivate your self-worth. When used daily, self-love affirmations can help transform your life by boosting your confidence and self-esteem. In this blog post, we'll be exploring a list of self-love affirmations that will inspire you to live your best life.
What are self-love affirmations?
Self-love affirmations are positive statements that you can repeat to yourself in order to cultivate self-compassion and acceptance.
They are powerful tools that can help shift your mindset and reprogram your thoughts, allowing you to develop a more loving and nurturing relationship with yourself.
Self-love affirmations work by challenging and replacing negative or self-limiting beliefs with positive and empowering ones.
They are a way to counteract the inner critic that often tells us we are not good enough or deserving of love.
By consciously choosing to affirm positive statements about yourself, you are actively reshaping your self-perception and building a foundation of self-worth.
These affirmations can take many forms, from simple statements like "I am enough" or "I am worthy of love and happiness," to more specific affirmations that target certain areas of self-doubt or insecurity.
The key is to choose affirmations that resonate with you personally and that address the specific challenges or negative thought patterns you may be experiencing.
By incorporating self-love affirmations into your daily routine, you can begin to rewire your brain and build a more positive and supportive inner dialogue.
It takes practice and consistency, but over time, these affirmations can have a profound impact on your self-esteem, confidence, and overall well-being.

The Power of Positive Self-Talk
Positive self-talk is a powerful tool that can have a profound impact on your overall well-being and self-esteem.
It involves consciously choosing to speak to yourself in a kind, supportive, and encouraging manner.
By using positive self-talk, you can rewire your brain to focus on the good, build resilience, and overcome negative thought patterns.
One of the benefits of positive self-talk is that it helps to counteract the inner critic that often holds us back and undermines our confidence.
When we consistently remind ourselves of our strengths, capabilities, and worth, we start to believe it. Positive self-talk allows us to challenge negative beliefs and replace them with empowering statements.
Another aspect of the power of positive self-talk is its ability to shape our perception of ourselves and the world around us.
When we speak positively to ourselves, we begin to see ourselves in a more positive light. We start to recognize our worth, potential, and the unique qualities that make us who we are.
This shift in mindset can lead to increased self-confidence, self-acceptance, and a stronger sense of self.
Positive self-talk also helps us to cultivate resilience in the face of challenges and setbacks.
When we encounter difficulties, using positive affirmations can remind us of our inner strength, resourcefulness, and ability to overcome obstacles.
It serves as a powerful reminder that we have the power to navigate through life's ups and downs.
Incorporating positive self-talk into your daily routine is a practice that takes time and consistency.
However, the benefits are well worth the effort. By consciously choosing to speak to yourself with kindness and compassion, you can transform your inner dialogue and create a foundation of self-love and positivity.
How to Create Your Own Affirmations
Creating your own affirmations is a personal and empowering process that allows you to tailor your self-love journey to your specific needs and desires. Here are some steps to help you create your own affirmations:
Reflect on Your Self-Limiting Beliefs: Take a moment to identify any negative or self-limiting beliefs that you hold about yourself. These beliefs may be related to your worthiness, capabilities, or any other aspect of your life where you may feel insecure or inadequate.
Choose Positive and Empowering Statements: Once you have identified your self-limiting beliefs, think about positive and empowering statements that challenge and counteract those beliefs. For example, if you believe that you are not smart enough, you could create an affirmation like "I am intelligent and capable of learning and growing."
Keep it Present Tense and Positive: When creating your affirmations, it's important to keep them in the present tense and phrased positively. This helps to reinforce the idea that your desired reality is already true and achievable. For example, instead of saying "I will be confident," say "I am confident."
Make Them Personal and Specific: Tailor your affirmations to your unique needs and desires. Make them personal and specific to address the specific challenges or negative thought patterns you may be experiencing. This will make your affirmations more relatable and impactful.
Repeat and Reinforce: Once you have created your affirmations, repeat them daily, preferably in front of a mirror. The more you repeat them, the more they will sink into your subconscious mind and become ingrained in your belief system.

List of Self-Love Affirmations to Boost Your Confidence
Boosting your confidence and self-worth starts with practicing self-love affirmations. These powerful statements are a reminder of your inherent worth and capabilities. Here is a list of self-love affirmations to inspire and uplift you:
I am worthy of love and respect just as I am.
I embrace my unique qualities and celebrate my individuality.
I choose to see the beauty and goodness within myself.
I release the need to compare myself to others; I am enough.
I am deserving of happiness and success.
I trust in my ability to overcome any challenges that come my way.
I am worthy of all the love, abundance, and joy that life has to offer.
I am confident in expressing my needs, desires, and boundaries.
I choose to focus on my strengths and celebrate my accomplishments.
I forgive myself for past mistakes and allow myself to grow and evolve.
I am resilient and capable of handling whatever comes my way.
I trust in my intuition and make decisions that align with my true self.
I am deserving of self-care and prioritize my physical and mental well-being.
I radiate positivity, love, and kindness towards myself and others.
I believe in my dreams and have the courage to pursue them.

Using Self-Love Affirmations in Your Daily Life
Using self-love affirmations in your daily life is a powerful way to cultivate a deep sense of self-worth and confidence.
Here are some tips on how to integrate these affirmations into your routine and make them a meaningful part of your daily life.
First, find a quiet and peaceful space where you can have a few moments to yourself. This could be in the morning before you start your day or in the evening before bed.
Take a deep breath, close your eyes, and allow yourself to relax. Choose one or two affirmations from the list provided. You can also create your own that resonate with you on a deep level.
Repeat these affirmations out loud or silently in your mind, allowing their positive energy to permeate your being.
How to Enhance Positive Affirmations
To enhance the impact of these affirmations, visualize yourself embodying the qualities and beliefs they represent.
Imagine yourself standing tall, radiating confidence, and feeling a profound sense of self-love and acceptance.
In addition to practicing affirmations in moments of quiet reflection, find opportunities throughout the day to reinforce their positive messages.
For example, when you look in the mirror, remind yourself of your worthiness and inner beauty. When faced with a challenging situation, recite affirmations that empower you and remind you of your capabilities.
It can also be helpful to write down your affirmations and keep them somewhere visible, such as on a mirror, on your phone, or in a journal.
This serves as a constant reminder of the love and acceptance you deserve. Remember that using self-love affirmations is a practice, and like any practice, it requires consistency and patience.
Over time, you will begin to notice a shift in your mindset and an increase in your self-confidence and self-worth. Embrace this transformative journey and let self-love affirmations guide you to become your best self.