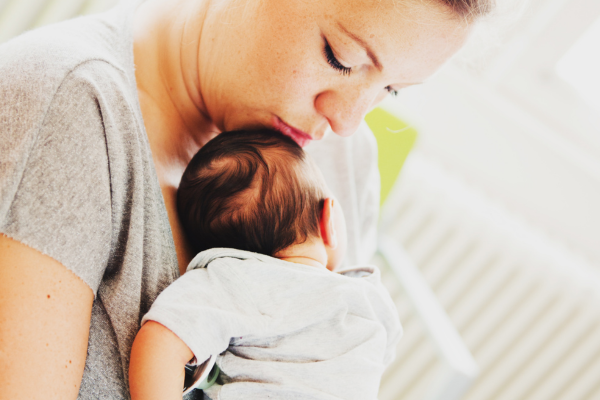 Having a baby is a life-changing experience. While the days after delivery can be filled with joy and wonder, there are certain things not to do after giving birth that are important to keep in mind. To help new moms know what to avoid post-delivery, this blog post will cover the top 10 no-no's after delivering a baby. Read on to ensure your recovery period is as smooth and stress-free as possible.
1. Eating Certain Foods
After delivering a baby, it is important to be mindful of what you eat as some foods can hinder the healing process.
Firstly, avoid processed and junk food that is high in sugar and unhealthy fats.
Instead, focus on whole foods like fruits, vegetables, lean protein, and whole grains that can aid in your recovery and provide the necessary nutrients for your body.
Secondly, limit caffeine and spicy food intake as they can affect breast milk production and irritate your digestive system.
It is also important to avoid consuming too much dairy and gas-forming food as they can cause discomfort, bloating, and even constipation.
Lastly, avoid alcohol and tobacco as they can negatively affect breast milk production, hinder your healing process, and pose a threat to your newborn's health.
Remember to drink plenty of water and consult your doctor or nutritionist if you have any concerns or questions about your postpartum diet.
2. Lifting Heavy Objects
After giving birth, it's crucial to avoid lifting heavy objects, especially in the first few weeks. The uterus is still healing and needs time to contract and return to its pre-pregnancy size.
Lifting heavy objects can put unnecessary strain on the abdominal muscles and pelvic floor, which can lead to pain and discomfort.
Additionally, lifting heavy objects can cause bleeding and increase the risk of uterine prolapse.
It's best to avoid any heavy lifting for at least six weeks after delivery, or until your healthcare provider clears you to do so.
If you have other children or responsibilities that require lifting heavy objects, consider asking for help from a partner, family member, or friend.
You can also look into getting a baby carrier or sling to free up your hands while still keeping your baby close. Remember, taking care of your body after childbirth is important to ensure a smooth and healthy recovery.
Lifting heavy objects can delay the healing process and cause unnecessary complications, so take it easy and let your body heal.
3. Neglecting Rest and Self-care
One of the biggest mistakes new mothers make after delivering a baby is neglecting rest and self-care.
While it may be tempting to jump right back into your daily routine, doing so can be detrimental to your physical and emotional well-being.
It is important to remember that giving birth is a major event that can take a toll on your body.
As such, allowing yourself time to rest and recover before diving back into your pre-baby activities is crucial.
This means prioritizing sleep, eating nutritious foods, and staying hydrated.
Furthermore, it is essential to practice self-care during this time. This can include things like taking a relaxing bath, getting a massage, or practicing yoga or meditation.
Taking care of yourself can help reduce stress and promote healing, both physically and emotionally.
It can also be helpful to enlist the help of friends and family to provide support during this time.
Don't be afraid to ask for help with household tasks, caring for your baby, or simply providing emotional support.
4. Skipping Postpartum Check-ups
One of the biggest mistakes a new mother can make is to skip her postpartum check-ups.
After giving birth, it is crucial to attend all follow-up appointments with your healthcare provider to ensure your physical and emotional well-being, as well as your baby's health.
Your doctor will check your uterus, pelvic organs, and overall healing progress, as well as monitor your blood pressure, weight, and any potential complications.
Skipping these appointments can lead to undetected health issues that could have severe consequences in the long run.
Postpartum check-ups are also an opportunity to address any emotional or mental health concerns that you may have after giving birth.
It is common for new mothers to experience postpartum depression or anxiety, and healthcare providers can offer support, resources, and treatment options.
Ignoring or dismissing these emotions can have a detrimental effect on your well-being and your relationship with your baby.
5. Engaging in Strenuous Exercise
While it is essential to maintain an active lifestyle, it is crucial to avoid engaging in strenuous exercise immediately after giving birth.
As your body is still recovering from delivery, pushing yourself too hard could lead to severe complications and slow down your recovery process.
Typically, you can begin gentle exercises such as walking as soon as you feel comfortable, but strenuous workouts like running or weightlifting should wait until at least six weeks after giving birth.
Your doctor may also recommend specific postpartum exercises that can help you rebuild your strength without compromising your recovery.
Additionally, engaging in strenuous exercise can affect your milk supply and quality if you are breastfeeding. Vigorous workouts increase your body's demand for oxygen, which can lead to less milk production.
This reduction in milk production could harm your baby's growth and development.
Remember, postpartum recovery is not a competition, and you do not need to rush it.
Always listen to your body, and if you experience pain or discomfort, stop exercising and consult with your doctor.
Take your time, ease back into your fitness routine, and focus on rebuilding your strength slowly.
6. Ignoring Emotional Well-Being
Having a baby can be one of the most joyous moments in a woman's life.
But, as any new mom will tell you, it can also be a time of overwhelming stress, sleep deprivation, and a flood of conflicting emotions.
That's why it's crucial for new mothers to pay attention to their emotional well-being.
It's normal to experience a range of emotions after giving birth, including anxiety, fear, sadness, and even guilt.
However, if these feelings persist for more than a few weeks, or if they are severe enough to interfere with your daily life, you may be suffering from postpartum depression (PPD).
PPD is a serious condition that affects one in seven new mothers. It's important to seek help if you experience any of the following symptoms:
Feeling sad, hopeless, or overwhelmed
Crying frequently or for no apparent reason
Lack of interest or pleasure in things you used to enjoy
Difficulty sleeping or sleeping too much
Changes in appetite or weight
Lack of energy or fatigue
Difficulty concentrating or making decisions
Feeling disconnected from your baby or loved ones
If you're experiencing any of these symptoms, don't be afraid to reach out for help. Talk to your doctor, a therapist, or a support group. Ignoring your emotional well-being can have serious consequences for both you and your baby. Take care of yourself, mama. You deserve it.
7. Neglecting Perineal Care
After delivering a baby, perineal care is of utmost importance as it aids in proper healing and prevents infections. However, many new moms tend to neglect it, assuming it to be insignificant.
Perineum refers to the area between the vagina and the anus, which may have suffered tears or an episiotomy during childbirth.
The first step towards perineal care is regular cleansing with warm water and mild soap after using the washroom. Blotting dry with a soft cloth is recommended instead of rubbing.
Some doctors also recommend using an ice pack for 10-20 minutes at a time to reduce swelling and pain.
It is advisable to use a peri bottle instead of toilet paper for a week or two, which may cause further discomfort.
Another important aspect is ensuring adequate ventilation to the area, by wearing loose, cotton undergarments, and avoiding tight clothing that may lead to chafing.
Using sanitary pads instead of tampons during postpartum bleeding is also advisable, as they offer more cushioning and protection.
In case of persistent pain, redness, or swelling, consult your doctor immediately, as it may indicate an infection that requires prompt treatment.
8. Neglecting Breastfeeding Support
Breastfeeding can be a challenging experience, and it's essential to have the right support and resources to help you through it.
Neglecting breastfeeding support after giving birth can cause problems for both you and your baby. Here are a few reasons why:
Breastfeeding issues can be difficult to navigate alone. There may be latching issues, sore nipples, or concerns about milk supply that you may not know how to handle.
By neglecting support, you may struggle unnecessarily, causing stress for both you and your baby.
In addition to the emotional stress, failing to address breastfeeding issues could have physical consequences for your baby, such as dehydration or inadequate weight gain.
Seeking support from a lactation consultant or joining a breastfeeding support group can be a great way to overcome challenges.
These professionals can provide guidance and advice on common breastfeeding issues and offer helpful tips to make the process easier.
Ultimately, neglecting breastfeeding support after giving birth can lead to long-term problems for both you and your baby.
Make sure you prioritize your breastfeeding needs and reach out for help when necessary. It's okay to ask for support, and you'll be glad you did in the end.
9. Forgetting Birth Control
It's understandable that after giving birth, birth control may not be at the top of a new mother's mind.
However, it's important to remember that even if a woman is breastfeeding, she can still become pregnant.
There are several options for postpartum birth control, including condoms, hormonal methods (such as the pill, patch, or injection), and long-acting reversible contraception (such as the IUD or implant).
It's important to speak with a healthcare provider about the best option for individual needs and lifestyle.
Some methods may not be recommended for women who have certain medical conditions or who are breastfeeding.
Forgetting to use birth control can lead to unintended pregnancy, which can add stress and complications to an already busy time in a new mother's life.
It's important to plan ahead and have a plan in place to prevent unintended pregnancy.
In addition, women should also be aware of emergency contraception options, such as the morning-after pill.
This can be used if contraception was not used during sexual activity or if a contraceptive method failed.
Don't forget to prioritize birth control and plan ahead to ensure a healthy and stress-free postpartum period.
10. Disregarding Signs of Postpartum Depression
Postpartum depression (PPD) is a type of depression that affects mothers after giving birth. It's common and affects about 1 in 10 women. However, it often goes undiagnosed and untreated. Ignoring signs of postpartum depression can be detrimental to both mother and child, so it's important to pay attention to the following warning signs:
Feelings of sadness or hopelessness
Loss of interest in activities
Difficulty sleeping or sleeping too much
Anxiety or panic attacks
Appetite changes
Difficulty bonding with the baby
Thoughts of harming yourself or your baby

It's essential to seek help if you experience any of these symptoms, as postpartum depression can worsen and even lead to thoughts of suicide if left untreated.
Talk to your healthcare provider, a mental health professional, or a support group about what you're experiencing.
Remember, postpartum depression is not a personal failure, and it's not something you can simply "snap out of." Seeking help is a sign of strength, not weakness.
It's essential to prioritize your mental health and well-being during this challenging time to ensure the best outcomes for both you and your baby.