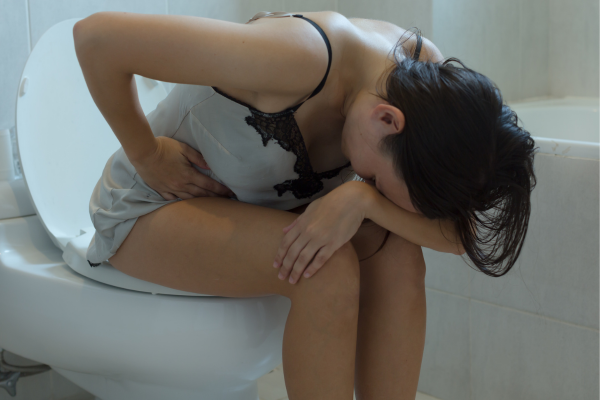 The first poop after birth is a significant milestone in the post-delivery process. While it may not be an event that you've anticipated, understanding what to expect can help make the transition from the delivery room to the bathroom a little easier. In this blog post, we'll discuss the ins and outs of your first post-birth poop, so you can enter the bathroom with confidence and a sense of what you may experience.
Understanding the Post-Birth Poop
Giving birth is a significant event that affects almost every part of your body, including your digestive system. It's common for women to feel anxious about having their first bowel movement after delivery.
But understanding what's happening in your body can help ease your worries.
First, during pregnancy, the hormone progesterone slows down the digestive system to ensure the maximum amount of nutrients is absorbed from your food.
The body then ramps up digestive processes in preparation for labor.
However, the process of pushing the baby through the birth canal can cause the muscles that control bowel movements to weaken, leading to constipation.
Moreover, during delivery, you may receive medication such as pain relievers or anesthetics, which can further slow down your digestive system and make it harder to have a bowel movement.
All of these factors contribute to why it can be difficult to have a bowel movement post-birth. Understanding this process can help you prepare for and manage any discomfort or pain that may arise.
The Impact of Labor and Delivery on Your Digestive System
While pregnancy brings with it a host of bodily changes, labor and delivery can have a particularly significant impact on your digestive system.
During delivery, your uterus contracts, which can put pressure on your bowels. This pressure can also cause gas, which can make you feel bloated or uncomfortable.
Additionally, during labor and delivery, your body releases hormones such as adrenaline and oxytocin, which can affect the digestive system and slow down bowel movements.
Many women experience constipation in the days following delivery, due in part to dehydration and changes in diet.
It's also common to feel apprehensive about having a bowel movement after delivery, as the vaginal area may still be sore and tender.
However, it's important to have regular bowel movements to prevent further complications such as hemorrhoids or constipation.
By understanding how labor and delivery can impact your digestive system, you can prepare yourself for the challenges ahead and take steps to promote healthy bowel movements after birth.
Signs That You're Ready to Have Your First Post-Birth Poop
After delivering a baby, the last thing on most new mothers' minds is having a bowel movement. However, it's essential to pay attention to your body and listen for signs that you're ready to have your first post-birth poop. Here are some common indicators:
Gas: If you've been passing gas, that's a good sign that your bowels are functioning normally, and a bowel movement may be on its way.
Increased Hunger: As your appetite returns, your digestive system will begin to work more effectively, and your bowels will start to move more regularly.
Urination: If you're able to urinate without any difficulty, this can indicate that your pelvic muscles are strong enough to allow a bowel movement.
Pressure: Some women may experience a sensation of pressure in their rectal area, which is a sign that a bowel movement is imminent.
It's been a few days: If it's been more than a few days since your last bowel movement, it's time to pay attention to your body and try to encourage a bowel movement with safe techniques such as walking and staying hydrated.
Remember that it's normal for your digestive system to slow down during and after childbirth, so don't be too concerned if it takes a few days before you're able to have your first post-birth poop.
Just listen to your body and give it the time and care it needs to recover.
Navigating the Process: What to Expect in the Bathroom
After giving birth, you may feel apprehensive about having your first post-birth poop. Having a bowel movement is a natural process, and your body will gradually regain its regular bowel movements.
Here is what you can expect during your first post-birth poop:
Firstly, be sure to have a clean and hygienic bathroom to avoid any chances of infections.
When you sit on the toilet, take deep breaths to relax your muscles. You may experience some discomfort or even pain as you strain to pass your stool, but it is essential to take it slow and steady.
Try not to push too hard, as this can cause hemorrhoids or other issues.
Your first post-birth poop may be challenging and more painful than your usual bowel movements, so it's crucial to be patient and allow yourself to take your time.
If you're having trouble passing your stool, you may find it helpful to use a stool softener or a laxative prescribed by your doctor.
Remember that your body has been through a lot, and it will take time to fully recover. Be gentle with yourself and don't hesitate to seek medical attention if you're experiencing severe pain or discomfort.
Coping with Any Discomfort or Pain During the First Post-Birth Poop
It's common to feel some discomfort or pain during your first post-birth poop.
After all, your body has just been through a major physical ordeal, and your digestive system may be slow to wake up.
Fortunately, there are several strategies that can help you cope with any discomfort or pain you may experience.
One of the most important things you can do is to take your time in the bathroom.
Rushing or straining can make the situation worse. Instead, take deep breaths and relax your body as much as possible.
You may find it helpful to use a stool or footrest to elevate your feet slightly, which can help to straighten your rectum and make it easier to pass stool.
You may also want to consider using a lubricant or stool softener to make bowel movements easier.
Be sure to talk to your doctor before using any over-the-counter products, as some may not be safe for use during breastfeeding or could interact with other medications you're taking.
If you experience significant pain or bleeding during your first post-birth poop, be sure to contact your doctor.
While some discomfort is normal, excessive pain or bleeding could be a sign of a more serious issue, such as an infection or tear.
With the right care and support, however, most new mothers are able to navigate this milestone successfully.
Tips for Promoting Smooth and Comfortable Bowel Movements
After giving birth, many women may experience discomfort and pain when having their first bowel movement. However, there are several tips that can help promote a smooth and comfortable bowel movement:
Stay Hydrated: Drinking plenty of fluids can help keep your stool soft and easier to pass.
Eat a High-Fiber Diet: Eating foods rich in fiber, such as fruits, vegetables, whole grains, and legumes can help regulate bowel movements and prevent constipation.
Take Stool Softeners: Your doctor may recommend taking a stool softener to make your stool easier to pass.
Use a Squatting Position: Squatting or using a footstool to elevate your feet while on the toilet can help reduce straining and make it easier to have a bowel movement.
Don't Delay: Try not to delay having a bowel movement when you feel the urge, as this can lead to constipation.
Use Gentle Wipes: Using gentle wipes or a squirt bottle of warm water to clean the area can help reduce discomfort and prevent further irritation.
It may take time for your digestive system to get back to normal after giving birth.
Be patient with your body and don't hesitate to talk to your healthcare provider if you're experiencing significant pain or discomfort.
Seeking Medical Attention if Needed
While most women are able to have a smooth and comfortable first post-birth poop, some may experience complications that require medical attention.
It's important to listen to your body and seek help if you're experiencing any discomfort or pain during bowel movements.
One potential complication is postpartum constipation, which can occur due to a variety of factors such as dehydration, medications, or a decrease in physical activity.
If you're having trouble passing stool and are experiencing pain or discomfort, it's important to talk to your healthcare provider.
They may recommend certain medications or stool softeners to help promote more comfortable bowel movements.
In more severe cases, women may develop postpartum anal fissures, which are small tears in the anal tissue. Symptoms can include pain, bleeding, and discomfort during bowel movements.
If you suspect you have an anal fissure, it's important to seek medical attention as soon as possible.
Treatment options may include pain management and medication, and in some cases, surgery may be necessary.
Every woman's postpartum journey is unique, and there's no one-size-fits-all solution for navigating the first post-birth poop.
If you have any concerns or questions, don't hesitate to reach out to your healthcare provider. They're there to support you and help ensure a smooth recovery after delivery.