Remedies for Foot Pain During Pregnancy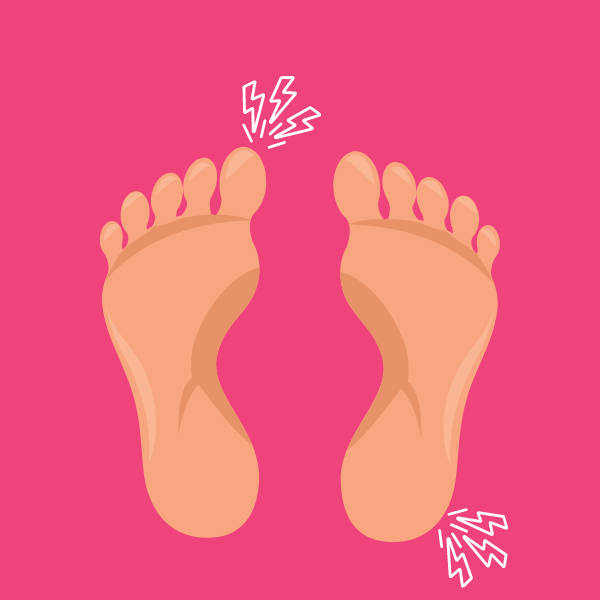 When I was pregnant with my son I experience foot pain during my second and third trimester. I believe that a contributing factor to my achy feet was that I put on more weight compared to my first pregnancy. My body was not use to carrying around so much additional weight. Not to mention I was always on the go. However I could not let foot pain get me down. I had a house to tend to and errands to run. So what to do about foot pain during pregnancy? Here are 9 tips that I did to relieve my achy feet while pregnant.
9 Tips on How to Relieve Foot Pain in Pregnancy
1. Stay off Your Feet
Although walking is good for you and your baby, too much of it can cause significant foot pain. Try to stay off your feet when you are experiencing pain. Sometimes you will not feel any pain while you are walking. However you can be setting yourself up for major foot pain later. If you must walk take frequent breaks even if you do not feel discomfort.
2. Wear the Right Shoes
One of the reasons why I had so much foot pain during my second pregnancy was that I was wearing the wrong shoes. Unlike my first pregnancy with my daughter, my feet swelled from time to time while carrying my son. I switch out my cute little flats for some comfortable walking shoes. I also went a half size bigger and made sure they were wide.
3. Tend to Swollen or Achy Feet
If you have achy and swollen feet make sure that you are tending to them as soon as possible. Not attending to your sore feet can make it worse and can develop into blisters and callouses on your feet. Soak your feet in warm water with Epsom salt. Having a foot tub will come in handy as most of them come with various attachments that can help relieve your achy feet.
4. Foot Massage
Getting a foot massage can help relieve foot pain during pregnancy. Ask your partner, family, or friend to give you a massage. This will help alleviate pain and increase the circulation in your feet. A good massage will also release endorphins which will also reduce the pain you are feeling.
5.Exercise Your Feet
Exercising your feet will alleviate foot pain by relaxing the soft tissue in your feet. Tightness in your Achilles tendon can cause foot pain as well. That's why it is important to do foot and ankle exercises. Here is a YouTube video on foot exercise that may be helpful.
6.Wear Cotton Socks
Wearing breathable fitting socks can help with foot pain. When your feet are constricted by tight socks, it can cause foot pain or make it worse. When blood flow to your feet is limited or constricted, it can cause pain similar to pins and needles due to poor circulation.
7.Eat a Healthy Diet
Eating unhealthy can cause your feet to swell making it difficult to walk and put on shoes. Try to stay away from foods that are high in salt and sugar. This will prevent your body from storing excessive fluid reducing your changes of getting swollen feet.
8.Orthopedics
One reason for your foot pain might be lack of arch support. Try using inserts to give you the extra support you need. Without adequate foot support your arch can fall causing major health issues. Inserts such as Dr. Scholl's have amazing inserts for your ball, arch, and heel.
9.Stay Flexible
Increasing your flexibility can help combat foot pain. Did you know bad posture can cause foot pain? When you are hunched over or have bad posture it puts unnecessary pressure on your feet. Bad posture puts stress on your ankles and feet and can have a negative effect on your circulatory system.