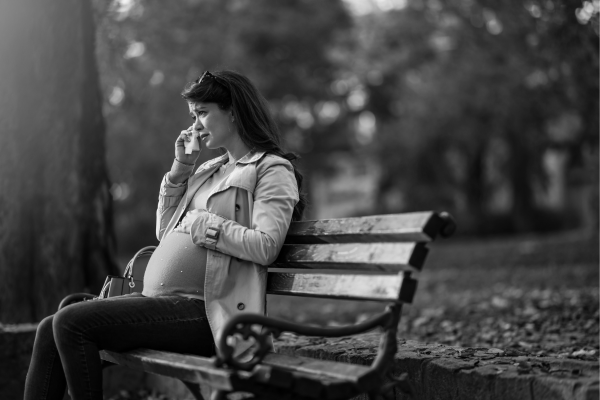 How to Deal With a Breakup While Pregnant
Learning how to deal with a breakup while pregnant can be an incredibly difficult experience. For those who find themselves dealing with a breakup while pregnant, it can feel overwhelming and isolating. This blog post will provide guidance on how to cope with the emotional turmoil of a breakup while managing the physical, mental, and emotional changes that come with pregnancy. We will cover topics such as managing your feelings, setting boundaries, and finding support. No matter the circumstances, it is possible to learn how to deal with a breakup while pregnant.
Dealing with the Emotions of Heartbreak
Breakups are never easy, and they can be especially difficult to deal with when you're pregnant. You might feel a mix of emotions like sadness, anger, fear, and uncertainty.
All of these feelings can be overwhelming and may affect your mental and emotional well-being, which is not ideal for you and your baby.
It's essential to acknowledge these emotions and give yourself permission to feel them. Suppressing them will only make them more difficult to deal with in the long run.
You might find it helpful to express your feelings through journaling, talking to a trusted friend or therapist, or engaging in activities that make you feel good.
It's also essential to prioritize self-care during this time. Taking care of yourself physically, emotionally, and mentally is crucial for a healthy pregnancy.
Take the time to rest, eat healthily, exercise, and practice relaxation techniques like meditation and deep breathing.
Remember that seeking support is okay. Reach out to your family and friends for comfort and encouragement.
They might be able to provide you with the support you need to feel better and navigate this difficult time. Additionally, talking to a therapist or joining a support group can also be beneficial.
Communication with the father of the baby is also crucial. While you might be feeling a lot of negative emotions, try to keep an open mind and focus on what's best for the baby.
If possible, communicate effectively and find ways to work together to create a positive environment for the baby.
Lastly, try to focus on the future and move forward. It's not easy to move on from heartbreak, but you can make a conscious effort to let go of the past and focus on the future.
This mindset can help you move forward and create a positive and healthy environment for yourself and your baby.
Prioritizing Self-Care During Pregnancy and Breakup
Pregnancy is a time when your body and mind need extra care and attention. It's important to prioritize your self-care even during times of heartbreak. Here are some ways to take care of yourself during pregnancy:
Rest and Relaxation: Pregnancy can be exhausting, so make sure you are getting enough rest and relaxation. Take naps, listen to calming music, practice breathing exercises, or do whatever helps you feel calm and rested.
Healthy Eating Habits: Eating well-balanced meals is crucial for your physical and emotional health. Focus on whole, nutritious foods and avoid junk food, which can leave you feeling sluggish and irritable.
Gentle Exercise: Gentle exercises such as walking or prenatal yoga, can help reduce stress and improve your overall well-being. Always check with your doctor before starting any exercise routine.
Pampering Yourself: Taking care of your physical appearance can help boost your mood. Take a bubble bath, get a pregnancy massage, or indulge in a new outfit that makes you feel good about yourself.
Mental Health Support: If you are struggling emotionally, seek support from a mental health professional or a support group. Pregnancy can be an emotional time, and it's okay to need extra help.
Remember, prioritizing self-care during pregnancy is essential for both you and your baby's health. Take time to care for yourself, both physically and emotionally, and you'll be better equipped to handle any challenges that come your way. Learning how to deal with a breakup while pregnant means putting yourself and your baby first and putting your best foot forward.
Seeking Support from Family and Friends While Dealing With a Breakup While Pregnant
Dealing with heartbreak during pregnancy can be incredibly difficult, which is why seeking support from loved ones is so important.
Reach out to family and friends who you trust and who can offer a listening ear and a supportive shoulder to cry on.
Sharing your feelings with those closest to you can help alleviate the burden and make the situation feel less overwhelming.
Consider confiding in someone who has gone through a similar experience, as they may be able to offer helpful advice or empathy.
Surrounding yourself with people who uplift and encourage you can be incredibly healing during this challenging time.
In addition to seeking emotional support, don't hesitate to ask for practical help as well. Pregnancy can be physically taxing, so asking for help with household chores or errands can help reduce stress and allow you to focus on your own well-being.
If you feel like you need additional support, consider seeking the help of a therapist or counselor.
They can offer a non-judgmental and safe space to discuss your emotions and work through your feelings.
Remember, seeking support is a sign of strength, not weakness. Don't be afraid to lean on your loved ones and reach out for help when you need it. Sometimes learning how to deal with a breakup while pregnant means getting outside help and that is perfectly fine.
Communication with the Father of the Baby
Breaking up during pregnancy can be complicated, especially if the father of the baby is involved. Communication is key in this situation, but it can be challenging when emotions are running high. Here are some tips to help you navigate communication with the father of the baby during this difficult time:
Creating a Positive and Healthy Environment for Yourself and Your Baby
As a pregnant woman going through a breakup, it's essential to create a positive and healthy environment for yourself and your baby. Here are some tips to help you achieve this:
Focus on Self-Care:
Make sure you're taking care of yourself. Get enough rest, eat healthy food, stay hydrated, and exercise regularly. Prenatal yoga or meditation can be particularly helpful in reducing stress and promoting emotional well-being.
Create a Supportive Space:
Surround yourself with positive people who will uplift you and offer you support. This could be family members, close friends, or even a support group for single pregnant women. If possible, decorate your home in a way that brings you joy and comfort.
Practice Mindfulness:
Stay present in the moment and focus on your life's positives. Start a gratitude journal where you write down things you're grateful for each day. This can help shift your focus away from the breakup and towards the positive aspects of your life.
Establish Boundaries:
Establish boundaries if your ex-partner is not supportive or respectful of you during the pregnancy. This could mean limiting contact or cutting off communication altogether. It's essential to prioritize your emotional well-being and your baby's.
Plan for the Future:
Start envisioning the future you want for yourself and your baby. Make plans for the birth and start thinking about your life as a single mother. Focus on building a happy and fulfilling life for you and your child.
Creating a positive and healthy environment during a breakup can be challenging, but it's essential for your own wellbeing and that of your baby. By prioritizing self-care, seeking support, and practicing mindfulness, you can navigate this difficult time and build a happy and fulfilling life as a single mother.
Focusing on the Future and Moving Forward
Moving on after a breakup while pregnant can seem daunting, but it's important to remember that you're not alone in this journey.
It's understandable to have moments of grief and sadness, but it's important to focus on the future and move forward.
One way to start is by setting new goals for yourself and your baby. These can be small things like trying a new prenatal exercise class or bigger things like looking for a new job or starting a savings plan for your baby's future.
Another way to move forward is to stay connected to your support system. Whether it's friends, family, or a therapist, having people to talk to and lean on during this time can make all the difference.
It's also important to continue to prioritize self-care and take time for yourself to rest, relax, and recharge.
It's important to remember that you are strong and capable of navigating this situation. Your baby is also a source of strength and motivation to keep moving forward.
Focusing on the future and creating a positive environment for yourself and your baby can help you overcome this challenging time and look towards a brighter tomorrow.