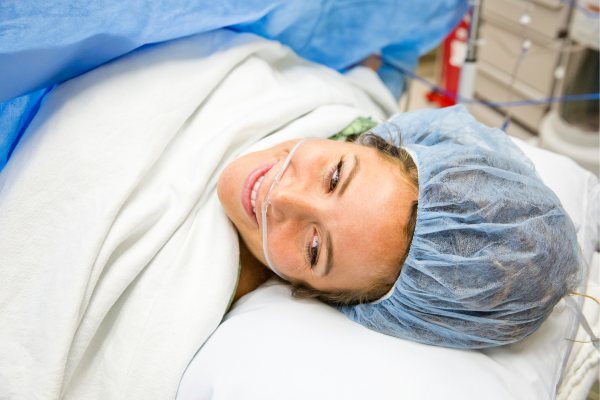 What to Do Night Before C-section
Are you getting ready for a c-section? Knowing what to do the night before can help make the whole process a bit less overwhelming. It's important to be as prepared as possible before the big day. In this blog post, we'll cover a pre-c-section checklist of what to do the night before. From packing a hospital bag to getting your home ready for your return, following these tips will ensure that you're well prepared for your c-section.
Follow Fasting Instructions
Before any surgery, including a c-section, your doctor will provide you with specific fasting instructions. It's essential to follow these instructions carefully to ensure your safety during the procedure.
In most cases, you'll need to stop eating solid food at least eight hours before your scheduled surgery time. You should also avoid drinking anything except water for several hours before your c-section.
If you don't follow these instructions, you could experience complications during the surgery or after it's over.
Fasting can be challenging, especially if you're used to snacking throughout the day.
However, it's crucial to remember that your health and the health of your baby are at stake. Talk to your doctor if you have any questions or concerns about fasting before your c-section.
It's also a good idea to plan a light, healthy meal the night before your surgery. This meal should include plenty of fluids to keep you hydrated.
However, don't eat anything after the time specified by your doctor. Eating or drinking too close to your surgery time could result in the procedure being postponed.
Shower With Antiseptic Soap
One of the important steps in preparing for a C-section is taking a shower with antiseptic soap the night before your surgery.
This helps to minimize the risk of infection and ensures that you are as clean and sterile as possible before your procedure.
Most hospitals will provide you with antiseptic soap, but it's always a good idea to check beforehand and bring your own if necessary.
When you are in the shower, make sure to focus on washing your abdomen, pubic area, and thighs thoroughly. Use a gentle touch, as scrubbing too hard can cause skin irritation.
When you get out of the shower, dry yourself off with a clean towel and wear freshly laundered clothes. It's important not to apply any lotions or oils to your skin after your shower, as this can interfere with the antiseptic properties of the soap.
Arrange Childcare and Transportation
Another important item to add to your pre-C-section checklist is arranging for childcare and transportation to the hospital.
This is especially crucial if you have other children who will need to be cared for while you are in surgery. Consider who can step in to help and make sure they are available and on standby.
You can also consider hiring a professional nanny or babysitter if necessary.
In addition, it's important to plan for transportation to and from the hospital.
Make sure your partner, friend, or family member who will be driving you is available and ready. Consider the route and estimated travel time to the hospital, taking into account any potential traffic or road closures.
It's also a good idea to pack a bag for your child or children if they will be staying with a caregiver. Include necessary items such as clothing, snacks, and toys to keep them occupied.
Pack Your Hospital Bag
One of the most important things you'll need to do before your c-section is to pack your hospital bag.
This will ensure that you have all of the essentials you need for both yourself and your baby during your hospital stay.
First and foremost, make sure you have comfortable clothes to wear during your recovery. You'll likely want loose, soft clothing that won't irritate your incision.
It's also a good idea to bring slip-on shoes or sandals, as you may find it difficult to bend over to tie shoelaces.
Next, make sure you have plenty of personal hygiene items such as toothbrush, toothpaste, shampoo, conditioner, deodorant, and soap.
You may also want to bring makeup and hair care items if you feel up to it.
For your baby, you'll want to bring plenty of diapers, wipes, and onesies or other clothing.
It's also a good idea to pack a blanket and hat, as well as any special items you plan to use for breastfeeding or bottle feeding.
Don't forget to bring your phone charger, a camera or video recorder, and any entertainment items such as books or magazines.
You may also want to pack a notepad and pen to write down any questions you have for your doctor or nurses.
By taking the time to pack your hospital bag before your c-section, you'll feel more at ease knowing that you have everything you need for your stay.
Double-Check Important Documents
One crucial aspect of preparing for your C-section is making sure you have all the necessary paperwork and documents in order.
This includes your insurance card, ID, hospital registration forms, and any medical records or notes from your prenatal appointments.
Make a list of these items and go through it twice to ensure you haven't missed anything.
It can be helpful to keep everything in a folder or binder that you bring with you to the hospital, so you can easily access it when needed.
If you're feeling overwhelmed, don't hesitate to reach out to your healthcare provider or hospital staff for guidance on what specific documents you'll need to have on hand.
Having everything in order beforehand can help ease some of the stress and anxiety that can come with a major medical procedure like a C-section.
Get a Good Night's Rest
One of the most important things you can do to prepare for a c-section is to make sure you get a good night's rest.
While it can be difficult to relax and sleep knowing that you'll be having surgery the next day, getting a good night's rest can help reduce your anxiety and ensure that you feel as refreshed as possible for the procedure.
If you're struggling to sleep, consider trying some relaxation techniques, such as deep breathing or visualization exercises.
You might also find it helpful to read a book or listen to soothing music before bed to help you unwind.
It's also a good idea to make sure that you've created a comfortable sleeping environment.
Make sure your room is cool and quiet, and try to limit your use of electronic devices before bedtime to avoid overstimulating your brain.
If you find that you're still struggling to sleep, don't hesitate to talk to your healthcare provider.
They may be able to recommend some additional strategies or medications to help you relax and get a good night's rest.
By prioritizing your rest the night before your c-section, you'll be better equipped to handle the procedure and start your recovery off on the right foot.