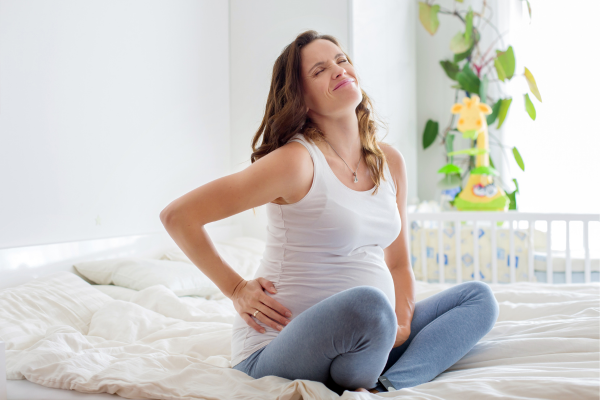 Have you ever wondered what contractions feel like? Whether you're preparing for your first pregnancy or have experienced labor pain before, understanding contractions is key to navigating the childbirth process. In this blog post, we'll decode labor pain and provide insight into what contractions feel like. We'll look at the different types of contractions, what happens in the body during labor, and ways to cope with labor pain. By the end of this post, you'll be better equipped to identify and manage labor pain.
Understanding Contractions
Contractions are an essential part of the labor process. They help your uterus to dilate and efface the cervix, eventually leading to the birth of your baby.
Simply put, contractions are like waves of tightening and releasing that cause the cervix to open up. But how do you know if you're having a contraction?
A contraction feels like a squeezing or tightening sensation that can be mild, moderate, or intense. It may feel like menstrual cramps or a tight band around your belly.
Contractions usually start at the top of the uterus and spread downwards towards the cervix. They may also radiate to your lower back, thighs, and pelvis.
It's important to note that not all tightening or cramping in your belly is a contraction. Braxton Hicks contractions, also known as "false labor," are common in the second and third trimesters and can feel similar to the real thing.
As you near your due date, it's essential to know the signs of real labor contractions and how to tell the difference between Braxton Hicks and true labor contractions.
Keep track of the timing, frequency, and intensity of your contractions and seek medical advice if you're unsure. Knowing what to expect can help you feel more confident and in control during labor.
Types of Contractions
Not all contractions are the same. There are two main types of contractions – Braxton Hicks contractions and true labor contractions.
Braxton Hicks contractions are also known as false labor contractions and typically start around the second trimester.
They are often described as a tightening or squeezing sensation in the abdomen that comes and goes, without any pattern or increasing intensity.
These contractions are not usually painful but can be uncomfortable and last for about 30-60 seconds.
True labor contractions, on the other hand, are regular, rhythmic, and get progressively stronger.
They are often described as a constant, intense, and cramp-like pain that starts at the lower back and radiates to the front of the abdomen.
True Labor Contractions
Unlike Braxton Hicks contractions, true labor contractions don't
go away with rest, changing positions or walking.
It's important to know the difference between these two types of contractions, especially for first-time moms who may mistake Braxton Hicks contractions for the start of labor.
Keep in mind that true labor contractions become more frequent, longer, and stronger as labor progresses, while Braxton Hicks contractions tend to stay the same.
It's also worth noting that some women experience back labor contractions, which are felt primarily in the lower back rather than the abdomen.
These can be particularly painful and may be associated with posterior labor, where the baby's head is facing up instead of down.
By understanding the types of contractions, women can better identify when they are experiencing true labor and when it's time to call their healthcare provider.
Signs of Contractions
Before we delve into what contractions feel like, it's important to first recognize the signs that labor is on its way.
Contractions are a crucial sign that labor is starting, and there are a few things to look out for that signal their onset.
First, you may experience an increase in vaginal discharge, which can be thick, pink, or even slightly bloody. This is known as the "bloody show," and it's an indication that the cervix is beginning to dilate.
Another common sign is the breaking of the amniotic sac, also known as "water breaking." This may happen all at once, or in some cases, it may be a slow trickle of fluid.
As labor progresses, you may also experience back pain or pressure in your pelvic area, which can be a sign that contractions are starting.
It's important to keep in mind that not all women experience the same signs of labor, and some may not even notice any signs at all.
If you're unsure whether you're experiencing contractions, pay attention to the following section on what they feel like.
Stages of Labor
Labor is the process of childbirth, which can be divided into three stages – the first stage, the second stage, and the third stage. Each stage comes with different signs, symptoms, and feelings.
The first stage of labor is the longest stage, and it can last anywhere from a few hours to a few days. During this stage, your body is preparing for delivery by dilating your cervix.
You may experience contractions, but they will likely be mild and irregular. As you progress through this stage, your contractions will become stronger and more frequent.
You may also experience a "bloody show" as the cervix begins to thin and dilate.
Second Stage of Labor
The second stage of labor begins when you are fully dilated and ends with the birth of your baby. During this stage, you will feel an urge to push as your baby moves down the birth canal.
Your contractions will be more intense, and you may feel a lot of pressure in your pelvic area. You may also experience intense pain, and it is common to feel exhausted.
Third Stage of Labor
The third stage of labor is the shortest stage and involves delivering the placenta.
This stage typically lasts between 5-30 minutes. Your contractions will continue, and you may feel some discomfort as the placenta is delivered.
Understanding the different stages of labor can help you prepare for the childbirth experience. Remember, every woman's labor is unique, and your experience may differ from others.
Stay focused, stay calm, and trust your body to do what it needs to do to bring your baby into the world.
What Do Contractions Feel Like?
Contractions can feel different for every woman, but they generally feel like a tightening or cramping in your lower abdomen, lower back, or pelvis.
Some women describe the sensation as intense menstrual cramps, while others describe it as a pressure or squeezing sensation.
You may also feel some pain radiating down your thighs or into your hips.
As labor progresses, the intensity and frequency of contractions will increase, and they may become more uncomfortable.
You may feel a wave-like motion as the contraction starts, peaks, and then gradually fades away. You may also notice that your contractions become more regular and closer together as you move into active labor.
It's important to remember that everyone experiences contractions differently. Some women may feel only a mild discomfort, while others may feel intense pain.
You should trust your body and communicate with your healthcare provider about your pain levels so that you can find ways to manage your discomfort.
Emotional Changes During Contractions
In addition to the physical sensations of contractions, you may also experience emotional changes during labor. Many women report feeling more anxious, excited, or scared as labor progresses, and these feelings may intensify during contractions. It's important to have a support system in place to help you manage these emotions and stay focused on your labor.

Coping with Contractions
Contractions can be intense and uncomfortable, but there are several ways to cope with the pain. Here are some strategies to help you manage the discomfort:
Breathing Exercises: Focus on slow, deep breaths, inhaling through your nose and exhaling through your mouth. You can also try breathing in a pattern, such as inhaling for four counts and exhaling for eight counts.
Relaxation Techniques: Find a position that feels comfortable, such as sitting on a birth ball or lying on your side. Use visualization techniques to imagine a peaceful scene or use guided meditation.
Massage: Ask your partner or a birth support person to massage your back, feet or hands during contractions.
Heat or Cold Therapy: Place a warm or cold compress on your lower back, or take a warm shower or bath to ease the pain.
Change Positions: Try different positions to see what feels best, such as standing, walking, or squatting.
Acupuncture or Acupressure: Some women find relief from contractions through these alternative therapies.
Every woman copes with contractions differently, and what works for one person may not work for another. Find what feels most comfortable for you and be open to trying different techniques as labor progresses. And if the pain becomes unbearable or if you have any concerns, don't hesitate to talk to your healthcare provider or birth support team.
When to Go to the Hospital
As the due date approaches, it's essential to know when it's time to head to the hospital. Contractions are an indication that labor is starting, but not all contractions are alike. If you experience mild or irregular contractions, it's best to stay home, relax, and wait until they get more intense. However, there are certain signs that indicate it's time to go to the hospital, including:
Your Water Breaks: If your water breaks, call your healthcare provider immediately. The amniotic sac around the baby has ruptured, and labor usually begins within hours. It's important to go to the hospital as soon as possible, as there's a risk of infection.
Contractions are Stronger and More Frequent: If you feel contractions every five minutes for an hour, it's time to go to the hospital. Strong contractions can help to dilate your cervix and bring the baby down into the birth canal.
You Experience Heavy Bleeding: If you experience heavy bleeding, go to the hospital immediately. Heavy bleeding could be a sign of a problem with the placenta or a ruptured uterus.
You Feel Like Pushing: If you feel the urge to push, don't hesitate, call your healthcare provider, and head to the hospital immediately.