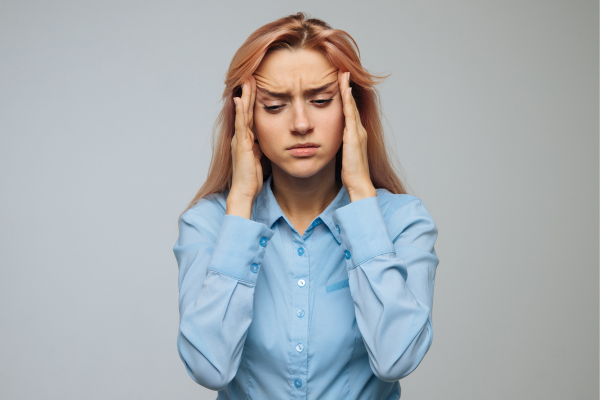 Do you suffer from period headaches? If so, you're not alone. Every month, many women experience headaches due to their menstrual cycles. But how do you make these period headaches go away? Luckily, there are several techniques and home remedies that can help alleviate the pain and discomfort associated with period headaches. In this blog post, we'll explore the best techniques and home remedies for tackling period headaches head-on!
Understanding Period Headaches
Period headaches, also known as menstrual migraines or hormonally-triggered headaches, are a common occurrence among people who menstruate.
These headaches typically occur in relation to the menstrual cycle, with many individuals experiencing them before, during, or after their period.
The exact cause of period headaches is not fully understood, but hormonal fluctuations are believed to play a significant role.
Specifically, a drop in estrogen levels seems to be the primary trigger. Estrogen helps regulate serotonin levels, a neurotransmitter that affects pain perception.
When estrogen levels decrease, serotonin levels may also drop, leading to an increased sensitivity to pain and the development of headaches.
In addition to hormonal changes, other factors may contribute to period headaches. These can include stress, dehydration, lack of sleep, certain foods or food additives, and changes in blood flow.
Understanding period headaches is crucial in finding effective ways to manage and prevent them.
By recognizing the unique patterns and triggers associated with these headaches, individuals can take proactive measures to minimize their frequency and intensity.
With a combination of lifestyle changes, over-the-counter medications, and natural remedies, period headaches can be effectively managed, allowing for a more comfortable and pain-free menstrual cycle.
In the following sections, we will explore various strategies and techniques that can help alleviate the pain and discomfort associated with period headaches.
Causes of Period Headaches
Period headaches can be triggered by a number of factors related to a woman's menstrual cycle. These can include hormonal changes, dehydration, poor sleep, stress, and dietary factors.
During menstruation, levels of estrogen and progesterone fluctuate, which can cause headaches in some women.
This hormonal imbalance can lead to blood vessel constriction and dilation, which can cause headaches.
Dehydration can also contribute to headaches during menstruation.
Drinking plenty of water and avoiding caffeinated beverages can help to keep the body hydrated and prevent headaches.
Poor sleep and stress are also common triggers for headaches during menstruation.
Ensuring that you get enough rest and finding healthy ways to manage stress, such as yoga or meditation, can help to reduce the frequency and severity of period headaches.
Dietary factors can also play a role in period headaches. Eating a healthy, balanced diet and avoiding trigger foods such as processed foods, caffeine, and alcohol can help to reduce the likelihood of experiencing headaches during menstruation.
Understanding the underlying causes of period headaches is important in order to effectively prevent and treat them.
By making simple lifestyle changes and addressing the underlying factors, women can find relief from the discomfort of period headaches.
Lifestyle Changes to Prevent Period Headaches
Period headaches can be triggered by a number of factors, including stress, lack of sleep, dehydration, and poor diet. Making lifestyle changes can help to prevent period headaches and improve overall health. Here are some lifestyle changes you can make to prevent period headaches:
Get Enough Sleep: Aim to get at least seven hours of sleep each night. Establish a consistent sleep schedule by going to bed and waking up at the same time every day.
Exercise Regularly: Regular exercise can help to reduce stress, improve mood, and boost energy levels. Try to aim for at least 30 minutes of moderate exercise most days of the week.
Drink Plenty of Water: Staying hydrated can help to prevent headaches. Aim to drink at least eight glasses of water per day.
Eat a Healthy Diet: Eat a balanced diet that includes plenty of fruits, vegetables, lean protein, and whole grains. Avoid foods that can trigger headaches, such as caffeine, alcohol, and processed foods.
Manage Stress: Practice relaxation techniques, such as deep breathing, yoga, or meditation. Engage in activities that you enjoy and that help you to unwind.
Over-the-Counter Medications for Period Headaches
For those who prefer to take medications for their period headaches, there are a few over-the-counter options available.
Nonsteroidal anti-inflammatory drugs (NSAIDs) are a popular choice as they can relieve pain and inflammation.
Examples of NSAIDs include ibuprofen, aspirin, and naproxen. It's important to follow the recommended dosage on the label and not to exceed it as this can lead to unwanted side effects.
Acetaminophen, also known as paracetamol, is another option for those who cannot take NSAIDs due to medical conditions or allergies.
However, it should be noted that acetaminophen does not reduce inflammation.
Some pain relievers are specifically formulated for period pain and may include ingredients such as caffeine or pyrilamine maleate.
These may provide additional relief for menstrual headaches.
It's important to consult with a healthcare provider before taking any medications, especially if you have underlying medical conditions or are taking other medications.
Additionally, over-the-counter medications should not be relied upon as the only solution for period headaches. Lifestyle changes and natural remedies should also be considered.
Natural Remedies
When it comes to finding relief from period headaches, natural remedies can be a great option. These remedies can help alleviate the pain and discomfort associated with menstrual migraines without relying on medications. Here are some natural remedies to consider:
Apply Heat or Cold: Applying a hot or cold compress to the affected area can help to relieve tension and reduce inflammation. Experiment with both heat and cold to see which one provides the most relief.
Stay Hydrated: Dehydration can exacerbate headaches, so it's important to stay hydrated throughout your menstrual cycle. Drink plenty of water and consider incorporating hydrating foods such as watermelon and cucumber into your diet.
Try Herbal Teas: Certain herbal teas, such as chamomile, peppermint, and ginger, have been known to alleviate headache symptoms. Sip on a cup of herbal tea when you feel a headache to reduce the intensity.
Practice Relaxation Techniques: Stress can contribute to period headaches, so finding ways to relax and unwind can be beneficial. Try deep breathing exercises, progressive muscle relaxation, or taking a warm bath to help calm your mind and body.
Get Regular Exercise: Engaging in regular physical activity can help improve blood flow, reduce stress, and release endorphins, which are natural pain relievers. Find an exercise routine that works for you and aim for at least 30 minutes of moderate activity most days of the week.
Remember, what works for one person may not work for another, so it's important to experiment with different natural remedies to find what provides the most relief for you. It's also important to consult with a healthcare provider if your headaches are severe, frequent, or significantly impacting your daily life.
When to See a Doctor
Headaches during your cycle can be debilitating and interfere with your daily life, but most of the time they can be treated with home remedies and over-the-counter medications. However, it may be time to seek medical attention if you experience severe and frequent headaches that do not respond to these treatments.
Here are some signs that indicate it's time to see a doctor:
Your headache is getting worse or is accompanied by other symptoms such as fever, nausea, vomiting, or vision problems.
Your headaches are interfering with your daily life and are impacting your ability to function normally.
You experience headaches during pregnancy or menopause, as they could be a sign of an underlying condition.
Your headaches are a recent development and are different from the headaches you normally experience.
If you experience any of these symptoms, it's important to schedule an appointment with your healthcare provider to determine the cause of your headaches and develop an appropriate treatment plan.
In some cases, prescription medication may be necessary to manage your symptoms and provide relief. Remember, taking care of your health is essential for a happy and fulfilling life.