Must-Have Office Essentials for Working Moms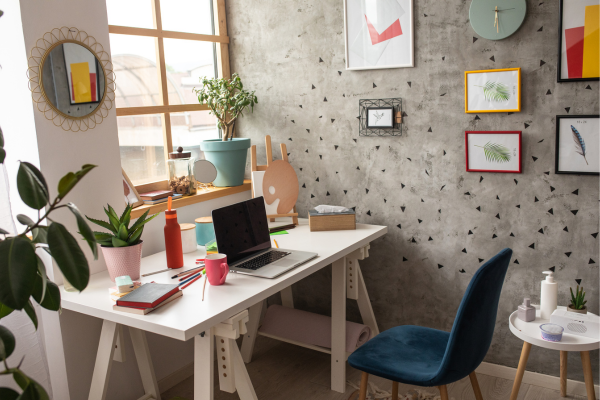 Essentials for Working Moms
Are you a working mom in need of an office makeover? With the right office essentials for working moms, you can create a comfortable and productive workspace in no time! From setting up an ergonomic desk to investing in quality office supplies, this blog post will provide you with the top picks for creating a home office that will make working from home easier and more enjoyable. So, let's get started with our guide for office essentials for working moms!
Office Essentials for Working Moms
Choosing the Right Space
When it comes to setting up your home office as a working mom, choosing the right location is crucial.
You want to find a space in your home that is separate from your personal living areas, allowing you to create a boundary between work and home life.
This will help you mentally switch into work mode and increase your focus and productivity.
Ideally, you want a quiet and secluded area where you can work without interruptions.
If possible, choose a room with a door that can be closed, providing privacy and minimizing distractions.
This will allow you to create a dedicated workspace where you can focus solely on your tasks.
Consider the natural lighting in the room as well. Working in a space with plenty of natural light can boost your mood and energy levels, making you more alert and productive.
If the room lacks natural light, invest in good quality lighting fixtures that mimic natural light to create a bright and welcoming atmosphere.
Lastly, think about the accessibility and convenience of the location.
If you have young children, choosing a room close to their play area or their bedrooms can help you keep an eye on them while working.
Additionally, make sure the chosen location has access to power outlets and is within range of your Wi-Fi connection to ensure a smooth working experience.
Maximize Comfort & Productivity
When it comes to creating the perfect home office as a working mom, finding the right desk and chair is essential.
Your desk and chair are not only the foundation of your workspace but also crucial for your comfort and productivity throughout the day.
When selecting a desk, consider the size and layout of your workspace.
If you have a small area, opt for a compact desk that fits comfortably in the room without overwhelming the space.
Look for a desk with ample storage options, such as drawers or shelves, to keep your office supplies organized and within reach.
As for the chair, prioritize comfort and support. Look for a chair with adjustable height and backrest, allowing you to customize it to your preferences and maintain good posture.
Ergonomic features like lumbar support and padded armrests can help prevent back and neck strain, especially during long working hours.
Another important factor to consider is style. Your desk and chair should not only be functional but also reflect your personal taste and aesthetic.
Whether you prefer a sleek modern design or a more traditional look like monochrome minimalist from the home interior magazines or a more traditional look like those found in an Amish furniture store, choose furniture that inspires you and makes you excited to sit down and start working.
Office Essentials for Working Moms
When it comes to setting up your home office as a working mom, having the right office equipment is essential. These are the tools that will help you stay organized, productive, and efficient throughout your workday. Here are some essential office equipment items that every working mom should have in their home office.
Laptop or Desktop Computer: A reliable computer is the backbone of any home office. Invest in a high-quality laptop or desktop computer that meets your work requirements and ensures a smooth and efficient workflow.
Printer and Scanner: Whether you need to print important documents or scan receipts and paperwork, having a printer and scanner in your home office will save you time and hassle. Look for a multi-functional printer that offers both printing and scanning capabilities.
Wireless Router: A stable and reliable internet connection is crucial for any remote worker. Invest in a high-quality wireless router that provides a strong and consistent Wi-Fi signal throughout your home office.
All-in-One Printer: An all-in-one printer is a great addition to any home office. It combines the functionalities of a printer, scanner, copier, and fax machine, allowing you to complete all your office tasks with just one device.
Noise-Canceling Headphones: Working from home often comes with its fair share of distractions. Noise-canceling headphones can help you block out external noise and create a focused and quiet working environment.
External Hard Drive: Backing up your important files and documents is crucial to ensure you never lose your work. Invest in an external hard drive with ample storage space to keep all your files safe and secure.
Ergonomic Keyboard and Mouse: To prevent strain and discomfort during long hours of typing and navigating, invest in an ergonomic keyboard and mouse. These tools are designed to promote a natural and comfortable hand position, reducing the risk of repetitive strain injuries.
Document Organizer: A document organizer or filing system is essential for keeping your paperwork and important documents in order. Invest in a filing cabinet, file folders, or document trays to keep everything organized and easily accessible.
Tips for Creating a Distraction-Free Environment
Eliminating distractions is key to maintaining focus and productivity in your home office as a working mom. Here are some tips to help you create a distraction-free environment:
Establish Boundaries: Set clear boundaries with your family members and communicate your working hours. Let them know when you need uninterrupted time and ask for their cooperation and support. Creating a productive work culture is key.
Minimize Noise: Noise can be a major distraction when you're trying to concentrate. Invest in noise-canceling headphones or play calming music or white noise in the background to drown out any unwanted sounds.
Remove Unnecessary Clutter: A cluttered workspace can hinder your ability to focus. Keep your desk clean and organized by removing any items that are not essential to your work. Use storage solutions like shelves or drawers to keep your workspace tidy.
Limit Social Media Usage: Social media can be a major time-waster and source of distraction. Consider using website blockers or productivity apps to limit access to social media sites during your designated work hours.
Create a Dedicated Workspace: Designate a specific area in your home as your home office. This will help you mentally separate your work life from your personal life and signal to your brain that it's time to focus.
Use Time Management Techniques: Break your workday into manageable chunks of time and use techniques like the Pomodoro Technique to stay focused and productive. Set a timer for 25 minutes of uninterrupted work, followed by a 5-minute break.
Incorporating Personal Touches into Your Home Office Decor
Working from home doesn't mean your home office has to be dull and boring.
In fact, incorporating personal touches into your home office decor can make your workspace more inviting and inspiring.
Adding personal touches not only allows you to express your individuality but also creates a space that reflects your unique style and personality.
One way to incorporate personal touches into your home office decor is through artwork and wall decor.
Hang up your favorite prints, photographs, or inspirational quotes that resonate with you. You could also consider giving your office some color by painting. You can do it yourself or try this painting company.
This will not only add visual interest to your workspace but also serve as a source of motivation and inspiration throughout your workday.
Another way to personalize your home office decor is by adding plants and greenery.
Plants not only improve air quality but also add a touch of nature to your workspace.
Choose low-maintenance plants like succulents or potted herbs that can thrive in an office environment.
Not only will they liven up your space, but they will also provide a sense of calm and tranquility.
Incorporating personal mementos or sentimental items can also make your home office feel more personal.
Display family photos, travel souvenirs, or cherished keepsakes that bring you joy and happy memories.
Surrounding yourself with these items can uplift your mood and create a sense of comfort and familiarity in your workspace.
Lastly, don't forget to choose office accessories and organizers that reflect your personal style.
Opt for colorful and patterned desk accessories, stylish storage solutions, and decorative office supplies that make you excited to sit down and work.
These small details can make a big difference in creating a space that is both functional and aesthetically pleasing.
Establishing a Routine for Maximum Productivity
Establishing a routine is key to maximizing productivity in your home office as a working mom.
When you have a clear routine, you can better manage your time, stay focused, and accomplish your tasks efficiently.
Here are some tips for establishing a routine that will help you reach maximum productivity:
1. Start By Setting a Consistent Schedule. Determine the hours you will dedicate to work each day and stick to them. By creating a regular routine, you train your mind to be in work mode during those specific hours, making it easier to concentrate and be productive.
2. Prioritize Your Tasks and Create a To-Do List Each Day. Identify your most important tasks and tackle them first when you have the most energy and focus. Breaking down your tasks into smaller, manageable steps will help you stay motivated and organized.
3. Incorporate Regular Breaks into Your Routine. Taking short breaks every hour or so allows your mind to rest and recharge, preventing burnout and boosting your overall productivity. Use this time to stretch, have a healthy snack, or engage in a quick mindfulness practice.
4. Create Boundaries and Communicate Them to Your Family Members. Let them know when you are unavailable for interruptions or household chores during your designated work hours. Having clear boundaries will minimize distractions and allow you to fully focus on your work.
Making Time for Self-Care and Mindfulness in Your Home Office
In the midst of the hustle and bustle of working from home as a mom, it's crucial to prioritize self-care and mindfulness.
Your home office should not only be a place for productivity but also a space where you can recharge and take care of yourself.
Making time for self-care and mindfulness can greatly improve your overall well-being and enhance your work-life balance.
One way to incorporate self-care into your home office routine is by taking short breaks throughout the day to engage in activities that bring you joy and relaxation.
This could be as simple as stepping outside for a breath of fresh air, doing a quick yoga stretch, or taking a few moments to practice deep breathing or meditation.
These activities can help you reset your mind and alleviate stress, allowing you to return to your work with a renewed focus.
In addition to breaks, it's important to prioritize your physical health while working from home.
Make sure to drink plenty of water, eat nourishing meals and snacks, and incorporate movement into your day.
This could be through regular exercise or even just taking short walks around your home or neighborhood.
Taking care of your body will not only improve your physical health but also boost your energy levels and productivity.
Lastly, don't forget to prioritize your mental well-being as well.
Working from home can sometimes feel isolating, so it's important to connect with others and engage in activities that bring you joy.
This could be scheduling virtual coffee breaks with colleagues, joining online communities or networking groups, or setting aside time each day to connect with loved ones.
Maintaining social connections can help combat feelings of loneliness and provide much-needed support.