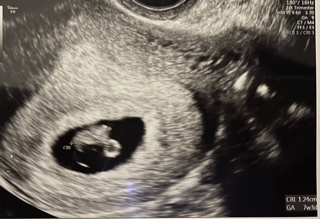 Baby's Growth & Development During Week 7 of Pregnancy
How many weeks pregnant is 7 weeks? You are also two months pregnant. Week 7 of pregnancy your little one is growing rapidly but is still no bigger than a blueberry. This week your little embryo is all about brain power. During week 7, your baby is rapidly creating brain cells that will help them observe their new arrival once they arrive. Baby is also developing their kidneys this week, which they will need to help remove waste from their bodies. Arms and legs begin to form although they still might look a little strange.
Your Body During Week
Week 7 brings sore breasts and other pregnancy symptoms. Some women will grow a whole bra size due to swollen breast. You might notice that your nipples are more pronounced and your areola are darker. You might also have tiny bumps on your breast called Montgomery's tubercles. The primary jobs of these tiny bumps is lubricating your breast and making a hostile environment for germs. Food aversions will still be a problem during week 7. Make sure that you are eating small light meals to combat nausea and vomiting. If you are unable to keep anything down, speak to your doctor right away to see what options you may have to fight food aversions.