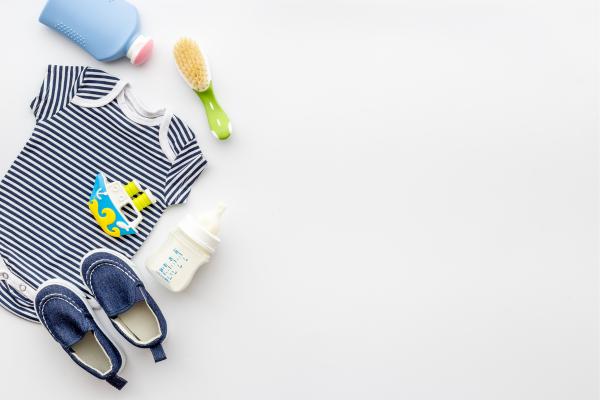 25 Must-Have Baby Things to Buy Before Birth
It's an exciting time for soon-to-be parents, but there is a lot to think about and plan for before the baby arrives. Don't forget the baby things to buy before birth! With so much to do, keeping track of all the items you need to purchase can be hard. To make it easier, we've compiled a list of the 25 must-have baby things to buy before birth to make sure you're prepared for the arrival of your bundle of joy!
25 Baby Things to Buy Before Birth
1. Crib
A crib is probably the most important baby things to buy before birth. This is where your baby will spend a significant amount of time sleeping, so it's crucial to invest in a good-quality crib that meets safety standards. When choosing a crib, make sure it has sturdy slats, is the right size for your space, and comes with a firm mattress that fits snugly. Consider purchasing a waterproof crib mattress pad to protect the mattress from leaks and spills. And, of course, make sure to decorate the crib with adorable bedding, sheets, and a baby monitor so you can keep a close eye on your sleeping baby.
2. Car seat
A car seat is one of the most important baby things to buy before birth. It is crucial for your baby's safety during car rides. Make sure you choose a car seat that meets the safety standards of your country.
There are two types of car seats you can choose from: an infant car seat or a convertible car seat. Infant car seats are designed for newborns and can only be used in a rear-facing position. Convertible car seats, on the other hand, can be used from infancy to toddlerhood and can be used both rear-facing and forward-facing.
When choosing a car seat, consider the weight and height limit of the car seat, as well as the weight and height of your baby. Make sure the car seat is easy to install and adjust. You may also want to consider features like a sunshade, adjustable straps, and a detachable base.
Remember to register your car seat with the manufacturer and check for any recalls regularly. And always use the car seat properly according to the instructions and recommendations from the manufacturer. Your baby's safety is the top priority, so make sure you choose a reliable and safe car seat for them.
3. Stroller
One of the most essential baby things to buy before birth is a stroller. It is a great tool for when you are on the go and need to easily transport your baby. When selecting a stroller, consider factors such as size, weight, durability, and safety features.
If you plan to do a lot of walking, a stroller with sturdy wheels and a good suspension system is a must. You may also want to look for one that has a built-in sun shade and reclining seat to provide comfort and protection for your baby. If you have a car, a stroller that easily collapses and fits into your trunk is also a convenient feature.
There are different types of strollers available to suit your specific needs. Some strollers are designed for jogging or running, while others are more compact and ideal for city living. Make sure to choose a stroller that is appropriate for your lifestyle and the activities you plan to do with your baby.
Lastly, safety is of utmost importance when it comes to strollers. Always check for safety features such as a secure harness, sturdy frame, and reliable brakes. It is also a good idea to follow the manufacturer's guidelines for weight and age limits.
4. Diapers
One of the most important baby essentials you'll need to stock up on before your little one arrives is diapers. Whether you choose cloth or disposable, having a good supply on hand will make your life a lot easier in those first few weeks. Newborns go through a lot of diapers – around 10-12 per day – so it's best to stock up ahead of time to avoid any last-minute runs to the store.
If you're using disposable diapers, make sure you have enough in the right size. Most newborns will need size 1 diapers, but it's always a good idea to have a few newborn-sized diapers on hand just in case. You may also want to consider purchasing some overnight diapers for those long stretches of sleep.
If you're going the cloth diaper route, make sure you have enough diapers and inserts to get you through a day or two. You'll also need a diaper pail to store dirty diapers until laundry day. And don't forget to invest in some cloth diaper-friendly detergent to keep them clean and fresh.
No matter which type of diapers you choose, having plenty of wipes on hand is also essential. You'll go through a lot of them, especially in those early days when your baby is constantly pooping and peeing. Look for gentle wipes on your baby's delicate skin and fragrance-free to avoid irritation.
5. Wipes
When it comes to baby care, wipes are an absolute must-have. From changing diapers to cleaning up messes, you'll find yourself reaching for wipes multiple times a day. There are a variety of wipes available on the market, including those that are specifically designed for sensitive skin, scented or unscented, and those that are eco-friendly.
When shopping for wipes, it's important to choose those that are gentle and free from harmful chemicals that can irritate your baby's delicate skin. Look for pH-balanced and hypoallergenic wipes, and consider using fragrance-free wipes to reduce the risk of allergic reactions.
You'll need plenty of wipes on hand, especially during those early months when diaper changes are frequent. Consider stocking up on large boxes or buying in bulk to save money in the long run. It's also a good idea to keep a travel pack of wipes in your diaper bag for on-the-go cleanup.
Overall, wipes are a simple yet essential baby item that no parent should be without. Be sure to include them on your baby registry or add them to your shopping list before your little one arrives.
6. Baby clothes
Preparing for a new baby can be overwhelming, but it's also exciting. Shopping for baby clothes is one of the most fun aspects of preparing for a new arrival. However, it's important to remember that babies grow incredibly fast, so it's wise to buy clothes in a variety of sizes to ensure that your baby always has clothes that fit comfortably.
When shopping for baby clothes, choose clothes that are easy to put on and take off. Newborns don't like having clothes pulled over their heads, so consider buying clothes with snaps or buttons that run down the front or back.
You'll want to have a good mix of clothing options, including onesies, sleepers, and outfits for special occasions. Ensure you have enough clothing to change your baby several times a day, as spit-up and diaper leaks are common.
Keep in mind that your baby's comfort is the most important factor when choosing clothes. Look for soft, breathable fabrics like cotton that won't irritate your baby's delicate skin. Avoid clothes with tags or seams that can rub against your baby's skin.
7. Bottles
Whether you're exclusively breastfeeding or formula-feeding your baby, you will need bottles. Here are some things to keep in mind when selecting bottles for your little one:
Size: Newborns typically start with smaller bottles and increase to larger ones as they grow.
Material: Glass bottles are durable but heavier, while plastic bottles are lighter but may not last as long.
Nipple shape: The shape of the nipple can affect how well your baby takes to the bottle. Try different shapes to find the best fit.
Anti-colic features: Some bottles have anti-colic features that help reduce the amount of air your baby ingests, which can lead to less fussiness and gas.
Brand: There are many brands of bottles on the market. Consider researching reviews and talking to other parents to find the right brand for your family.
It's a good idea to have several bottles on hand, especially if you plan on pumping or if someone else will be feeding your baby. Remember to clean the bottles thoroughly before each use and replace them if they become damaged or worn.
8. Formula
For some moms, breastfeeding may not be possible or may not be the preferred method of feeding their babies. In such cases, formula can be a great alternative. Formula provides babies with all the necessary nutrients and vitamins that they need to grow and develop properly. When choosing formula, make sure to read the labels and consult your pediatrician to choose the right type for your baby.
You will need to purchase bottles for formula feeding and a bottle brush and sterilizer to keep the bottles clean. Some formula brands offer pre-made liquid formulas, which are convenient for on-the-go feedings. Powdered formulas are typically less expensive and last longer. Keep in mind that your baby may have preferences for certain types of formulas or bottle nipples, so it's a good idea to have a variety on hand to test out.
Formula can be expensive, so it's a good idea to look for sales or bulk options. Some stores also offer rewards programs or coupons for formula purchases. Keep an eye on the expiration dates and be sure to discard any expired formula. Remember to follow the instructions on the formula container carefully and always prepare the formula as directed to ensure your baby's safety and health.
9. Breast Pump
If you plan on breastfeeding your baby, a breast pump can be an essential item to have. Breast pumps come in handy when you're away from your baby and need to express milk. They can also help to stimulate milk production, increase milk supply, and relieve engorgement.
Different types of breast pumps are available, including electric, manual, and battery-operated models. Electric breast pumps are the most efficient and can express milk from both breasts at the same time. Manual breast pumps are portable and budget-friendly, but they require more effort to use. Battery-operated breast pumps are a hybrid between electric and manual pumps and can be useful for occasional use.
Consider your needs, lifestyle, and budget when selecting a breast pump. It's also important to ensure that the breast pump is easy to clean and comes with all the necessary accessories, such as breast shields, bottles, and tubing.
10. High Chair
A high chair is an essential item for feeding your baby once they start to eat solids. There are many different types of high chairs available, from basic models to more advanced designs with added features such as adjustable heights and reclining seats.
When choosing a high chair, make sure to look for one that is safe and easy to use. It should have a stable base and a secure harness to keep your baby in place during mealtime. Consider features like adjustable footrests and trays that can be removed for easy cleaning.
One great option is a convertible high chair that can transform into a toddler chair as your child grows. This will save you money in the long run and make mealtime a breeze.
When using a high chair, always supervise your baby to ensure they are safe and secure. Also, be sure to clean it thoroughly after each use to prevent the spread of germs.
Investing in a good high chair is essential for a stress-free feeding experience, and it's definitely one item you won't want to forget to buy before your baby arrives.
11. Playpen
A playpen is a great place to keep your baby safe and secure when you need to step away for a moment. Playpens come in various sizes and styles, but all have the same basic purpose – to give your baby a contained space to play and sleep in.
When choosing a playpen, ensure it has a sturdy construction, mesh or other breathable sides, and a locking mechanism to prevent accidental opening. You'll also want to look for one that can fold up for easy storage and travel. A playpen can be a lifesaver for parents, giving you peace of mind and your baby a safe place to explore and play.
12. Bouncer Seat
Bouncer seats are a great way to keep your baby occupied and entertained while you attend to other things. These seats are designed to bounce and rock gently, which helps soothe and calm fussy babies. Bouncer seats can also help your baby develop their motor skills and coordination by encouraging them to reach for and bat at toys that are attached to the seat.
When shopping for a bouncer seat, look for one that is well-padded and has a comfortable seat that will support your baby's head and neck. Some bouncer seats also come with adjustable features that allow you to change the angle of the seat to accommodate your baby's growing needs.
Remember, bouncer seats are not designed to be used as a substitute for a crib or bassinet, so be sure to supervise your baby while they are in the seat. And, as with any baby gear, always follow the manufacturer's instructions for proper use and safety.
13. Swing
A swing can be a lifesaver for new parents. Babies love the soothing motion of a swing, and it can give parents a much-needed break when they need to attend to other things. Swings come in a variety of styles and designs, but all serve the same purpose of providing a safe and comfortable place for your baby to relax.
When choosing a swing, look for one that is sturdy, easy to clean, and has adjustable speeds and settings. Some swings also come with music or toys to keep your little one entertained. Overall, a swing can be a great investment for any parent looking for some peace of mind and a happy, content baby.
14. Bathtub
Giving your baby a bath is an important part of their daily routine. You'll need a baby bathtub to make it comfortable and enjoyable for you and your little one. There are several options available, including foldable tubs, inflatable tubs, and traditional hard plastic tubs.
When choosing a bathtub, make sure it has a non-slip bottom and a contoured design to support your baby's head and body. Selecting one with a built-in thermometer is also a good idea to ensure the water is at the perfect temperature.
You'll also need some baby-friendly shampoo and soap to keep your baby clean and smelling fresh. Choose gentle formulas that won't irritate your baby's sensitive skin. Additionally, having soft towels on hand will make drying your baby off a breeze.
15. Towels
One thing you'll need a lot of as a new parent is towels. Whether you're drying off your baby after a bath or wiping up spills and messes, towels are a must-have baby item. You'll want to stock up on a few different types of towels, including hooded towels for after baths and regular towels for cleaning up messes.
When it comes to hooded towels, look for ones that are made from soft, absorbent materials like cotton or bamboo. They should also have a cute design or pattern that your baby will love. You'll need at least a few hooded towels since babies tend to make messes often and will need to be cleaned up frequently.
You can use any soft, absorbent towels you have on hand for regular towels. However, buying a few designated baby towels is a good idea to avoid any potential irritation or allergic reactions. These should be gentle on your baby's skin and easy to clean. You'll need several of these towels, so you can use them to clean up spills, dry your baby off after a bath, and more.
16. Shampoo
Bath time is one of the most precious moments for new parents and their babies. Keeping your little one's delicate skin clean and healthy is an important task, and finding the right shampoo is a crucial step in this process.
Look for a shampoo that is specifically designed for babies, as their skin is much more sensitive than adults. It's important to avoid harsh chemicals that can irritate their skin, and opt for a gentle formula that won't strip away natural oils.
A mild, fragrance-free baby shampoo is the best choice for your little one. Be sure to use only a small amount and gently massage it onto your baby's scalp and hair. Rinse thoroughly, and take extra care to avoid getting shampoo into their eyes.
When shopping for shampoo, reading the label and ingredients list carefully is always a good idea. Keep in mind that what you put on your baby's skin can be absorbed into their bloodstream, so you want to make sure you are choosing safe and non-toxic options.
17. Soap
Keeping your baby clean is one of the most important things you can do to ensure their health and happiness. Bath time is a wonderful way to bond with your little one, and using a gentle soap can help soothe and cleanse their delicate skin.
When choosing a soap for your baby, it's important to select a product that is mild and fragrance-free. Look for soap that is specifically formulated for infants and young children, as these will be the gentlest on their skin.
It's also a good idea to opt for natural or organic soaps whenever possible. These products are often free from harsh chemicals and additives that can irritate your baby's skin.
When bathing your baby, make sure to use warm water and a soft washcloth. Gently lather up the soap and apply it to your baby's skin, taking care to avoid their eyes and mouth. Rinse thoroughly with water and pat your baby dry with a soft towel.
18. Lotion
Keeping your baby's skin soft and supple is important, and a good quality lotion can help with that. Choose a gentle, fragrance-free option that is specifically formulated for babies, as their skin is much more delicate than an adult's. Applying lotion after a bath or diaper change can help soothe and protect your little one's skin from dryness or irritation.
You can also use lotion during a gentle massage as part of your bedtime routine to help promote relaxation and sleep. Make sure to patch-test any new lotions before applying them to your baby's skin, to ensure there are no allergic reactions or sensitivities.
19. Diaper Rash Cream
Diaper rash is a common problem that most babies face, but the good news is that it's easily treatable with the right diaper rash cream. Look for a cream that contains zinc oxide, as this is known to soothe and heal diaper rash. You can also opt for creams that contain lanolin, petroleum jelly, or aloe vera to help moisturize and protect your baby's skin.
When applying diaper rash cream, it's important to first clean and dry your baby's bottom thoroughly. Then, apply a generous amount of cream to the affected area. You can use the cream with every diaper change to prevent diaper rash from recurring. If you notice that the rash is not improving after a few days, consult your pediatrician.
Always check the ingredients of any diaper rash cream before purchasing it to ensure it doesn't contain harmful chemicals that could irritate your baby's skin. Additionally, be sure to store the cream in a cool, dry place and avoid using expired products.
20. Thermometer
When your baby gets sick, it's important to monitor their temperature to make sure it doesn't get too high. That's why a reliable thermometer is an essential item to have before your baby is born. There are a few different types of thermometers to choose from, including digital, ear, and forehead thermometers.
Digital thermometers are the most common and easiest to use. They can be used rectally, orally, or under the arm. Ear thermometers are quick and easy to use but can be more expensive. Forehead thermometers are non-invasive and can be used while your baby is sleeping, but they are not as accurate as other types of thermometers.
No matter which type of thermometer you choose, make sure to read the instructions carefully and take your baby's temperature according to the manufacturer's guidelines. It's also a good idea to have some baby-safe fever reducers on hand in case your little one spikes a fever. Remember, a fever in a newborn is a serious matter, and you should always consult with your doctor if your baby's temperature is over 100.4°F (38°C).
21. First-Aid Kit
A first-aid kit is another essential item on the list of things to buy before your baby arrives. This should include items like bandages, gauze, antiseptic wipes, and baby-friendly pain relievers.
It's always best to be prepared for any accidents or emergencies that may arise with your little one. A well-stocked first-aid kit can give you peace of mind and ensure that you can quickly and effectively take care of any minor injuries or illnesses.
Additionally, it's a good idea to have a first-aid manual on hand that outlines how to deal with common issues like fever, coughing, or choking. This can be especially helpful for first-time parents who may feel unsure about what to do in certain situations.
Make sure to regularly check your first-aid kit to ensure that all items are up-to-date and not expired. And always keep it in an easily accessible location, so you can quickly grab it when needed.
22. Nail Clippers
Keeping your baby's nails trimmed is important to prevent them from scratching themselves and others. But regular nail clippers can be difficult to use on tiny fingers and toes. That's why investing in a good pair of baby nail clippers is important. These are specially designed with smaller blades and safety features to ensure that you don't accidentally cut your baby's delicate skin. Some even come with magnifying glasses or lights to make the task easier.
23. Baby Brush
When it comes to caring for your newborn's delicate skin and hair, having a soft baby brush is an absolute must-have. A baby brush will allow you to gently detangle your baby's hair, stimulate their scalp, and even help them relax and sleep better.
You can choose from different types of baby brushes, including those made with natural materials like goat hair or soft bristles. Just make sure to opt for a brush with a handle that fits comfortably in your hand for easy and safe use. Some baby brushes even come with additional features like built-in combs or massage functions to provide extra benefits for your little one.
24. Pacifier
One of the most popular baby items, a pacifier is a must-have for many parents. These small, rubber or silicone devices are designed to help soothe and comfort your baby when they are feeling fussy or upset. They are also helpful in promoting healthy oral development, as they can help to strengthen your baby's sucking muscles.
When choosing a pacifier, there are a few things to consider. Look for a model that is the right size and shape for your baby's mouth, with a shield that is comfortable and doesn't irritate their skin. Some pacifiers are designed specifically for newborns, while others are more suitable for older babies.
There are also a variety of different materials to choose from, including latex and silicone. While latex is a natural material that is softer and more flexible, silicone is a more durable and hygienic choice. Some babies may have allergies to latex, so it's important to check with your pediatrician if you're not sure.
Finally, remember to clean your baby's pacifier regularly to prevent the buildup of bacteria. You can do this by boiling it for a few minutes, using a sterilizing machine, or washing it in warm, soapy water.
25. Teething Toys
As your baby grows and begins to teeth, they will inevitably start to chew on anything they can get their hands on. Having some safe and appropriate teething toys on hand is important to prevent them from chewing on inappropriate objects like electrical cords or household items.
Look for teething toys specifically designed for this purpose and made of safe, non-toxic materials. Silicone teething rings, natural rubber teething toys, and teething blankets with various textures can all be great options. Some teething toys can also be chilled in the fridge to provide additional relief to sore gums.
Make sure to keep a close eye on your baby while they're using teething toys, and replace any toys that become worn or damaged. With the right teething toys, you can help soothe your baby's discomfort during this milestone phase.